Posted on
Sat, Dec 31, 2011 : 10:01 a.m.
5 issues that should top the city of Ann Arbor's priority list in 2012
By Ryan J. Stanton
Ann Arbor is poised for a significant transformation that might not be readily apparent to the casual observer, and 2012 could be the year that a few major initiatives get going.
Thousands of new beds are being added in and around the downtown with a wave of new housing developments, many of them catering to University of Michigan students.
That presents unique challenges and opportunities for the city, which owns several prime pieces of real estate in the downtown that are ripe for development of some kind.
And there are big talks happening around transit as the Ann Arbor Transportation Authority pushes ahead with an ambitious countywide expansion.
Meanwhile, with visions of high-speed rail in their heads, city officials continue to make preparations for a new transit center in front of the U-M Hospital along Fuller Road.
The Ann Arbor City Council found itself distracted with issues like public art and crosswalks toward the end of 2011. But with the beginning of a new year, it's time to refocus. Here's a look at five issues that should top of the city of Ann Arbor's priority list in 2012.
1. AATA countywide expansion
The AATA released a new Transit Master Plan this past year that identifies literally hundreds of millions of dollars in planned service improvements over the next 30 years.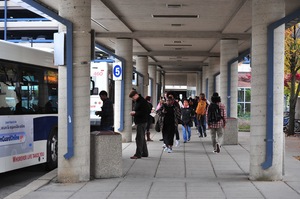 Ryan J. Stanton | AnnArbor.com
There's going to be a strong push forward on that plan in 2012 as the AATA — currently a creature of the city of Ann Arbor — seeks approval to morph into a
countywide transit authority
and then prepares to seek funding for expanded services.
For transit enthusiasts, it's an exciting time. AATA officials are talking about more frequent bus service on most routes, including nights and weekends, more connections to areas currently underserved, and the addition of bus rapid transit, light rail and possibly even streetcars.
If proponents of the expansion are feeling ambitious, a five-year countywide transit millage proposal could appear on the ballot as early as November 2012.
The most-talked-about scenario involves layering a new 1-mill countywide transit levy on top of the 2 mills Ann Arbor residents currently pay for AATA service. That equates to a little more than $100 in additional taxes for the average Ann Arbor homeowner.
The Ann Arbor City Council has a big role to play in any countywide expansion, and AATA officials already are asking the city to enter into a four-party agreement that will lay the framework for creation of a new countywide authority in 2012.
City officials should give careful consideration to that request and play an active role in making sure the final plan works for Ann Arbor residents who will pay a larger share of the costs.
2. Fuller Road Station
Movement also is expected in 2012 on the city's $121 million vision for a new train and bus station in front of the U-M Hospital on Fuller Road.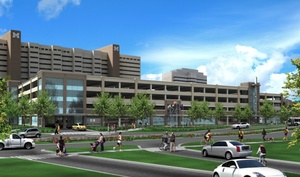 The list of partners on the project now reads: City of Ann Arbor, U-M, Michigan Department of Transportation, Federal Rail Administration, Amtrak and AATA.
Behind the scenes, many of the details are being worked out. Officials now say they'd be surprised if the first phase of Fuller Road Station — a 977-space parking garage with accommodations for buses and bicycles — doesn't break ground in 2012.
The university's original goal was to have a parking garage built in the area before the new Mott Children's Hospital opened, so there's pressure to move ahead.
The first phase has been waiting for council approval since the Planning Commission approved it in September 2010.
But the city has to come up with about $10 million for the first phase of the project, and some still have questions about that.
Mayor John Hieftje says the university will pay almost all of the upfront costs for construction. Under the plan still being worked out, the city's portion of the costs would be made up over time from funds generated by parking spaces.
As for future phases — including a new Amtrak station — Hieftje and other city officials remain confident the federal government's investment of $2.8 million in seed money for planning Fuller Road Station is indicative of more federal funding to come for the project.
In the meantime, the feds have pumped hundreds of millions of dollars into rail improvements along the Detroit-to-Chicago corridor, which passes through Ann Arbor. The same improvements that will make high-speed rail possible (increasing speeds from 60 mph to 110 mph) will help make commuter rail between Detroit and Ann Arbor possible.
It's now looking likely the first phase of Fuller Road Station will come back to council in a matter of months, and it appears it has the votes it needs. A thorough discussion with public input about the project's merits, shortcomings and the city's long-term obligations — along with a clearly spelled-out plan for future operations and maintenance — would go a long way toward alleviating some of the concerns some still have about the project.
3. The housing boom
Counting the already-built 411 Lofts and Zaragon Place, Ann Arbor will have welcomed more than 2,300 new beds in the downtown when six other housing projects come online.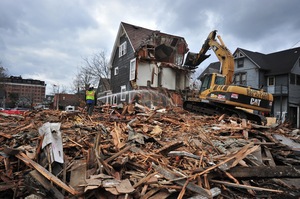 Ryan J. Stanton | AnnArbor.com
The student housing boom comes at a time when U-M officials have stated their intention of putting downward pressure on student enrollment growth starting next year. About 27,400 students are enrolled as undergraduates right now, and that's 2,400 more than the school would like.
The City Council recently approved another 13-story student high-rise called The Varsity, which promises 415 beds on Washington Street.
Another 14-story student housing project called Zaragon West is well under way and will bring nearly 200 more beds to William Street.
Landmark, a 14-story student high-rise formerly known as 601 Forest in the South University area, is halfway complete and will bring more than 600 beds.
The Village Green project — officially known as Ann Arbor City Apartments — will bring another 194 beds at the corner of First and Washington. And a six-story project called 618 South Main is in the planning stages and could bring close to 200 more beds.
Meanwhile, the 144-bed City Place apartments project is moving forward on Fifth Avenue, and that means the student housing boom is now spilling into a near-downtown neighborhood.
Seven houses in the Germantown neighborhood were demolished recently to make way for the project, which both city officials and residents opposed. But the developer had the city's zoning on his side, and so city officials said there was little they could do to stop the project.
That now raises the question: How safe are other near-downtown neighborhoods? Could other areas be impacted by the current development rush?
The council appointed a committee in August 2009 to study the issue. But it's been nearly two and a half years now and recommendations for changes to the R2A and R4C residential zoning districts, established in the 1960s, haven't come back to council yet.
Many are waiting for the council to take up the issue and close loopholes in the zoning laws that allow for out-of-character projects in certain residential neighborhoods.
4. City-owned properties
Under direction from the City Council, the Downtown Development Authority is undertaking a master planning process that's being called Midtown Discovery.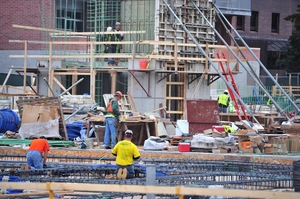 Ryan J. Stanton | AnnArbor.com
That project is expected to shift into high gear in 2012 as the DDA seeks input from the public on how to best develop five prime pieces of downtown real estate owned by the city.
The five properties include the Library Lot, Y Lot, Palio Lot, Kline's Lot, and the first floor of the Fourth and William parking structure.
Most of those are concentrated around an area that's poised for a significant transformation but is currently dominated by surface parking lots and inactive sidewalks.
The Library Lot is where the city and DDA are building a 700-space underground parking structure that's expected to open later this spring. What goes on top still hasn't been decided, but those talks are likely to pick back up in 2012.
The council already rejected a proposal from a private developer that wanted to build a hotel and conference center on the site.
Next door to the Library Lot is the Ann Arbor District Library, which could see renovations or even a complete redevelopment sometime in the future. And directly across the street, the AATA is getting ready to demolish and rebuild the Blake Transit Center.
Working with the DDA and residents, city officials would do well to think holistically about the future of the downtown and ask the question: What's missing?
Some might say a large commercial office space that can bring new jobs. Others might say more green space. Or maybe a mix of both.
5. Public safety
Last but not least, public safety should be a top priority in 2012. The police and fire departments have seen deep cuts over a period of many years, and they were downsized again in 2011 — causing fears in the community that the city might have cut too far.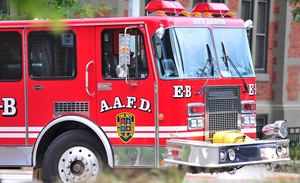 Ryan J. Stanton | AnnArbor.com
Police Chief
Barnett Jones
told council members recently: "I can't afford to lose any more police officers on the street." He said the same in February 2010. Of course, the police department has gone through two rounds of staffing cuts since then.
Investigations by AnnArbor.com in the past year showed the fire department struggling to meet national standards for response times, and on most days at least one of two active firetrucks at the downtown station is listed as "out of service" due to low staffing levels.
A total of 13 positions in police and seven in fire were eliminated last July, and the plan since then has been to cut 12 more in police and five more in fire in the spring.
Hieftje now says the city likely will avoid more cuts in police, partly thanks to recent union concessions. In fact, he wants to go a step further and bring back more police patrols in the downtown where there's a perception among some that it's becoming less safe.
But the fire side of the equation remains unsolved, and comments by some city officials suggest it might not end well if the firefighters don't make concessions.
There wasn't a very thorough discussion — at least not publicly — about the cuts made in the police and fire departments last year. And even Roger Fraser, before he resigned as city administrator, said: "The fact is that every bit of this is an experiment."
A new report from the International City/County Management Association, a consultant hired by the city to study the fire department, has given city officials a lot to chew on. An open conversation about whether the experiment is working out would be welcomed by many.
Ryan J. Stanton covers government and politics for AnnArbor.com. Reach him at ryanstanton@annarbor.com or 734-623-2529. You also can follow him on Twitter or subscribe to AnnArbor.com's email newsletters.