$60M South Quad renovation OK'd by University of Michigan regents
Posted on Thu, Sep 20, 2012 : 7:06 p.m.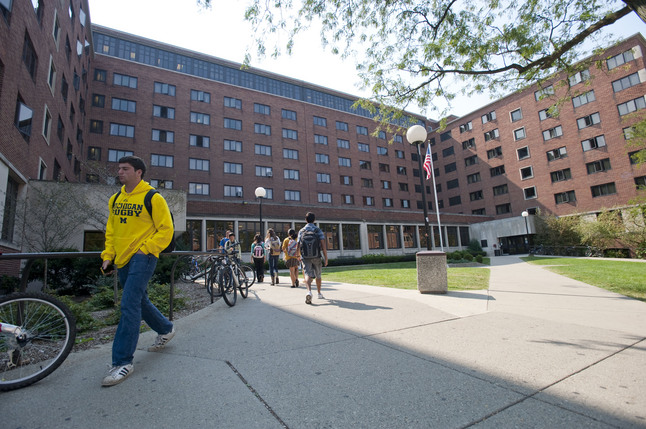 Courtney Sacco I AnnArbor.com

University of Michigan's governing body approved a $60 million renovation to the school's 1,180-bed South Quadrangle dormitory on Thursday.

The renovation will begin in May, placing the dormitory offline until the start of the 2014 school year.

It will bring the eight-year tab for dormitory and dining hall renovations to $500 million.

According to U-M, the renovation will:
Create a new central campus dining center in South Quad with a capacity for 950 diners
Improve student bathrooms with the addition of new plumbing, fixtures and shower privacy stalls.
Refurbish and create new community lounges, with air conditioning.
Redesign the building's entrance to allow better access from West Quadrangle and the Michigan Union
Create and improve group study rooms, music practice rooms and two central laundry rooms.
The building's windows, elevators, Internet connectivity, student room flooring and roofing and fire suppression system were addressed in earlier projects.
"It will make a huge statement when it's done," said U-M Regent Andrea Fischer Newman.
U-M Vice President for Student Affairs E. Royster Harper called the renovations to the 1950s-era building necessary.
"I just want to assure you that ... infrastructure, plumbing ... doors to your shower ... is so far from luxury," she told regents Thursday, before they unanimously approved the renovation.
U-M has spent $440 million to renovate eight dormitories and dining halls, including the current $116 million renovation of East Quadrangle, which is taking place this year.
A refurbished Alice C. Lloyd Hall opened this year, after a $56 million investment. The 560-bed dormitory now has updated plumbing, heating, cooling, ventilation and fire suppression systems, as well as glass-walled meeting rooms, updated bathrooms with privacy stalls, flatscreen televisions tucked in the corners of hallways and 45 types of chairs scattered throughout.
"It looks like a hotel compared to what it was before," U-M junior Anna Peters told AnnArbor.com during U-M's move-in.
Other renovated halls include:
Couzens Hall: Reopened in 2011 after $49 million renovation.
North Quad: Opened in 2010 after $75 million construction project.
Stockwell Hall: Reopened in 2009 after a $39.6 million renovation.
Hill Dining Center: Reopened in 2008 after $21 million renovation.
Mosher Jordan Hall: Reopened in 2008 after $44.1 million renovation.
The renovations are part of the school's Residential Life Initiative, launched by U-M President Mary Sue Coleman in 2004.
"Our students are happy and surprised and pleased" with the dorm renovations, Harper said.
Coleman called the renovations nice.
"They're not over the top at all," she said.