Posted on
Sun, Nov 20, 2011 : 6 a.m.
Ann Arbor City Council needs to change pedestrian safety ordinance for everyone's safety
By Tony Dearing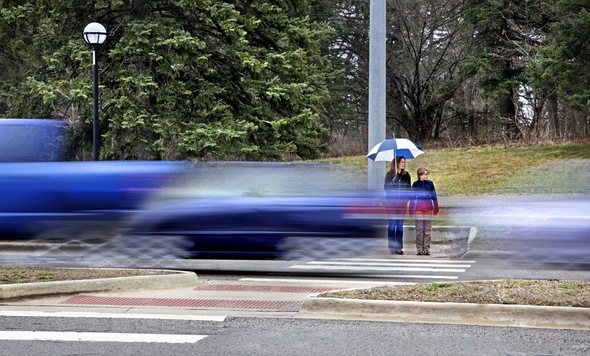 Courtesy of Aaron Kiley
Whether for the sake of pedestrians or motorists or both, Ann Arbor City Council members are considering changes to the much-maligned pedestrian safety ordinance.
Two weeks ago, council members voted 10-0 to take the first step in revising the ambiguously worded ordinance so that drivers will have a clearer understanding of when they are obligated to stop in order to allow pedestrians to cross the street. The proposed change is expected to come back to council for final approval in December.
Unpopular though the ordinance has been, we agree with City Council's decision to improve it, rather than scrap it. The intent of the ordinance is as valid as the state law that underpins it.
At any pedestrian crosswalk not controlled by a traffic signal, the state's Uniform Traffic Code recommends that motorists should be required to stop for a pedestrian who enters the crosswalk.
In Ann Arbor, as in many places, motorist rarely stop for pedestrians at crosswalks. On some busy roads, an attempt to cross the street can feel like a game of Frogger. In an attempt to address this concern, advocates persuaded the Ann Arbor City Council to adopt a pedestrian safety ordinance last year. Enforcement of the ordinance began in September - and immediately met with a public outcry.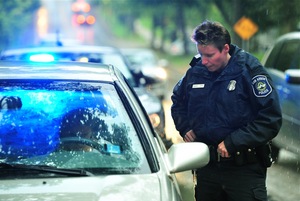 Ryan J. Stanton | AnnArbor.com
Much of the concern has focused on the vague language that requires motorists to stop for any pedestrian "approaching'' a crosswalk. That differs from state's recommended language, which says a motorist should stop when a pedestrian is within the crosswalk.
We agree with those who say the language of the local ordinance is confusing. It asks a motorist to guess the intent of a pedestrian in the vicinity of a street crossing. Acknowledging that concern, City Council Members Sabra Briere, Margie Teall and Christopher Taylor offered a change that requires motorists to stop for any pedestrian "stopped at the curb or ramp leading to a crosswalk.''
Such a change is needed, even though supporters of the ordinance initially resisted it. They point to the city of Boulder, Colo., where they have claimed that an ordinance with the same requirement to stop for a pedestrian "approaching'' a crosswalk has worked well. But that's not the case.
That vague language has caused similar problems in Boulder, and prompted the police department there to request a change because the wording was too confusing to motorists and difficult to enforce. Boulder officials tried to amend the ordinance, but couldn't find any consensus. This past week, the city traffic engineer in Boulder told AnnArbor.com that his city still needs to fix its ordinance. Asked if he had a preferred solution, he said the language change just proposed in Ann Arbor is the best idea he's seen yet.
While clear, more direct language would go a long way in improving the ordinance, that's only part of the solution.
Recently, criticism of the ordinance has begun to focus more on the number of rear-end car crashes on busy four-lane roads, such as Plymouth Road, where motorists who stopped at pedestrian crosswalks were slammed into by motorists behind them who didn't stop. These accidents underscore the inadequacy of the ordinance, by itself, to protect the safety of either pedestrians or motorists on multi-lane roads with higher speed limits.
On two-lane streets -- such as Seventh Street or Liberty Street through the Old West Side -- the ordinance seems well-suited to control traffic and allow pedestrians to cross safely.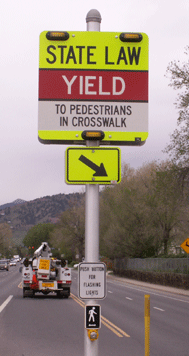 Courtesy of City of Boulder
But four-lane streets are a hazard zone for pedestrians, and the existence of the ordinance isn't enough to keep them safe. Often, motorists who know they should stop for a pedestrian are hesitant to, either because they fear being rear-ended, or they're afraid that traffic zooming by in the other three lanes won't see the pedestrian and will strike him or her. For their part, pedestrians are reluctant to exercise their right to cross, unsure if motorists will yield to them. The uncertainty and potential hazards are only multiplied by the number of motorists who aren't even aware of the ordinance, either because they haven't heard of it or because they are from out-of-town.
Boulder, which has had a pedestrian safety ordinance since the 1989, recognizes this. It has found that the ordinance isn't enough, and has made it a practice to install flashing yellow lights or HAWK signals at pedestrian crossings on four- or five-lane roads.
Ann Arbor should do the same. Motorists here have adjusted well to the HAWK signal installed on Huron Street, across from the YMCA. A HAWK signal looks similar to a regular traffic light, and a pedestrian waiting to cross at that location can activate it by pressing a button. The result has been a much safer situation. Meanwhile, many other, similar locations in Ann Arbor remain a serious risk for pedestrians. That won't change until Ann Arbor commits to some system of flashing yellow lights or other more visible traffic control at dangerous locations.
When the pedestrian safety ordinance was approved a year ago, we sensed from its supporters a certain smugness that it was the right thing to do and motorists just needed to get used to it. The vociferous feedback from the community in recent weeks makes it clear the ordinance is flawed and needs to be fixed. The sooner City Council makes changes, the safer our streets will be for both those who drive them and those who try to cross them on foot.
(This editorial was published in today's newspaper and represents the opinion of the Editorial Board at AnnArbor.com.)