Posted on
Fri, Feb 24, 2012 : 5:59 a.m.
Ann Arbor escapes brunt of winter storm; winter weather advisory in effect
By Cindy Heflin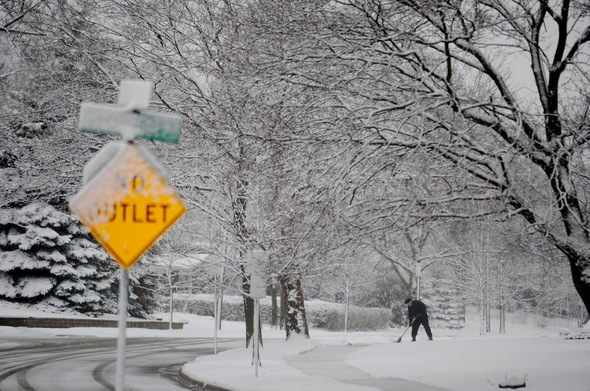 Melanie Maxwell | AnnArbor.com
The Ann Arbor area escaped the brunt of a winter storm moving across southeast Michigan, the National Weather Service said Friday.
Courtesy photo
The storm has taken a more northerly track than expected, and the weather service has replaced the winter storm warning issued earlier for Washtenaw County with a winter weather advisory.
Total snowfall for the area is now expected to range from 2 to 4 inches. An additional 1 to 3 inches could fall this morning on top of the 1 to 2 inches that fell overnight. Some rain and sleet could mix in with the snow, said meteorologist Steve Considine.
The snow had tapered off in the pre-dawn hours but was expected to pick back up later this morning, forecasters said.
Still, the morning proved challenging for Ann Arbor-area motorists as several crashes were reported on area roads.
Drivers will find mostly wet conditions on the main highways in Washtenaw County, said Jim Harmon, director of operations for the Washtenaw County Road Commission said at 5:30 a.m. Primary roads may have some residual snowfall. Secondary roads have not been plowed, but crews hope to get to those this afternoon, Harmon said.
The Road Commission called in its full crew of 46 trucks at 4 a.m., Harmon said. He advised motorists to allow extra travel time, reduce speeds and leave plenty of space between vehicles.
Areas to the north of Flint are now expected to receive the highest snowfall totals, up to 8 inches, Considine said.
Few problems were reported on Washtenaw County roads overnight, a dispatcher with the sheriff's department said.
Several Washtenaw County schools had called off classes for the day.
For updated forecasts and conditions anytime, check AnnArbor.com's weather page.