Posted on
Sun, Oct 14, 2012 : 8:18 p.m.
Top 5: Considerations for Ann Arbor as officials resolve Friday's high school football brawl
By Paula Gardner
Previous coverage:
Ann Arbor prep sports took an ugly and unusual turn on Friday night when the post-game handshake between Huron and Pioneer coaches turned into an on-field brawl.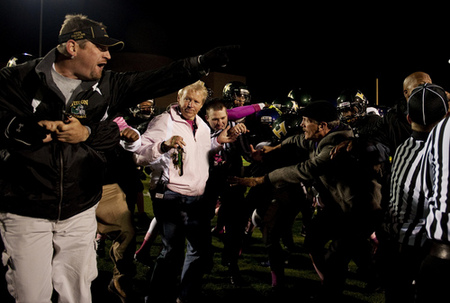 The incident left one teen with an injury that required medical care. And now the Ann Arbor Public Schools, Ann Arbor Police Department and Michigan High School Athletic Association are all investigating the circumstances and taking punitive - and, we hope - preventive steps for the future.
Here are our top 5 considerations for the community as AAPS heads into a week when administrators will determine the outcome of the situation, even as state officials and police weigh their own options.
1. The community deserves thoughtful and decisive action from Ann Arbor Public Schools. We're all forming opinions about this brawl, its causes and what needs to happen. However, we now need to trust that the district will appropriately weigh information and reach the best conclusions. In return, administrators need to tell us what will happen and why, and provide the transparency to prove that they've earned our trust. The general public is not in a position to know details of employment history, student behavior history or how rules about play and behavior have been delivered to coaches and students. Those could be factors in a resolution. What we do know is what we've seen - many people witnessed the event, including district officials. We're not getting signals that this is anything other than a serious matter receiving urgent attention. We need that to continue as decisions are made.
2. When jobs are at stake, officials shouldn't rush to judgment. The people involved deserve a fair analysis of the situation. While people may have wanted to hear an immediate result, that can't happen when the stakes are this high. Job performance must be evaluated on many levels. Any termination should happen amid a full examination of the chain of responsibility and determination of failings of responsibility along that full chain. That's going to be a painful but necessary part of this weekend's investigation.
3. We need our kids to know that life isn't like a video game - and that fights can be criminal. Everything said and done at this point could have legal ramifications for the people - adults and teens - involved. And that is serious, more so than any teen suiting up for the game that night could have predicted for the end of the game. This incident is documented. We know portions of the video recording have been viewed by some involved and assume that many administrators have watched - and police will be looking at it, too. We're not assuming the quality and angles will make it foolproof, but our criminal justice system will be handed visual evidence, not just statements, about what happened.
4. How the adults respond - during the game and now - is guiding our kids and their actions. Even with the 35-6 final score, both teams on the field could take pride in playing hard to a legitimate outcome. That's why they're there. But the adults around them set the tone for whether that can be a respectful outcome amid a decisive loss. The behavior of coaches guides the difference between "respectful outcome" and the opposite. In all sports and on all teams, we're looking to coaches - winning or losing - to act responsibly and with maturity. The likelihood is high that kids who trash-talk, over-react and fail to leave a game on the field are finding that attitude condoned in the locker room. The end of the game included penalties for unsportsmanlike conduct. And this paragraph, from the original AnnArbor.com report on the brawl, indicates a problem beyond the fight: "As the Pioneer team broke from their post-game huddle, some players taunted and laughed at the Huron huddle, prompting some parents to yell back at the Pioneer players. A Huron parent was told to leave the field by police."
5. This has to become a teachable moment for the kids. The message from the district, the police and the MSHAA will resonate across the community. But we're hoping there's a way to reach these kids on their level, too. Social media has been buzzing with 140-character and Facebook messages about this incident. We're reading them, we're choosing not to report them at this point, and we're very concerned about the tone of many of them. One boy is bragging about breaking his hand that night. Others are "trash talking" with joy about the brawl, about whether coaches will keep their jobs, about hurting people. There is evidence that these kids do not and will not understand that this incident is unusual and serious. And it's not just about football.
Paula Gardner is Local Content Director of AnnArbor.com. Contact her by email.