Posted on
Sat, Oct 30, 2010 : 12:11 p.m.
Ann Arbor mayoral candidate Steve Bean says his quiet campaign is not merely symbolic
By Ryan J. Stanton
Ryan J. Stanton | AnnArbor.com
Ann Arbor mayoral candidate Steve Bean fielded a question recently that most candidates for public office aren't usually asked: Is your candidacy serious or merely symbolic?
"It's a serious campaign, and I intend to serve as mayor if I'm elected," Bean said he told the person. "Certainly, that's why I ran. I wanted to offer an alternative to people."
Bean will offer just that on Tuesday when his name appears on the ballot as an independent candidate for mayor. He's the only one challenging Democratic incumbent John Hieftje, who has been Ann Arbor's mayor since 2000.
Whether Bean has a shot at winning remains to be seen.
Bean, head of the city's Environmental Commission, has run a deafeningly quiet campaign. And some might argue he hasn't waged the kind of aggressive battle it takes for an independent to upset a popular Democratic incumbent in a left-leaning town like Ann Arbor.
The lack of a D next to his name is an immediate disadvantage. The lack of name recognition among voters is another. And Bean shows little sign of trying to overcome those hurdles.
In an interview this week, Bean readily admitted he hasn't put up any yard signs, he hasn't knocked on any doors, and he hasn't raised or spent any money. Meanwhile, his campaign website is a no-frills Wordpress blog that he admits has garnered a paltry number of hits — a far cry from the type of online presence some candidates spend thousands on.
"If you see it as being an underdog candidacy, that's the way you see it," Bean said. "I'm on the ballot, he's on the ballot. People can choose who they want to vote for. I'm qualified, he's qualified. It's a question of — what do they want? Are they pleased with what they have? Are they looking for something different? And do they see me as someone who can deliver?"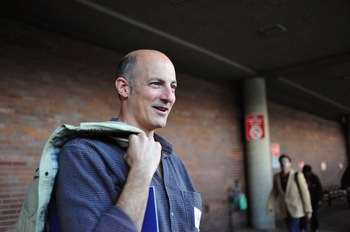 Ryan J. Stanton | AnnArbor.com
Bean has lived in Ann Arbor for 28 years, since coming to the University of Michigan to study physics, ecology and environmental policy. He's been actively involved in city issues surrounding recycling and has served more than 20 years on city commissions.
In addition to his work on the Environmental Commission since 2000, Bean served on the city's Energy Commission from 1992 to 2000. He is a board member for Think Local First of Washtenaw County and has volunteered his time for several groups, including Food Gatherers, the Huron River Watershed Council and the city's Natural Area Preservation program.
A database consultant for Berg & Associates Inc., Bean previously worked for Recycle Ann Arbor, the Ecology Center, Michigan SANE/FREEZE and Resource Recycling Systems Inc.
Bean took his campaign on the road Wednesday, participating in the Ann Arbor Transportation Authority's experimental onboard "office hours" event. For about an hour, he rode around town on AATA buses and chatted with riders about mostly transit-related issues.
"What's your last name again?" Ann Arbor resident James Luerich asked Bean halfway into their conversation on a bus headed for downtown.
"Bean, just like the vegetable," the candidate replied.
"I'm going to give you my vote," Luerich responded. "You're taking time out to do this. You must care about us."
"I'm glad to see there's going to be a choice for mayor this year," Ann Arbor resident Cindy Overmyer also told Bean before getting off at her stop.
Overmyer expressed to Bean her hesitations about the city's push for developing new railroad infrastructure while, she believes, local bus service is lacking.
Bean agreed the city should be more closely examining all of its options for transit before rushing into some of the projects it has taken on in recent times. In fact, one of the main distinctions between him and the current mayor is that Bean thinks taking on new debt and investing money in new parking structures downtown and along Fuller Road might not be good long-term investments right now, given the city's financial situation.
"You're correct in identifying it as one of the main differences between my perspective and John's," Bean said. "I think we have to make choices, and it doesn't seem like City Council's been making those choices or even considering those choices. There seems to be a real interest in adding parking downtown for a variety of reasons, and it's been hard to pin down what those uses are going to be. And I don't think there's been consideration of our long-term prospects, given peak oil and climate change as considerations."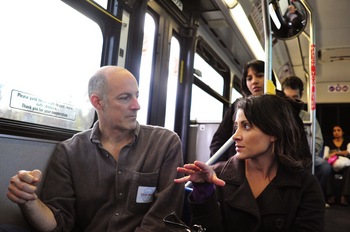 Ryan J. Stanton | AnnArbor.com
Hieftje is a supporter of both the underground parking structure being built on Fifth Avenue and the parking structure proposed for Fuller Road, next to the U-M hospital. The Fuller Road structure is part of the Phase I plan for a future transit station city officials hope will become a hub of activity for buses and trains coming and going along the Detroit-to-Chicago corridor.
"What I would do is have a community-wide discussion about our choices on investments," Bean said of transit, adding it seems the city's current leadership spends more time "talking to" — rather than "listening to" — residents who have concerns.
"If we're investing in parking structures like the one here next to the library, and the structure that the city will be building for the university at Fuller Road Station," he said, "we may not be able to afford to invest in transit and other alternatives — bicycle infrastructure and pedestrian infrastructure — the way we need to for those to be utilized enough that we can maintain that kind of comprehensive service, high frequency and extended hours."
Bean said he would try to lead that conversation as mayor and make it clear to the public what the community's choices are. "We have to really look at how much and what resources we have available, and can we do both?" he said. "If we can't do both, let's be intelligent about the decision in our long-term investments in the community."
Hieftje took exception to Bean's views on the subject at a candidate forum Thursday night, saying the Fifth Avenue parking structure is expected to pay for itself from parking revenues.
"If you read the reports that come from the debt-rating agencies, we have one of the very best bond ratings in the state and a very moderate debt load," Hieftje added. "Things like the Fuller Transit Station will not involve any of our general fund money other than to pay the environmental assessment. Actually, the University of Michigan's funding is going to be used as the entire match for federal funding that we're seeking."
But the city's costs already are adding up for the project, which critics argue amounts to little more than a parking structure for the university at this point. In August 2009, the City Council approved a $541,717 professional services agreement with JJR LLC for Phase I engineering services for the project, followed by an additional $111,228 approved in November 2009 for developing a master concept plan. In June 2009, the City Council also approved $80,000 for a transit feasibility study related to the project, while other entities like the Downtown Development Authority, AATA and U-M also have chipped in money.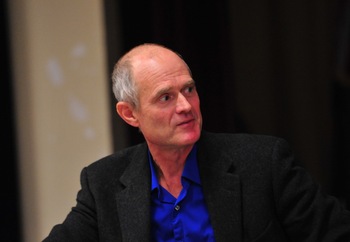 Ryan J. Stanton | AnnArbor.com
Bean said he strongly supports transit, and if Fuller Road Station can result in increased train service or commuter rail with a demonstrated demand, he's in favor of it.
"But building a parking structure is counterproductive to the long-term investment we've made in AATA as a community," he said, criticizing the Phase I plan. "We've paid this millage for a long time, and if we want to make further investments in transportation, I don't think it's appropriate to do that without having an open conversation with the community about the choices — especially if we have limited resources, and it certainly seems like we have limited resources when we're cutting services like we are now and continuing to reduce staff."
Bean, who sold his only car about a year ago because he decided he didn't need it anymore, lives about two miles from downtown and mostly walks and bikes to get around.
"There are more people who don't own cars than I think most of us are aware," he said. "When you add up the costs of maintaining it and paying the insurance and so on, it becomes expensive. If we had the conversation and some people believed that we weren't just paying lip service to a commitment to transit, and that we were going to talk about it and fully commit, they could make the commitment to having one less car in their family."
Bean, who recently moved in with his girlfriend, further explained his reasons for running such a quiet campaign by saying he's enjoying his life right now and keeping busy.
"If I had the time, I might do that. I don't have the time really," he said of knocking on doors and actively campaigning. "So I've put the time into what I can do. I've gone to the events. I've put out the information, answered the questions, provided what I can, put up a website with additional information. And I think there's adequate information out there. If people have questions, they can go to my website and send questions."
Washtenaw County Clerk Larry Kestenbaum said he can't recall the last time an independent won an election in Ann Arbor, but he points to Ypsilanti as proof that it can be done.
Independent mayoral candidate Cheryl Farmer successfully took down Democratic incumbent Michael Homel in 1995 and served as Ypsilanti's mayor from 1995 to 2006, fending off other Democratic challengers during that time.
"It can be done," Kestenbaum said. "And I would have thought, on paper, Ypsilanti would have been a harder place to do it than Ann Arbor because Ypsilanti is more working class and more straight party, I would think, than Ann Arbor."
CANDIDATE PROFILES
Even in Ann Arbor, taking down a Democratic mayor isn't an impossible feat.
It last happened in 1993 when Republican Ingrid Sheldon defeated Liz Brater. Sheldon served as mayor until she stepped down in 2000, the year Hieftje was elected over then-Republican Stephen Rapundalo with about 68 percent of the vote. Hieftje was reelected in 2002 with 75 percent of the vote.
In November 2004, Hieftje pulled 69 percent of the vote. And in November 2006, he pulled 79 percent when he defeated independent Tom Wall by 30,929 to 8,283 votes.
In November 2008, Hieftje's most recent reelection, he pulled 85 percent when he defeated University of Michigan student Eric Plourde, a Libertarian, by 46,811 to 8,001 votes.
Hieftje is running a quieter campaign now than he ran in the primary against formidable rival Patricia Lesko. But he's still sharing much the same message, stressing that Ann Arbor continues to do well compared to other cities in Michigan during hard economic times.
"We finished the last budget year with a modest surplus, as we do most years, so we don't have any deficit in the current year," Hieftje said. "And going into next year, I think we're looking at an easier task than we faced with the budget this year."
Even if he's not elected on Tuesday, Bean said he'll have accomplished his goal of offering the citizens of Ann Arbor an alternative candidate for mayor, and democracy is enough for him.
Ryan J. Stanton covers government and politics for AnnArbor.com. Reach him at ryanstanton@annarbor.com or 734-623-2529.