Posted on
Wed, Jul 21, 2010 : 8:03 a.m.
Ann Arbor officials announce another breakthrough in labor negotiations; still waiting on police, fire
By Ryan J. Stanton
Ann Arbor officials announced another major breakthrough in negotiations with the city's labor unions — this time in the form of new contracts with the Teamsters Civilian Supervisors and Teamsters Police Professional Assistants.
Though the two bargaining units represent only a handful of the city's 500-plus union employees, city officials say the concessions are significant and will end up saving the city thousands of dollars.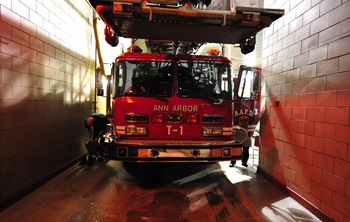 Ryan J. Stanton | AnnArbor.com
Both units have ratified new contracts that ask their members for increased contributions toward their health care and pension plans, while taking no pay raises.
The new contracts have an updated health care plan that includes increases in deductibles, premiums and co-pays. Both units also agreed to a pension contribution increase to 6 percent pre-tax, and the Police Professional Assistants agreed to eliminate a uniform allowance and parking subsidy.
City Council Member Stephen Rapundalo, chairman of the council's labor committee, called the voluntary concessions "significant steps forward for the city in terms of being able to sustain its fiscal structure."
"The collective bargaining units which have not yet ratified contracts should be aware of the current economic conditions facing the city, and we hope they will act accordingly," Rapundalo said, specifically calling on the police officers and firefighters unions.
Ann Arbor officials point out the city's largest bargaining units — AFSCME and the police officers and firefighters unions — have not yet come to the table and offered to make the kind of concessions being asked of them, which is not only compromises in wages and pensions but also in health care plans.
"Costs of health care continue to rise every year," Rapundalo said. "But I think what's really important to note is the following: Currently the firefighters, the police officers and the police command officers pay only a deductible of $250 per person or $500 per family. And here's the kicker: They do not pay a monthly premium or any co-insurance."
The city had its first major breakthrough in negotiations earlier this month when it reached a new agreement with the Teamsters Deputy Chiefs. The deputy chiefs were the first union employees to fully respond to the city's request for concessions, including in health care plans.
Rapundalo said the new plans ratified Monday night, along with the contract for the deputy chiefs, include an increased deductible, a 20 percent co-insurance and the option of a monthly premium for lower deductibles and out-of-pocket maximums.
"During these difficult economic times, the cooperation of these unions, as well as the cooperation of the nonunion employees of the city, is appreciated by council, and by the residents of the city," he said, adding the changes in health care provide immediate savings as well as long-term savings in retiree health care.
Rapundalo said the city continues to negotiate in good faith with the firefighters and the police officers and police command units to achieve similar savings. But if negotiations are unsuccessful, he said, the city is prepared to pursue Act 312 binding arbitration to resolve those public safety contracts.
The police and fire departments saw the elimination of 10 positions earlier this month in the city's latest round of budget cuts. The fact that firefighters were laid off remains a sore point that has led to distrust of city officials within the ranks of the fire department.
Matt Schroeder, president of the firefighters union, could not be reached for comment.
The firefighters ratified a short-term contract in January that involved giving up 3 percent of their pay and contributing 1 percent more toward their pensions, though there were no concessions in health care. In exchange, they were guaranteed no layoffs through June 30.
But soon after the concessions were made, city officials came back and proposed eliminating 20 positions in the fire department — six more than before — starting July 1.
After some last-minute budget juggling, five positions were cut in fire (one of them vacant) and five were cut in police (all of them vacant).
"It would be, I think, a good exercise for our bargaining unit people to take a look at what's going on around the state and what is happening in other cities, because it's a different picture than in Ann Arbor in many ways," said Mayor John Hieftje, who believes Ann Arbor doesn't have it so bad by comparison. "I've been reading about Grand Rapids, for instance, and they're asking for 8 and 9 percent reductions coming back from their bargaining units."
AnnArbor.com reported earlier this year that despite the city's efforts to slash personnel costs over the last decade, and reducing the number of employees by nearly 25 percent, overall pay and benefit expenses have increased by tens of millions of dollars.
City officials acknowledge part of the problem is that Ann Arbor city employees enjoy more lucrative benefit packages than their peers in the public and private sectors, including top-dollar health insurance packages at little or no cost to themselves. An analysis by AnnArbor.com revealed that if the city's health care costs alone were brought in line with the rest of the marketplace, the city could save more than $5.8 million a year.
Ryan J. Stanton covers government and politics for AnnArbor.com. Reach him at ryanstanton@annarbor.com or 734-623-2529.