Posted on
Tue, May 17, 2011 : 5:58 a.m.
Ann Arbor officials working on plan to reduce layoffs in police and fire departments, mayor says
By Ryan J. Stanton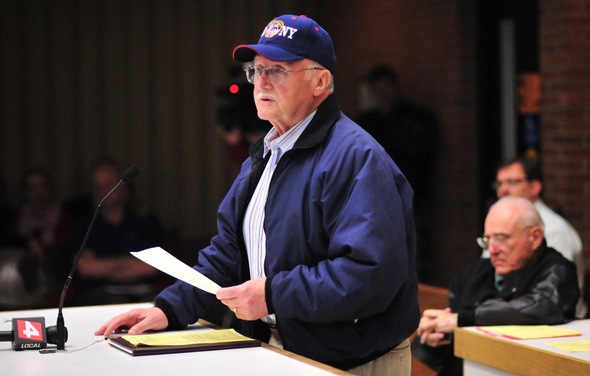 Ryan J. Stanton | AnnArbor.com
Mayor John Hieftje now says he and other Ann Arbor officials are working on a plan to reduce the number of layoffs in the police and fire departments.
Hieftje announced the news at Monday's Ann Arbor City Council meeting, saying it looks like the city may be able to avoid at least one of five police officer layoffs — and three of five firefighter layoffs — in the budget for the fiscal year starting July 1.
Hieftje said the police and fire unions then could avoid any remaining layoffs by agreeing to bring their health care benefits in line with plans offered to the city's nonunion employees, most of whom pay a portion of their insurance premiums.
However, a number of other positions in public safety — many of them vacant — still are proposed for elimination. In all, the administrator's two-year budget that was unveiled last month included cutting 25 positions in police and 12 positions in fire.
No final decisions were made Monday night. With financial issues surrounding the Downtown Development Authority still unresolved, council members adjourned the meeting and decided they'll pick up where they left off on the budget at 7 p.m. next Monday.
Ryan J. Stanton | AnnArbor.com
News that city officials are working to minimize cuts to public safety didn't stop several residents from stepping up to the podium and speaking during Monday's meeting.
Wendy Woods, a member of the Ann Arbor Planning Commission and former City Council member, said she was "extremely concerned" about police and fire staffing levels.
"Don't cut the fire department. Don't cut the police department. Please keep our residents safe," Woods told council members.
Resident Lisa Dusseau told council members she was "outraged" over what she considered "reckless cuts" to fire services.
"Increased cuts will turn our professional fire service into a surround-and-drown department," she said. "This is not the level of service I expect and pay for."
Citing statistics that show fatal fires have increased in Ann Arbor since deep cuts were made to the department, Dusseau asked: "How many more people have to die or are injured before enough is enough? To me, there is no acceptable number."
Resident James D'Amour told council members he and his wife might not be alive today if not for the Ann Arbor Fire Department. Twelve years ago, D'Amour said, their lives were put at risk by "careless neighbors" who started a fire in an apartment beneath them.
"To make a long story short, without some of the people here in this room, I know for a fact my wife wouldn't be alive now," D'Amour said, pointing to the many Ann Arbor firefighters who filled the council chambers. "There's a pretty good chance I may not have been as well."
Stephen Ranzini, president of University Bank in Ann Arbor, said he and his family already fear for their safety in Ann Arbor with current police and fire staffing levels.
"There is only one ladder truck in the city capable of rescuing my family from the 10-story downtown building we live in," he said. "If that ladder truck is responding to another call to cover for a closed fire station in another part of the city, my wife and I and my children will die. We can't jump to safety. This kind of plan is irresponsible."
Ranzini said he's combed over the city's audits and can't figure out why the city doesn't tap into some of the more than $100 million in cash reserves it has on hand.
"We aren't just having a rainy day, but a financial hurricane," Ranzini said. "What is the $103 million rainy day fund for but times like now?"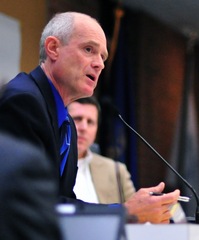 Ryan J. Stanton | AnnArbor.com
Tom Crawford
, the city's chief financial officer and interim city administrator, said he doesn't believe it's accurate to say the city has $103 million at its disposal. He and the mayor both cautioned it's illegal in many cases to move funds from one so-called bucket to another because different funds are intended for different purposes.
Ranzini argued the city is savvy enough to find a way to use the money it has to avoid cuts to public safety that could have drastic consequences. He pointed out the city regularly taps the DDA's buckets by siphoning off parking system revenue to help augment the general fund.
"Let's drain the buckets," he said. "Persisting with the fiction of the various buckets enables claims of poverty, which are easily seen through by those with financial budgeting experience."
The council also heard from Fred Veigel and Wesley Prater, president and vice president, respectively, of the Huron Valley Central Labor Council AFL-CIO.
"To some of your comments, with all due respect, I say balderdash," Veigel told council members. "Funds can be borrowed from different departments. Borrowed, I said. Not taken away, but with an IOU type of thing."
Crawford cautioned against borrowing money, saying the avoidance of short-term solutions is one reason why Ann Arbor is financially better off than other cities. It's imperative that the council make permanent structural reductions, he said.
Veigel urged council members to consider selling the two city golf courses that are costing the city hundreds of thousands of dollars a year. Or better yet, he said, let the Washtenaw County parks and recreation department take over their operations.
Prater, a Washtenaw County commissioner who worked for 25 years at the Ann Arbor Fire Department, said the staffing levels are inadequate and response times are lagging.
"Further reductions will make it impossible to answer more than one house fire or multiple family emergencies at one time," he said. "If an alarm occurs during this time, it will require mutual aid from communities to answer these calls, which will be longer than eight minutes."
Hieftje invited Police Chief Barnett Jones to the podium to dispute suggestions that the fire department is understaffed or struggling to meet national response time standards.
"When you take a look at some of the reports we have on file, you'll see that our firefighters are getting there in the appropriate time from anywhere in the city," Jones said.
City officials said they expect to hear the results of a paid consultant's study of fire department staffing levels sometime in July, after the cuts take effect. Donald James, a retired assistant fire chief for Miami-Dade County in Florida, is the lead consultant on the project.
Woods urged Hieftje and council members to work to improve strained relations with the police and fire departments. She said city hall and the fire department headquarters are only separated by a single street, "but you would think that it was the Grand Canyon."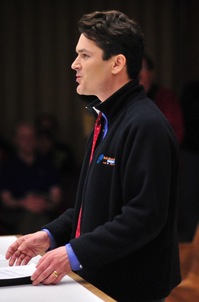 Ryan J. Stanton | AnnArbor.com
Council Member
Stephen Rapundalo
, D-2nd Ward, pointed out the city and union remain at odds in labor negotiations. He said the firefighters filed a petition in March to take the unresolved labor dispute through a Public Act 312 binding arbitration process.
"Despite the pendency of that proceeding, the city continues to meet with the firefighters in hope that a new contract can be reached, and I certainly hope that cooler heads will prevail and that we can come to an understanding," Rapundalo said.
Council Member Mike Anglin, D-5th Ward, argued there's room elsewhere in the budget to cut. He pointed out the city is planning to spend hundreds of thousands of dollars in the next two years on additional renovations inside city hall.
"In these dire times, if we don't need the amount of work done at this particular time and we can wait on it, I'd rather see us wait," he said.
Noting that other governments are revising revenue forecasts, Council Member Stephen Kunselman, D-3rd Ward, wondered if Ann Arbor's revenue projections might change before next week. Crawford said the projections showing a $2.4 million deficit in next year's general fund budget are still "pretty solid" and unlikely to change.
But other governments are seeing changes. State officials agreed Monday at a revenue estimating conference that Michigan will end this fiscal year with more than $429 million in unanticipated revenue, and nearly $500 million more next fiscal year.
Washtenaw County's projected deficit also has dropped by $3.4 million thanks to a less-than-expected drop in property tax revenues.
Ryan J. Stanton covers government and politics for AnnArbor.com. Reach him at ryanstanton@annarbor.com or 734-623-2529. You also can follow him on Twitter or subscribe to AnnArbor.com's e-mail newsletters.