Posted on
Tue, May 3, 2011 : 5:59 a.m.
Ann Arbor firefighters union president draws link between increase in fatal fires and cuts to fire services
By Ryan J. Stanton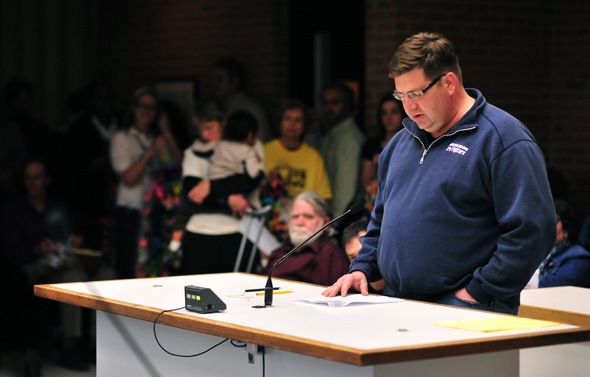 Ryan J. Stanton | AnnArbor.com
The president of the Ann Arbor firefighters union told Mayor John Hieftje and the City Council Monday night he believes deep cuts to the fire department over the last several years have led to an increase in response times on fires — and subsequently, a higher fatality rate.
"In the last decade, while the city eliminated a fire station, 37 firefighters, and shut down two fire trucks, our average response time has risen," Matt Schroeder said during a public hearing on the city budget, decrying the proposed elimination of 12 more firefighter positions.
"You cannot say that response times will not be affected. They are affected. They continue to worsen with your rotating station closures, and they will get worse if you cut more people."
The rotating station closures Schroeder referred to are a result of a new practice the city began in mid-February of closing one of the city's five fire stations on a rotating basis to curtail costs. Each month a different station is assigned to be closed and property owners receive service from the next closest open fire station.
Schroeder said city administrators have referenced their own data as a guise for further cuts, but they haven't shared with the public the "real data."
"In the last 20 years, 15 citizens lost their lives to fires in Ann Arbor. From 1991 through 2005, in 14 years, three people were killed by fire, or an average of 0.2 lives per year," Schroeder said. "But since 2006, in six years, 12 people were killed, or an average of two lives per year."
Going from 0.2 lives per year to 2 lives per year is a significant increase, Schroeder said, and it coincides with a 29 percent reduction in the number of firefighters on the job.
During the same time, Schroeder said, 13 citizens had to jump from windows and roofs to escape fires in their homes because the fire department could not get there sooner.
"It has been stated that the city is 'pretty comfortable' with making more cuts," he said. "How comfortable is the city with people jumping off rooftops while they wait for numbers of firefighters needed to safely exact a rescue?"
Of the 12 positions in the fire department slated for elimination over the next two years, seven would be cut July 1, two of which are vacant.
Council Member Stephen Rapundalo, chairman of the council's labor committee, said at Monday's meeting the firefighters union has been unwilling to bring its health care benefits in line with the packages offered to the city's nonunion employees. If the union did that, he said, it could save at least two firefighters from layoffs.
But many firefighters still feel betrayed after what happened last year. In an effort to avoid layoffs, the firefighters union last January agreed to a new contract that included a 3 percent wage reduction and a 1 percent increase in pension contributions. City officials said that was appreciated, but they still ended up cutting five firefighter positions.
"Our firefighters have been vilified," Schroeder told council members. "We are doing more with less but sometimes we can't do it in time. This has to do with safety."
Hieftje said he wished he and other council members could say what they said at this time last year — that they had found a way to minimize cuts to public safety. But the reality is the city is facing a $2.4 million deficit next year and there isn't a lot of wiggle room in the budget.
"Our choices are very narrow," he said. "I don't recall a budget year that has been anything as tough as this one. It just seems to get worse. I know cities across the state have really run out of strategies."
Schroeder also said Monday night the city's firefighters save lives by responding to emergency medical calls, as evidenced by two instances this past week where city firefighters arrived well before Huron Valley Ambulance and used basic life support skills to save the lives of two citizens who experienced serous life-threatening events.
"Also being said is that HVA is capable of handling the ambulance calls in the city and that we go to these runs because of union protocols. This is not correct," Schroeder said. "We are highly trained professionals that want to provide services to our citizens."
Schroeder received a round of applause from the citizens who filled the council chambers Monday night after he was finished speaking.
Ryan J. Stanton covers government and politics for AnnArbor.com. Reach him at ryanstanton@annarbor.com or 734-623-2529. You also can follow him on Twitter or subscribe to AnnArbor.com's e-mail newsletters.