Posted on
Tue, Dec 11, 2012 : 5:59 a.m.
Ann Arbor officials unveil budget forecast showing $1.3M surplus projected next year
By Ryan J. Stanton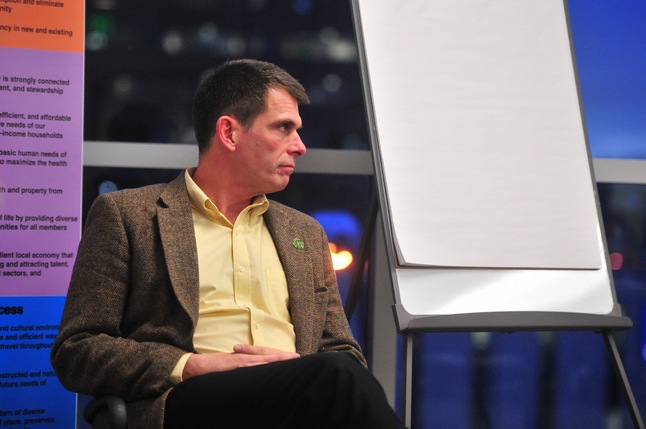 Ryan J. Stanton | AnnArbor.com
Ann Arbor
officials are forecasting a $1.3 million general fund surplus in the next fiscal year, giving the City Council some extra wiggle room as it begins to
set budget priorities
.
Tom Crawford, the city's chief financial officer, delivered the good news to council members during a special planning session Monday that marked the start of a new budget process.
Crawford said the overall picture is looking brighter than it has in recent years. He reported general fund revenues came in $1.6 million higher than expenses last year at $80.4 million, which led him to conclude the city has seen the bottom of the recession and is rebounding.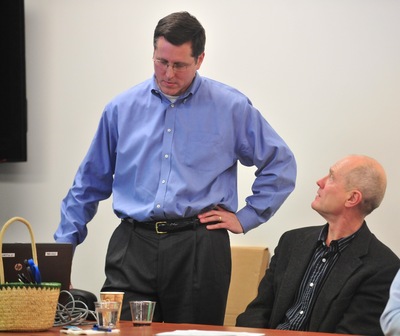 Ryan J. Stanton | AnnArbor.com
Multiple council members remarked after Crawford's presentation that it's not as gloomy as it's been in years past. In fact, they said it's much better.
After years of cutbacks, including controversial staffing reductions in police and fire, the city actually started adding back some positions in public safety this year. If the city's latest projections are correct, the city's budget will be in even better shape when the next fiscal year starts July 1.
But it wasn't all good news Monday night.
"We are projecting a surplus, but the surplus disappears very quickly," Crawford cautioned. "We're in good shape — better shape than we've been — but it's not great shape because we continue to see revenues are growing at about a 1.5 percent rate and costs are growing at a 2.5 percent rate."
The forecast for fiscal year 2013-14 shows general fund revenues ticking up to $82.1 million and expenses coming in at $80.8 million — $1.3 million in the black.
But projections for the following three years show that one-time surplus going away and turning into a deficit as the city's costs continue to grow faster than revenues.
Losing the personal property tax
Crawford said his revenue projections account for a phased-in elimination of the state's personal property tax, which Gov. Rick Snyder's administration is pushing.
While that will save Michigan businesses some money on the taxes they pay on equipment, it will hurt local governments throughout the state. For the city of Ann Arbor, it will equal an estimated $257,573 in lost general fund revenue next year, ramping up to $417,409 by fiscal year 2016-17 — a total loss of more than $1.4 million over the next four fiscal years.
Another major item impacting the budget in the coming years is found in the fire department. The city is using a federal SAFER grant to fund positions in the fire department, and those positions will cost the city more than $250,000 a year to sustain starting in 2014-15.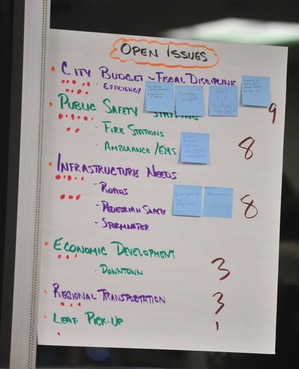 Ryan J. Stanton | AnnArbor.com
If additional measures aren't taken, Crawford predicts the city's budget will be just about break even in 2014-15, followed by an $836,875 deficit in 2015-16 and a $1.55 million deficit in 2016-17.
Crawford told council the funding structure for local government is not sustainable. He doesn't expect general fund revenues to return to 2007-08 levels until 2014-15.
"When I see revenues going up at 1.5 percent, one of the conclusions I draw is there has still not been a fix to the funding for local governments," he said. "Taxes and state shared revenues make up 75 percent of our funding, and when state shared revenues are limited like they have been, then you're asking for a lot of the growth to come from taxes."
Council Member Christopher Taylor, D-3rd Ward, said state government seems to continue to be an "adverse party" when it comes to funding local government.
"Yeah, it seems like they should be a partner," Mayor John Hieftje agreed.
"You would think so," Taylor responded.
The City Council will work in the coming months to provide budget directives to City Administrator Steve Powers, who will present his recommendations to council in April. After that, the council will consider the administrator's budget and adopt a final plan in May.
Crawford said the city's general fund cash reserves grew from $13.6 million to $15.4 million over the last fiscal year, which ended June 30. About $14.2 million of that is unassigned.
That leaves the city with a fund balance equal to about 18 percent of expenditures, which Crawford said is a good place to be. He recommends 15-20 percent.
"That's where we are," he said. "Good year, good balance."
Crawford said state shared revenue and state fire protection grant money actually came in higher than the city planned and downtown parking revenues were up, too.
Following Crawford's presentation, council members had a wide-ranging discussion about city issues and budget priorities.
Council Member Sabra Briere, D-1st Ward, said the city needs to be extraordinarily cautious about how the $1.3 million surplus gets allocated in the coming budget year, as it appears it's going to be a one-time bonus and not a recurring source of revenue for the city.
Ryan J. Stanton | AnnArbor.com
"When we have more of a general fund balance, we tend to look at that as an opportunity to embark on new endeavors. We might be tempted to do that this year, and we should resist temptation," she said, agreeing with the mayor that a one-time surplus shouldn't pay for recurring expenses.
Council Member Jane Lumm, an Independent who represents the 2nd Ward, agreed the city's spending levels aren't sustainable. She still voiced support for increasing police and fire staffing levels, which presumably would involve making cuts in other areas of the general fund.
Council Member Sumi Kailasapathy, D-1st Ward, said she wants council to take a hard look at prioritizing core services. She's in favor of increasing police and fire staffing levels, too.
"Do we have to do everything we're doing now?" she asked. "I'd rather see going back to the drawing board every two years to see 'is this a core service — should we be doing this?' Instead of doing A and B and C, maybe we should be just doing A and B."
Economic outlook
Crawford's presentation also included an overview of the economy in Ann Arbor and the surrounding area. He noted employment levels for the Ann Arbor metropolitan statistical area, which includes all of Washtenaw County, dropped from 208,000 to 199,000 from 2002 to 2011.
Private sector employment levels declined more rapidly from 143,000 to 126,000. Crawford said the good news is Ann Arbor's unemployment rate is only 5 percent versus 9.1 for the rest of the state, and the GDP for Ann Arbor has rebounded and exceeds 2007 levels now.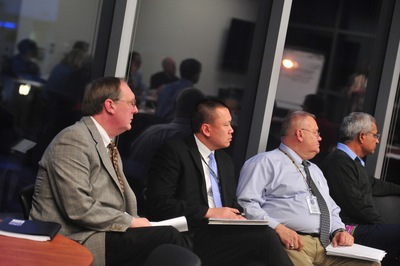 Ryan J. Stanton | AnnArbor.com
Within the city itself, Crawford pointed out the city's population has grown from 100,035 to 114,925 — or nearly 15 percent — since 1970.
He said the city tracks building permits by the value of the construction projects, and records show the city issued $198 million worth of permits in 2008. After the economic downturn, that dropped to around $80 million, Crawford said, but it's back up to $122 million.
"We're not where we were, but there is a lot of good activity going on," Crawford said, noting taxable values are still below 2008 levels but increasing modestly.
Crawford said the local economy remains concentrated in education and health care, therefore susceptible to downturns in those areas. He said efforts to increase and diversify private sector employment will contribute to a more stable local economic outlook.
Other challenges
Outside of the city's general fund, other city funds face challenges going forward. Crawford said the water and solid waste funds need additional study.
The water fund has a 3-4 percent annual increase in revenue programmed, but that doesn't include funding to address an aging water plant off Sunset Road that dates to the 1930s. Crawford said that's something on the horizon that council needs to start thinking about.
In the area of solid waste, the city's drop-off station needs to be replaced. And within the stormwater fund, Crawford said, there's a large unfunded liability for pruning trees in the right-of-way, and there are millions of dollars worth of projects not being funded in the capital budget.
"If you look at these funds, the stormwater fund is the one that had the biggest gap of desired capital projects versus ones that got funded," Crawford said.
Craig Hupy, the city's public services administrator, suggested the growing problem of decaying trees will be a discussion item in a new urban forestry master plan coming to council.
Looking at the city's street fund, Crawford acknowledged the city also has been struggling to keep up with the objective of having its streets rated at the upper end of the "fair" condition scale.
Crawford said that's just one of a number of areas where the city has some deferred maintenance needs, including asbestos mitigation in city hall.
"You may recall, the asbestos was removed on a couple of floors," he told council members. "There are four floors that still need work."
Over the next two years, most of the city's labor contracts are coming up for negotiation. Crawford said that's one of the city's financial uncertainties going forward.
Hieftje and other city officials also lamented the fact that the University of Michigan continues to acquire property in the city, taking more and more land off the tax rolls.
Ryan J. Stanton covers government and politics for AnnArbor.com. Reach him at ryanstanton@annarbor.com or 734-623-2529. You also can follow him on Twitter or subscribe to AnnArbor.com's email newsletters.