Ann Arbor school board prepares to tackle financial goal for 2012-13
Posted on Tue, Oct 2, 2012 : 3:15 p.m.
Ann Arbor's Board of Education will set the groundwork Wednesday for tackling a financial goal the board set in August.
At its Committee of the Whole meeting at 5:30 p.m. at Scarlett Middle School, the board will discuss a direction for how to impact the school funding problem that Ann Arbor Public Schools and every other district in Michigan has been experiencing.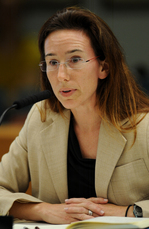 A debate has surfaced about whether the board should focus on long-term financial planning for the district itself or take on a more big-picture task, such as potentially spearheading a second attempt at a countywide education millage or lobbying state lawmakers to amend Proposal A and allow districts to levy their own taxes for operational expenses.
Board Secretary Andy Thomas said he expects the bulk of Wednesday's conversation to be about how AAPS will pass a budget in coming years. With dwindling funds from the state and the board's decision to use money from Ann Arbor's savings to pass the current 2012-13 budget, he said the entire board is concerned AAPS will have to make some incredibly tough decisions next year.
"I think the sense of urgency is there and … we wanted to get (the thought process) started early," Thomas said.
But Vice President Christine Stead has a slightly different hope about where Wednesday's conversation might lead. She is more in favor of "big-picture" advocacy, and plans to discuss a broad-scale approach to getting people within the district and surrounding districts on the same page.
Stead said the Washtenaw Alliance for Education, a group comprised of superintendents and school board representatives that formed in January, met during the summer to brainstorm ways for the alliance to serve in more of an advocacy role as it pertains to state education funding.
She said she hopes Ann Arbor school board members will discuss the level of interest they have in volunteering for that kind of work. She said this advocacy could include writing to legislators and proposing amendments to Proposal A — the existing legislation that mandates how money for the Michigan School Aid Fund is generated — or other legislation that could give schools the local power to raise mills for funding children's education.
"This may require some research and some legal advice. … I have a couple of things in mind that I'd be happy to volunteer for but I want to make sure my colleagues think it's important work," Stead said. "I think we're to the point where we all have similar perspectives and agree we need to start thinking about what's really happening with school funding and how we, as Ann Arbor, can take a leadership role in the community."
Thomas said most of the legislators from this area are already on board with what the AAPS district is trying to advocate.
"But I don't know how we would go about changing the minds of (legislators) from Grand Rapids or Traverse City, for example, enough to get anything passed in a reasonable amount of time," he said.
Stead agreed she doesn't know whether the district and Ann Arbor-area legislators could be influential enough to make a change in how schools are funded by the next budget cycle or not.
"I think it'll depend on the results of the November election. ... If one of the (legislative) bodies became more democratically run, you might be able to get more of a conversation going in Lansing about school funding reform," she said. "But I think you can't stop doing what you think is the right thing to do and fighting for the students and their futures."
In 2009, schools in the
Washtenaw Intermediate School District
attempted to pass a
countywide education enhancement millage
that failed by large margins in all municipalities except Ann Arbor. Several Ann Arbor board members recently have stated they would like to give the millage another try.
Stead said the county has never been able to successfully get its residents on the same page in terms of the value residents place on education. She added Washtenaw needs to do what Kalamazoo County did with the Kalamazoo Promise program and put education in the context of economic development.
"What was important about that program was they were able to create a really compelling conversation about education and how … the residents can see home values increase and families moving back into the area. … It's been pretty successful. They are the only county in the state that has passed three consecutive countywide schools millages. … That level of conversation hasn't ever been done here, but we could lead it," Stead said.