Posted on
Thu, Dec 6, 2012 : 5:58 a.m.
District analysis: Ann Arbor schools enrollment remains stable as Schools of Choice balances departures
By Danielle Arndt
AnnArbor.com file photo
The final tally for the
fall 2012 head count
is in, and
Ann Arbor
schools ended up down three students from 2011.
Despite the small dip, the district's numbers have remained fairly stagnant throughout the past decade, according to a report presented at Wednesday's Board of Education meeting.
The report indicated Ann Arbor Public Schools has bucked the declining enrollment trend that is plaguing the rest of Washtenaw County and the state. In addition, the report revealed some shifts in the district's ethnic groups, tapered growth at Skyline High School and a transient K-5 population.
From the 2007-08 to 2011-12 schools years, Michigan districts lost a combined 102,154 K-12 students. While flat enrollment totals are a positive, Ann Arbor schools are losing as many, if not more, students to charters than they are bringing in and more students than in previous years to Saline Area Schools.
The district's Schools of Choice program also is not doing what school officials had hoped, which was to generate additional revenue. Rather it is just helping the district "play defense" or break even, as Board Secretary Andy Thomas said Wednesday.
Since Ann Arbor launched Schools of Choice in fall 2010, it has yielded 219 non-resident students enrolling in the district.
For the 2012-13 academic year, the district opened 170 seats to children in grades kindergarten through sixth. However, Wednesday's report showed AAPS received 142 Schools of Choice applicants, resulting in 102 enrollees.
Non-resident children of employees account for more students than Schools of Choice. This year, 157 children of faculty attend the district, according to the report.
Jane Landefeld, director of student accounting and research services, attributed this to a couple of things. She said the district really only is just beginning to circulate communications on its Schools of Choice program. Also, based on her conversations with families, Landefeld said parents are applying at several different districts and then making the choice later after they've been accepted at multiple places.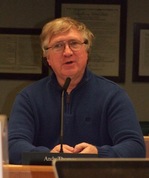 However, she said the data shows: "Students who come to us through Schools of Choice are staying with us through Schools of Choice."
Thomas was disappointed to see no net gain due to this program.
"We are losing out the back door what is coming in through the front door. … I am not at all happy with the whole Schools of Choice issue … but we probably have to do it as a defense mechanism," he said.
Wednesday's enrollment and facilities report is just one of a series of reports Superintendent Patricia Green has had her staff compile for the board since the beginning of the school year, her second year at the helm.
The new set of annual reports is among Green's superintendent goals for this year. She said the reports are part of her and her cabinet's work plan "to keep the public and the board informed on a wide array of topics we feel are important in planning for the future."
Landefeld explained the annual fall count is rather time consuming. Students who have unexcused absences on Count Day have 10 days to return, she said, while students who have excused absences have 30 days.
She said the district spends about an eight-week period monitoring attendance and enrollment to prepare for the count, then it does the count and then there is about another eight-week period to vet the data and submit it to the state and the Washtenaw Intermediate School District. The WISD audits the numbers for all of the districts and charter schools in the county.
Trustee Susan Lightfoot asked about the numbers at Ann Arbor Technological High School, one of the district's two alternative secondary education programs that is known to have high student turnover and dropout rates. She said last fall, the district claimed too many students at A2 Tech.
Landefeld cited the high school's current enrollment at 117.
"As far as I know, things are pretty clean this year," she said of the audit.
As a trend, growth at the secondary buildings has helped make up for the loss of students at the elementaries.
Landefeld said every year, the district typically sees an influx of students entering the first grade. She attributed this to Ann Arbor's mostly half-day kindergarten program, saying parents may have kept their children out-of-district for a full-day program and then brought them back in.
"Next year, we believe (the numbers from kindergarten) should look pretty much the same at first grade," Landefeld said. "We think we're beginning to really capture students at the kindergarten level."
AAPS' enrollment for kindergarten during the past five years has increased by 4.5 percent, compared to an increase of 2.9 percent countywide. The state saw a 2.4 percent decrease in kindergarten enrollment during this same time period.
AAPS also implemented full-day kindergarten districtwide this fall. Prior to 2012, the district offered all-day programs at six of its 21 elementary schools.
In total from last year to this year, Ann Arbor lost 29 students in grades K-5. It lost six students in grades 6-8 and gained 32 at the high schools.
"There is a myth out there that the Ann Arbor schools are losing students at the middle school level," Thomas said. "But the data does not support that hypothesis. What it does support is that we are losing as we progress from first through fifth grade."
Landefeld said Thomas' interpretation of the data is correct. She said part of the problem is the county's low birth rates in recent years, as well as the number of families that come to Ann Arbor temporarily for jobs at the University of Michigan but don't stay. She said this is prevalent at Northside Elementary, for example.
Landefeld said the middle schools dropped about 140 students in the past 12 years, but the buildings have been steady in recent years. The one exception is Tappan Middle School, which increased its enrollment from last year by 24 students.
Skyline High School's population is "less than what we expected a couple of years ago," Landefeld said. She said enrollment has been constant at about 1,500.
"We thought it would get to the size of the other high schools," she said.
Huron and Pioneer consistently are at or over capacity, which is 1,615 students at each of the three comprehensive high schools. Landefeld said transportation and the amount of time it takes for students to get to Skyline is what might be deterring some students from attending. Students outside of the attendance area are required to enter Skyline through a lottery. These accepted lottery students must provide their own transportation.
Data shows AAPS had 1,482 students leave the district after Fall Count Day 2011. But it had nearly as many students, 1,478, enter the district in fall of 2012.
AAPS lost 161 students to charter schools and gained back 145. Which charters are drawing the most kids from AAPS has remained about the same. However, Honey Creek Community School appears to be attracting more AAPS students in the past two years.
Similarly, Ann Arbor lost 190 students to other county public schools, but welcomed 155 from other districts. The two districts drawing the greatest number of Ann Arbor families are Ypsilanti and Saline.
Who Ann Arbor's students are has changed slightly throughout the past decade. From fall 2001 to fall 2012, the number of Caucasian students has dropped by 10 percent, Asian students have increased by 3 percent and multi-ethnic students have increased by 8 percent. African American students have decreased by 2 percent, whereas Hispanic or Latinos have increased by the same amount.
Landefeld said this information is slightly flawed in that AAPS did not offer "multi-ethnic" as a choice on its enrollment form until about six or seven years ago. The district did not go back and ask those who enrolled prior to this change to re-evaluate their ethnic choices, she said.
Download the enrollment and facilities powerpoint presentation here.
Danielle Arndt covers K-12 education for AnnArbor.com. Follow her on Twitter @DanielleArndt or email her at daniellearndt@annarbor.com.