Posted on
Sun, Nov 4, 2012 : 12:35 p.m.
Ann Arbor school district releases superintendent goals; some already achieved
By Danielle Arndt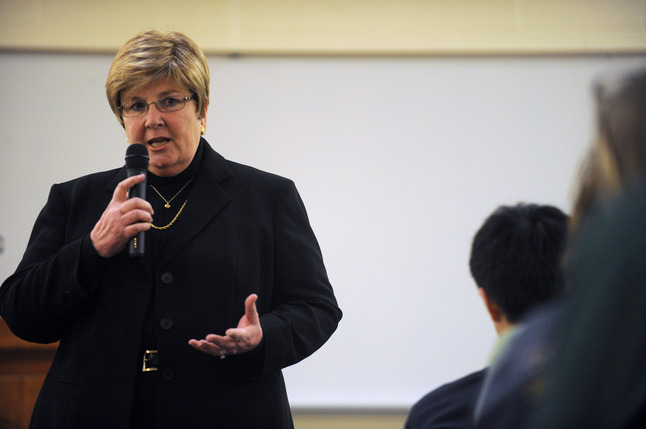 Ann Arbor Public Schools
Superintendent
Patricia Green
received praise
from the
Board of Education
in August for her "fabulous" and "ambitious" goals. Those goals were released to
AnnArbor.com
Thursday.
At the board's annual retreat Aug. 3, school trustees set their goals for the 2012-13 academic year and discussed goals for Green, who, as superintendent, is the board's primary oversight responsibility.
Green came prepared to the August meeting with a five-page "mega list" of items she hopes to accomplish during the current school year. And while she continues to work on those items that have a target completion date of "first semester," Green has been able to check a few things off her list.
AnnArbor.com submitted a formal request for Green's superintendent goals in August, immediately following the board retreat. The district denied the request, stating the superintendent's goals were in "draft form" and a final copy would be made available in September.
After repeated follow-up, the documents were released Thursday. District Spokeswoman Liz Margolis said the reason for the delay was the superintendent has been too busy to update the draft document until just recently.
Margolis said Green does not like to distribute documents in draft form because they are not complete and still could change.
Green's goals for the current school year are broken down into five categories:
Strategic planning
Budget, technology, the discipline gap and accountability
Community outreach
Curriculum, student achievement and student growth
Personnel management
Among Green's strategic planning goals is scheduling a variety of reports to share with the Board of Education.
So far, she has been able to check seven reports off her list: an annual report on student achievement, an update on the Mitchell-Scarlett Teaching and Learning Collaborative, technology plan and technology bond report, Department of Physical Properties report, human resources report and a report on the Information Technology Department.
Purchasing Data Director, a new software system for housing and analyzing state and local data, also was accomplished and can be scratched from the list. Although, professional development on how to appropriately use the software for the greatest benefit will be ongoing, according to the goal documents.
With regards to the budget, the district has begun implementing a zero-based budgeting process. This model will be fully utilized in the 2013-14 academic year. The integration of this budgeting method is among Green's goals for the current school year.
Also on her list was inviting James P. Comer, a friend and mentor of Green's, to visit Ann Arbor and meet with the district's administrative and parents groups to discuss his areas of expertise. Comer is renowned in the education world for developing strategies for improving student achievement, especially among minority students, by focusing on social and emotional learning.
Green is a pupil of his methods and implemented many of his strategies while serving as an elementary principal in Prince George's County, Md. The discipline and achievement gap plans she has developed since coming to Ann Arbor model these strategies.
Comer came to visit the Ann Arbor Public Schools in October.
Many of Green's goals are ongoing or have target time periods for completion relevant to the school year, for example first semester or second semester.
Most of her community outreach goals include attending and participating in the monthly or quarterly meetings of the PTO Council, AAPS Educational Foundation, Washtenaw Alliance for Education and serving on the University of Michigan School of Education's dean's advisory committee.
Among Green's personnel management goals is "advertise, interview and fill vacant principal positions with the best candidates available" as soon as possible. Currently, Green is attempting to find a principal for Pioneer High School. She re-posted the position last month in an attempt to grow the applicant pool to be sure she hired the "best fit for the school," Margolis said in an Oct. 12 article.
Margolis said on Friday that interviews for applicants yielded in the second round of the posting would begin that day.
Read AnnArbor.com's August coverage of the school board's annual retreat to see what trustees thought of Green's 2012-13 goals.
Danielle Arndt covers K-12 education for AnnArbor.com. Follow her on Twitter @DanielleArndt or email her at daniellearndt@annarbor.com.