Posted on
Thu, Mar 25, 2010 : 6:06 a.m.
Ann Arbor superintendent's proposed budget cuts include 50 teaching positions, pay-to-play
By David Jesse
Ann Arbor Superintendent Todd Roberts' proposed budget for the 2010-11 school year would eliminate 50 teaching positions, 22 support positions and nine administrative positions to shed nearly $16 million from the budget.
But unless the district is able to get another $4.5 million in savings from wages and benefits concessions from its unions - including the teachers union - it will likely need to eliminate another 36 teaching positions, three middle school counselor positions, one central administration clerical position and two custodial administration positions.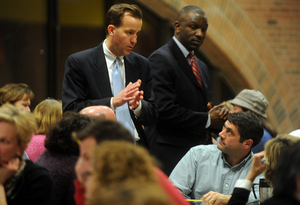 Other measures, including deeper cuts to supplemental pay used for extra-curricular positions, would also be implemented. The proposed plan does not close any schools.
Roberts presented his plan to the school board Wednesday night, but the proposal still needs to be approved by the board. The district is struggling to cut $20 million from its more than $180 million budget.
It's not yet known how many of the cut positions would result in layoffs and how many would be through attrition and retirements.
For example, the district has about 65 tentative indications of pending teacher retirements, but that number changes regularly.
Roberts will return to the school board on April 14 to update board members on negotiations. If the additional $4.5 million in cuts hasn't been settled in negotiations, the board may be asked to approve layoff notices. By law, the district has to send layoff notices by the end of April.
Roberts and his cabinet-level administrators spent nearly two-and-a-half hours Wednesday night walking the school board through the first $16 million in proposed cuts and some ways the district could increase revenue.
The board likely won't formally vote until June. By state law, it has until July 1 to approve the budget.
On Wednesday, board members asked questions about several items and expressed concerns about some proposed cuts.
Administrators created a series of scenarios as they constructed the budget - all based on differing projections of what the state will do with the district's per-pupil funding. Like all districts in the state, Ann Arbor gets the bulk of its revenue from the state's per-pupil foundation grant, which varies by district. In Ann Arbor's case, it's more than $9,000 per student.
In the first budget scenario, the district projected a $15.43 million deficit if the state makes no additional cuts to per-pupil funding.
In the second scenario, the district projected an $18.72 million deficit if the state issues a $200 per-pupil cut.
In the third scenario, the district projected a $20.36 million deficit if the state issues a $300 per-pupil cut.
Earlier Wednesday, the state Senate passed a budget plan that would enact a $118 per-pupil cut. That still has to be approved by the House and then signed by Gov. Jennifer Granholm.
Roberts said the district prepared a budget for the worst-case scenario.
Roberts didn't recommend the district privatize the transportation system or its custodial services Wednesday - but he didn't say it was off the table. The district has received bids for doing both.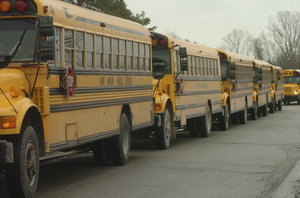 However, administrators did say they would prefer to join a countywide transportation system that's being discussed to get savings.
During the public comment period before the budget proposal was unveiled, several parents, custodians and bus drivers urged the board not to privatize.
"I would like to not give up the choice (of selecting) who comes into contact with my daughters," said parent William Mayhew, noting he feels safe knowing the custodians and bus drivers who work in the district.
Bus driver Richard Miller expressed concern a private company wouldn't have students' best interests in mind.
"The bottom line reigns," he said.
Teachers union President Brit Satchwell also weighed in on the possible privatization and the impact bringing in a private company would have on wages for workers.
"When you cut wages, you impoverish people and you impoverish our community because they are our neighbors," he said. "(Bus drivers) are teaching a classroom."
He urged the board to dig deeper into its fund balance to help save jobs.
The district expects to end this school year with about $22 million in the fund balance. The district has said its needs about $16 million in that fund to help with cash flow and covering payroll during the eight weeks each year when the state doesn't send foundation grant checks.
Robert Allen, the district's chief financial officer, said under the worst-case scenario, if the district just covered the shortfall with its fund balance, it would have about $1.68 million left at the end of the 2010-11 school year.
In non-instructional support services, the district is looking to trim $4.4 million. Included in those cuts: using the middle school pools for only nine weeks per year, reducing contracted services by $100,000 and reducing administrative positions in the district's bond office.
That area also includes the possible privatization of transportation and custodians. The district is looking for $1.5 million in savings from transportation and $2 million in savings in the custodial area.
In the district's instruction support area, the proposed budget calls for $3.5 million in reductions. Among them are cutting eight special education teachers and reorganizing the district's instructional administration to reduce several administrative positions.
However, it would add an administrator for curriculum and instruction at a salary of about $117,000. That position would be in charge of the district's total instruction.
The position has been vacant for at least two years, since Gerry Middleton left the district shortly after Roberts arrived as superintendent.
"It's important that we have a person whose focus is on this area," Roberts said. "This is a reduction we made two years ago, and while it was the right decision at the time, it's something I would not do again."
Also included was cutting 3.5 positions in the district's English as a Second Language Program and reorganizing that department. Administrators said the district has lost about 157 ESL students in the last couple years, but hasn't reduced staff.
Administrators are also proposing a charge of $200 for the district's four-week elementary summer school program, with scholarships available for students with financial need.
That drew criticism from multiple board members, including Trustee Susan Baskett. She said she thinks families could see the charge and decide not to send kids who need help to the program.
School board Trustee Glenn Nelson agreed and said all the cuts were painful to make.
"This process, even done carefully, is hurting the education of our students. They are going into a world where they need a really top-notch education," he said. "This, in my mind, is a bad thing for the children of our community and what it does for their future."
The district also plans to reduce the general fund contribution to high school and middle school athletics and extracurricular activities.
In its place, administrators propose instituting a pay-to-play program that would cost a high school student $150 for the first sport and $50 for the second sport. A middle school student would pay $50 per year.
Also, the district would begin to charge a $50 fee to all students who use a district musical instrument.
The plan also calls for $1.2 million in wage and benefit costs savings in already existing union contracts; a 50 percent reduction of overtime in various departments; the move to November school board elections (which was already approved by the school board) and reduced printing and mailing costs to save $140,000.
At the elementary level, the district will restructure elementary specials - such as art, music, and physical education - and add a new humanities strand that will more closely integrate those areas into regular classroom hours, elementary administrator LeeAnn Dickinson-Kelley told the board.
For example, when students in first grade are studying the forces of motion, the physical education teacher will be involved in that lesson. When a second-grader is studying sound, the music teacher will be involved. The district has been running a pilot program of the concept at Mitchell Elementary School.
Elementary students will still have the same amount of those core special areas, administrators said.
In addition, the district will be reorganizing the media specialist role to focus more on technology. However, students will still be able to check out books from the library.
Nine teaching positions are expected to be eliminated at the elementary level, most in the area of media specialists.
At the middle school level, the plan would eliminate 8.2 FTE teaching positions - which would lead to increased class sizes, especially in elective classes.
The plan also calls for eliminating 3.4 teaching positions currently tasked to the Student Planning Center. Each middle school has a planning center, which is used for disciplining students, along with conflict resolution and other ways of helping students.
That proposed cut drew sharp criticism from several board members, including board President Deb Mexicotte. She said she served on a middle school restructuring committee about a decade ago that worked to beef up the centers to make sure they fit with the district's curriculum goals.
"We are now moving back to a model that was seen as less good," she said.
She and Baskett said it might be the time to get rid of the planning center.
At the high school level, the plan calls for axing two assistant principal positions, one each at Pioneer and Huron high schools. It also calls for cutting five staff members at the district's alternative high schools, leading to increased class sizes and fewer sections of elective classes.
The plan also proposes cutting 11 teaching positions at the comprehensive high schools, which would raise class sizes and reduce the number of sections for some elective classes.
Counselor positions, clerical positions, lunchroom supervisor positions and community assistant positions would also be reduced at the high school level.
In addition, the budget presentation touched on ways to generate more revenue.
The proposal includes increasing fees for University of Michigan home football parking, adding cell tower revenue (projects were approved by the board on Wednesday) and providing human resource and maintenance management service for other local school districts for a fee.
The bulk of the revenue increases would come from opening 170 schools-of-choice seats to students outside the district; 60 seats will be open in kindergarten, 60 seats in first grade and 50 in the middle school.
The school board unanimously approved making Ann Arbor a limited schools of choice district without comment Wednesday. The application period will begin April 1.
Roberts said the reductions total 17 percent of the district's administration and support budget and a 5.5 percent in the instruction and support budget.

Staff members were briefed on the proposal earlier Wednesday.
Joan Fitzgibbon, the principal at Allen Elementary School and the head of the principals union, said Roberts "engaged a wide and diverse group" of community members, parents and staff members in making the plan.
Negotiations with the district's teachers union are under way. Roberts and Satchwell said the talks as going well, and both sides are working together to come up with savings.
"I'm positive with the progress that's being made," Satchwell said. "Hopefully it will enable the staff and the community not to be stressed. We will see a naturally constricting district as the state constricts. We have to shrink smoothly while maintaining standards."
David Jesse covers K-12 education for AnnArbor.com. He can be reached at davidjesse@annarbor.com or at 734-623-2534.