Posted on
Thu, Sep 15, 2011 : 5:55 a.m.
Ann Arbor's new city administrator faces daunting task of restoring trust with unions
By Ryan J. Stanton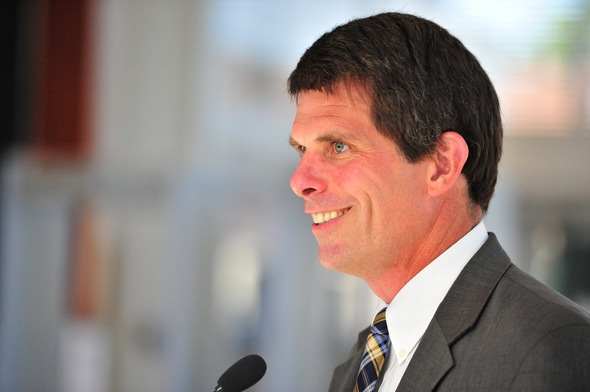 Ryan J. Stanton | AnnArbor.com
Steve Powers
is starting his first day on the job today as
Ann Arbor's new city administrator
. In fact, it's his first role as a city administrator in his entire career in public service.
Powers, a 49-year-old Illinois native, has a lot to learn about Ann Arbor. Things like: Green is important. Transportation doesn't necessarily mean a vehicle. And translucent isn't transparent enough — not to the watchdog citizens surely to scrutinize his every move.
But that's the easy stuff.
Powers, who will receive a $145,000 base salary, also faces the unenviable task of trying to reconcile differences with the city's labor unions — particularly police and fire, which have had contentious relations with the city's current leadership. To put it simply, they saw Ann Arbor's last city administrator, Roger Fraser, as an adversary.
But where Fraser's administration fell short in finding common ground with the city's public safety unions, Powers has a new chance to succeed.
Coming from Marquette County, where he served as county administrator for the past 15 years, Powers has the distinct advantage of being a fresh face. But more so, it's going to be his actions in his first few months on the job that determine whether trust can be restored between the public safety unions and city administration in Ann Arbor.
"I would certainly work toward building trust and earning the respect of the employees," Powers said. "Employees are important. They're the ones delivering the services."
Ann Arbor officials stressed during the recent search process they were looking for an administrator who could communicate well with employees, be a consensus builder and manage in an aggressive collective bargaining environment.
Ann Arbor has eight collective bargaining units and close to 200 of the city's 700-plus employees are represented by the police and fire unions.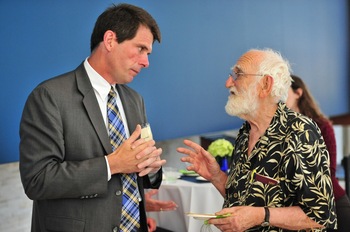 Ryan J. Stanton | AnnArbor.com
AFSCME, the largest union, represents about 230 employees who recently agreed to
major concessions
that the city has been unable to get out of police and fire.
Mayor John Hieftje said it was important that the city's next administrator possess the skills necessary to deal with the unions. He said it wasn't a goal to bring in someone from outside the city, but it could make a difference.
"But we have a very good negotiating team that does its best here already, so it's more of a meshing in," he said.
Representatives of both the police and fire unions declined to comment for this story.
To date, the city has been unable to achieve the kind of concessions it has wanted from its public safety unions, and negotiations with both police and fire are now in binding arbitration. As a result of those standstills, many jobs have been eliminated, and police and fire services have been impacted.
In recent years, when city budget cuts came down and deep cuts to public safety were exacted, Fraser was seen as the guy left holding the ax. The city reduced its work force by 30 percent during his nine-year tenure and the unions weren't happy.
Not helping matters were situations like what happened in February 2010. Just three weeks after firefighters agreed to voluntary concessions that included a 4 percent reduction in compensation, which they hoped would save jobs, they were told by Fraser and his administration that six more positions than previously expected were slated to be cut.
One representative of the firefighters union put it this way at the time: "That's like doing a guy a favor and having him come back and hit you with a baseball bat."
During his tenure in Marquette County, Powers worked closely with eight collective bargaining units and seems to have earned a reputation for being a consensus builder.
Sgt. Dave Kent, past president and current vice president of the union that represents sheriff's deputies in Marquette County, had only good things to say about Powers.
"Steve has been good to work with," he said. "He's always been fair, he's been up front with us, he lets us know what's going on. There hasn't been any surprises. He's been pretty open."
Kent said several deputy positions were cut from the budget about eight years ago, and the union also has had to make some concessions, yet he still praised Powers.
"We have had our falling out on a couple of different things, but I wouldn't say anybody disliked him. He helped out in a lot of different ways," he said, adding the sheriff's deputies union never had to go to binding arbitration to resolve a contract dispute under Powers.
"You could work with him," he said. "He's done far more good for this county than harm at any point. And really, in the end, we hate to see him go."
In addition to his time in Marquette, Powers brings experience from his days in Oregon where he was an assistant county administrator responsible for human resources, labor relations, risk management and organizational development.
"In Michigan and Oregon, I've probably negotiated and been part of 50 labor contracts," Powers told AnnArbor.com in an interview earlier this summer before being hired. "We have eight bargaining units in Marquette County, so I have extensive experience in labor relations with collective bargaining. I sit at the table with three of the groups. I would sit at the table with all of them if that was helpful, so I have hands-on experience."
In Ann Arbor, the human resources director and a city attorney sit at the negotiating table. Depending on the union and the discussion, other city managers might get involved.
Powers said his office was in charge of administering labor contracts in Marquette, so he was involved in day-to-day dealings with grievances and other issues that came up.
"My style in Oregon, which I've continued in Michigan, is one of collaboration — being as open as possible with information," he said, adding he also prefers to deal with issues before they become grievances and to deal with grievances early "so they don't fester."
Powers, who oversaw 240-plus employees, reports success in negotiating concessions and notes most Marquette County employees have had their pay frozen for two years.
Asked to cite a specific example of a savings he helped achieve, Powers pointed to a health insurance coalition the county formed in 2005 where all the bargaining units came together to explore options and set up a consistent and sustainable health plan for all employees. He said the approach helped contain health insurance increases.
"The 2006 health insurance premium was $500,000 less than 2005, despite an increase in the number of covered individuals," he said.
Powers knows he's stepping into a contentious environment in Ann Arbor, but he's hopeful an open and honest approach can restore lost faith.
"It's challenging in local government and employees feel the brunt of those challenges," he said. "And I think the employer, whether it's a city or county, needs to be sensitive to that and needs to try to work toward identifying those common interests.
"So I think I certainly bring a new face, a fresh face, and I think I would bring a style that would be more collaborative than combative. Whether that would be successful, that I don't know."
Ryan J. Stanton covers government and politics for AnnArbor.com. Reach him at ryanstanton@annarbor.com or 734-623-2529. You also can follow him on Twitter or subscribe to AnnArbor.com's e-mail newsletters.