Posted on
Wed, Feb 9, 2011 : 5:59 a.m.
As University of Michigan considers revisions to trespass policy, lawmaker calls for more oversight
By Juliana Keeping
The University of Michigan's application of its trespass policy has prompted a Michigan lawmaker to call for reforms to address the potential for lax oversight of campus police departments statewide.
Meanwhile, the director of the American Civil Liberties Union of Michigan said the organization is drafting a letter to U-M outlining its take on problems with the policy, which gives every campus police officer the authority to ban people for life from the public institution's campus.
About 2,050 individuals are currently barred indefinitely from all of or a portion of campus. A Freedom of Information Act request filed by AnnArbor.com prompted the release of a list Jan. 12.
Two people interviewed by AnnArbor.com said they were confused about the circumstances surrounding their banning from university facilities. Under the policy, the campus police department is not required to notify an individual in writing why he or she has been banned.
"If due process means anything, it means that an individual must be apprised of the reason he or she is being banned, and be given an opportunity to explain why the officer is wrong," Michael Steinberg, legal director of the ACLU of Michigan, said Thursday.
Concerned over the policy's potential to chill free speech and side-step due process rights, civil rights attorneys from the ACLU first raised questions about the constitutionality of the trespass policy following an Oct. 24 report by AnnArbor.com that detailed the university's use of the policy in the banning of Andrew Shirvell.
Shirvell is a U-M alumnus and a former state assistant attorney general who blogged about student body president Chris Armstrong and what Shirvell called Armstrong's "radical homosexual agenda." Shirvell also heckled Armstrong at public speaking events.
U-M's student ACLU group sent a letter Nov. 11 to U-M President Mary Sue Coleman and Public Safety Director Ken Magee to request a review of the policy, prompting Coleman to call for a revision. No timeline for reform has been set by the president or the institution's legal office, which is handling the revision, U-M spokesperson Rick Fitzgerald said last week.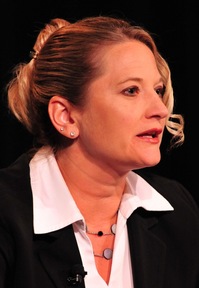 Warren considers review of state law
In an interview this month with AnnArbor.com, State Sen. Rebekah Warren, D-Ann Arbor, joined in the call for change, but she took things a step further.
While she said that she applauds any revision of the policy, she said potential abuse of the policy at U-M could give lawmakers a reason to review a state law that governs the oversight of campus police departments.
"There's a lot of concern that there's too much power in one department or one person's hands with no ability for citizens to appeal," Warren said.
In 2011, she said, she'll work to strengthen oversight in the state law that grants universities the power to deputize their own law enforcement agencies.
Steinberg said that the ACLU would support any effort of Warren's to increase oversight of campus police departments. Until then, the organization is keeping close tabs on the revision process of the trespass policy.
"We understand the university has a duty to protect its students, but in fashioning a trespass policy, the university must consider the free speech rights of students and residents, and craft a narrow policy that recognizes both interests," Steinberg said.
Steinberg said he is especially concerned that a person can be banned for violating any university rule under the trespass policy.
"Those rules, as you know, are very broad," Steinberg said. "They can include bringing a water bottle into Michigan Stadium. Smoking too close to the entrance of the building."
In an interview with AnnArbor.com, one man who was banned said he wasn't sure why he got a trespass warning after a heated exchange at a football game, and others didn't.
U-M alumus Timothy Walbridge was at a home game with his parents and friends on Sept. 4, 2004, when his group got into a shouting match with a few other fans over seating.
"It escalated to the point where one of them verbally threatened me and said he was going to take me out to the parking lot," said Walbridge, now a geriatrician who earned a biology degree from the university in 1996.
Campus police officers escorted Walbridge and his friends out of the stadium, and on the way, one of them handed Walbridge a trespass warning that barred him from campus. A medical student at Wayne State University at the time, Walbridge now lives in Carmel, Ind., with his wife and their three children.
"I have nothing but love for Michigan. It makes me feel horrible I can never purchase tickets or technically be there on their property," he said.
Under the policy, police are not required to provide a reason in writing for the ban, Department of Public Safety spokeswpman Diane Brown said last week. Instead, a conversation with the issuing officer details the reason for ban, she said.
That conversation left one former employee confused.
Ray Berger worked for 18 years as an usher in Section 38 of Michigan Stadium and held season football tickets for 25 years. He lost his job in 2006 and U-M revoked his tickets in July 2010. Then campus police banned Berger from the Big House and Crisler Arena under the school's trespass policy.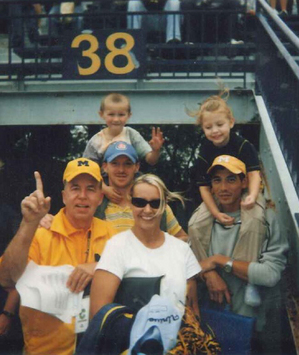 Photo courtesy of Raymond Berger
He and a university spokesperson have different explanations as to what prompted his ban.
Berger, a retired factory worker from Flint, said a police officer gave him a trespass warning and told him to leave after he handed a religious handbill to a worker at Crisler Arena while buying a ticket for the Oct. 16, 2010, game against the Iowa Hawkeyes. The handbill is a copy of a 1996 Flint Journal article that tells the story of how Berger found Jesus Christ after a car accident almost killed his mother.
Brown said the university embraces political discourse and freedom of expression in all areas, especially outdoors.
Asked if Berger's claim that he had been banned for handing out religious material was true, Brown said, "Typically, no, it wouldn't be because someone is distributing something. We aren't content police."
Berger said that prior to being banned from the venues, he repeatedly called the athletic department to ask about his dismissal from his usher position. He also sent Russell Stover chocolates, Christmas cards and "Hail to the Victors" ink pens to athletic department workers and a U-M attorney.
Brown said Berger's repeated contact over the years disrupted the day-to-day operations of the athletic department. She said the university issued a trespass warning to Berger to avoid prosecution, declining to speculate on any charges.
Questions of oversight and policy
Under the Public Safety Officers Act 120 of 1990, deputized university police forces must have an oversight committee, but at U-M and elsewhere, that committee's powers are only advisory under the state statute, said Sen. Warren.
She said she has received complaints from residents that while the oversight committee exists in name, "It's not being as empowered as it should be under the statute."
DPS became a deputized police force in 1990, a controversial move at the time, recalled Warren, who protested the formation of the department as a U-M undergraduate. The students' anti-campus police slogan?
"No guns. No cops. No code," she said. At the time, most of the debate revolved around whether there was enough crime in Ann Arbor to warrant an armed police force on campus, Warren recalled. Envisioning herself as a student on campus today, she said she might instead be asking serious questions about oversight.
The statute that gave universities the power to deputize campus police departments also requires that an elected civilian oversight committee comprised of two students, two members of the faculty and two staff members exist in order to address grievances against public safety officers. Each committee member should be nominated and elected, the law states.
Before the spring of 2010, elections for faculty hadn't occurred for almost a decade, although the committee was still active, said Kathleen Donohoe, the director of policy for human resources at U-M, who provides support to the committee. It had addressed one to two grievances a year since 2005, she said.
The committee can recommend measures be taken by the institution against a public safety officer found responsible for misconduct in office, the law states.
Faculty elected U-M law professor Richard Friedman to the oversight committee in April 2010 after the student government and faculty governance re-instated election procedures. That change created an almost entirely new committee membership. The university also created a website for the oversight committee at that time.
Friedman serves as chairman and said so far he thinks the university is paying attention and the campus police department has been cooperative with the committee's requests for information.
The committee is required to meet at least twice per year, but has met roughly five times since April. It has handled six grievances concerning the police department in that time, he said, including an incident involving a suspected mistaken detention and several complaints over the trespass policy. One Friedman characterized as minor has been resolved, while five grievances are pending. He said couldn't discuss details in specific cases.
Will the police department heed the advice of the committee?
"That remains to be seen," he said.
A look at EMU's process
At Eastern Michigan University, a nine-person civilian oversight committee has met twice to address two complaints since 2008, said EMU Department of Public Safety Chief Greg O'Dell. The trespass policy at EMU is similar to U-M's, but individuals are banned for one year. There are currently two to three vacancies on the civilian oversight committee, EMU general counsel Gloria Hage said Thursday.
Asked to arrange for a comment from President Coleman regarding the trespass policy, university spokesman Rick Fitzgerald said Coleman commented on the issue when she asked for the policy review and said there was nothing else to add.
In October 2010, U-M officials said 3,300 individuals were barred from campus. A Freedom of Information Act request from AnnArbor.com prompted U-M to release a list that showed 1,850 individuals have received about 2,500 trespass warnings since 2001.
The discrepancy between the original number of banned individuals and the number provided to AnnArbor.com following a FOIA was mostly due to an error in the way records personnel viewed the data, Brown said. Police also removed 200 juveniles and some deceased individuals from the list.
Records prior to 2001 were not available, Brown said, due to inconsistencies in how trespass warnings were tracked over the years.
Police said most individuals who receive trespass warnings are outsiders who have been charged with a crime.
William Bess, the public safety director from 1999 to 2008, authorized the written policy used by the department in 2000, Brown said, the same year DPS began to put all its policies and procedures on the books in order to begin the years-long process of accreditation, which it achieved in 2009. According to its website, U-M DPS is the first in the Big 10 to achieve accreditation under the Commission for Accreditation of Law Enforcement Agencies.
Another local lawmaker said he would pay attention to any changes Warren introduces to Public Safety Officers Act 120.
But State Rep. Jeff Irwin, D-Ann Arbor, said he would reserve comment until that happens.
In his experience as a Washtenaw County commissioner, he said, oversight committees have had varying degrees of success with the county Sheriff's Department.
"It's a difficult thing," Irwin said. "To make them vital and function like they're supposed to requires constant attention. If it's working right it's probably generating work."
Juliana Keeping is a health and environment reporter for AnnArbor.com. Reach her at julianakeeping@annarbor.com or 734-623-2528. Follow Juliana Keeping on Twitter