Posted on
Mon, Nov 5, 2012 : 5:58 a.m.
Prosecutor says Judge Tim Connors should recuse himself after campaign donations from attorneys in case
By Ryan J. Stanton
For the second time in as many weeks, Judge Tim Connors is being accused of a conflict of interest for accepting campaign donations from attorneys appearing before him in court.
The accusation comes from Wayne County Prosecutor Kym Worthy, who filed a motion in Washtenaw County's 22nd Circuit Court to have Connors recused from a case last week.
"In this case, the lead plaintiff's attorneys have made significant campaign contributions to Judge Connors' current campaign," said Maria Miller, a spokeswoman for Worthy. "We are requesting his recusal because the contributions suggest the appearance of impropriety."
Supporters of Connors are calling it an 11th-hour political stunt. His opponent, Michael Woodyard, works in the Wayne County Prosecutor's Office as an assistant prosecutor.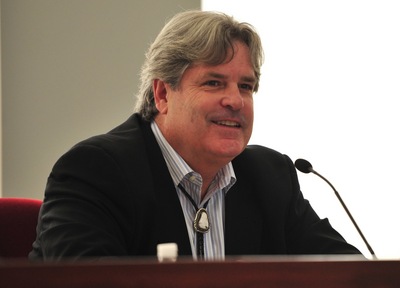 Ryan J. Stanton | AnnArbor.com
"I'm calling this Wayne County politics at its worst,"
Dick Soble
, one of the attorneys who gave money to Connors, told AnnArbor.com. "This motion is an attempt to turn lawful campaign contributions into something that it's not."
Woodyard, who is hoping to unseat the incumbent judge in Tuesday's election, declined to comment for this story, saying he had no involvement in the matter. Worthy is listed as one of Woodyard's campaign supporters on his website.
Karen Quinlan Valvo, Connors' campaign treasurer, said the Connors campaign had no comment, either. She said it's a matter for the litigants and the courts to resolve.
Connors is presiding over a long-standing case against the Michigan Department of Corrections in which hundreds of female inmates alleged prison workers sexually abused and harassed them for years. In 2009, Connors approved a settlement that ordered the state to pay $100 million to the prisoners and their attorneys, a case Woodyard chronicles on his campaign website.
With matters surrounding the settlement still being worked out, attorneys for the plaintiffs recently contributed more than $8,000 to Connors' campaign, reports show.
The motion filed by Worthy's office points out Connors accepted money from six of the nine plaintiffs' attorneys and argues those contributions justify some scrutiny considering the attorneys stand to gain large sums of money from the outcome of the case.
"Leading plaintiffs attorneys Richard Soble and Deborah LaBelle, who are sharing over $30 million in attorney fees in this case, both gave Judge Connors the absolute maximum allowed by law, $3,400 each, while this matter was pending," the motion states.
Other plaintiffs' attorneys who gave to Connors' campaign and are named in the filing include Patricia Streeter, Molly Reno, Michael Pitt and Cary McGehee.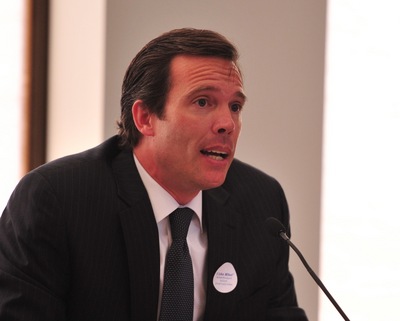 Ryan J. Stanton | AnnArbor.com
Soble gave $3,400 on Aug. 16, LaBelle gave $3,400 on Sept. 4, Pitt gave $500 on July 9, Streeter gave $250 on Oct. 18, Reno gave $100 on Oct. 13 and then another $500 on Oct. 30, and McGehee gave $100 on Aug. 9, reports show.
Soble said he donated the maximum amount allowed under law because, after spending many years appearing before Connors in court, he has found him to be a fair judge and respects him. He said the suggestion that there's any impropriety is outrageous.
Soble also said he finds the timing of the motion curious. He said it just as easily could have been filed a week or two from now and still be in time for the next hearing on Nov. 29.
"If truly what they wanted was a dispassionate hearing of this motion, they could have done it after the election, and they have an interest in the outcome of the election," he said. "They didn't have to rush this. The only rationale explanation for this is political. It's not legal."
Records obtained by AnnArbor.com indicate the parties involved in the case were served with a copy of the 66-page motion from Worthy's office last Thursday.
"The trial court, remaining on this case, would violate the relevant Michigan Court Rule, as well as the Michigan Code of Judicial Conduct/Canons of Ethics, and would deny the Intervening Victims that process of law to which they are due," the motion states.
The motion makes it clear the Wayne County Prosecutor's Office isn't happy that Connors still hasn't released the names of plaintiffs in the case. The only one that's been named is lead plaintiff Tracy Neal, who is referred to as a "toddler murderer" in the motion from Worthy's office.
Connors signed a protective order that kept the identities of the prisoner-plaintiffs secret, but officials from Wayne County, Oakland County and the state Department of Human Services have wanted the names to determine if they owed restitution to their victims or any child support. The three parties acted as intervening appellants and took the case to the Michigan Court of Appeals.
A three-judge appeals panel on Aug. 7 of this year issued a partial reversal of Connors' previous ruling, sending the case back to him and asking for greater involvement by the trial court in ensuring the protective order doesn't shield plaintiffs from meeting their financial obligations.
The court asked Connors to work with the parties to come up with a plan that ensures outstanding child support, restitution and other fees are first collected from the settlement proceeds.
Soble said he sees some hypocrisy in the motion filed by Worthy's office since Woodyard works for that office and it could be perceived that there's a conflict of interest in that.
Questions were raised recently about another case in which Connors ruled in favor of a lawyer who serves on his re-election committee. John Bredell was the lawyer representing Jenny's Market in that case. Bredell and his wife collectively gave $3,550 to Connors' campaign, reports show.
Valvo said at the time she believes the many attorneys supporting Connors are giving their money to make sure a fair and impartial judge remains on the bench.
"I think that it's pretty indicative of the fact that people in this community respect Judge Connors and appreciate the job he's doing to serve the community," she said of the more than $100,000 he's raised. "This outpouring of support was certainly humbling and overwhelming."
Previous coverage: Connors vs. Woodyard: Judge looks to keep spot on Washtenaw County's 22nd Circuit Court bench
Ryan J. Stanton covers government and politics for AnnArbor.com. Reach him at ryanstanton@annarbor.com or 734-623-2529. You also can follow him on Twitter or subscribe to AnnArbor.com's email newsletters.