Posted on
Fri, Mar 12, 2010 : 5:22 p.m.
Case against convicted sex offender Matthew Freeman dismissed
By Lee Higgins
Washtenaw County prosecutors dropped a criminal charge today against a young Pittsfield Township sex offender who was accused of illegally living near a school.
Matthew Freeman, 23, was charged in August with a school safety zone residency violation, accused of living within 1,000 feet of Carpenter Elementary School.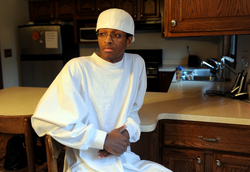 Freeman must register as a sex offender because he was convicted in 2003 of having sex with his underage high school girlfriend. With few exceptions, sex offenders cannot live near schools.
Prosecutors decided not to pursue the latest case because a judge's ruling March 2 made Freeman exempt from school safety zone residency restrictions that apply to many sex offenders in the state.
Circuit Court Judge Donald Shelton granted a "motion to correct the record" filed by Freeman's attorney, David Goldstein. In that motion, Goldstein pointed out errors were made during Freeman's 2003 conviction that made him subject to school safety zone residency requirements.
The record has been corrected to reflect that Freeman was convicted of fourth-degree criminal sexual conduct (age of victim) - not fourth-degree criminal sexual conduct involving force or coercion.
During Freemans' July 29, 2003, plea hearing, a prosecutor used an incorrect Michigan Prosecuting Attorneys Coordinating Council code for the charge Freeman pleaded guilty to.
Freeman's mother, Yolanda, said she's relieved the case has been dismissed. He was facing up to a year in jail.
"It's a bittersweet moment," she said. "At least he can stay where he wants to stay now. I wish he could get taken off the registry."
She said she's glad she brought the case to the public's attention.
"If I had never pushed the issue, Matthew would probably be sitting in jail right now," she said.
Freeman was convicted of having sex with his high school girlfriend when he was 17 and she was 15. In Michigan, the legal age of consent is 16.
While the latest case was dismissed, Freeman must remain on the Michigan Sex Offender Registry until Aug. 17, 2028. His ex-girlfriend's mother wants him off the registry, but legal experts say there is no clear avenue Freeman can pursue to make that happen.
Lee Higgins covers crime and courts for AnnArbor.com. He can be reached by phone at (734) 623-2527 or email at leehiggins@annarbor.com.