Posted on
Wed, Sep 12, 2012 : 2:44 p.m.
Consultant's report: City of Ann Arbor could get $52M from sale of downtown properties
By Ryan J. Stanton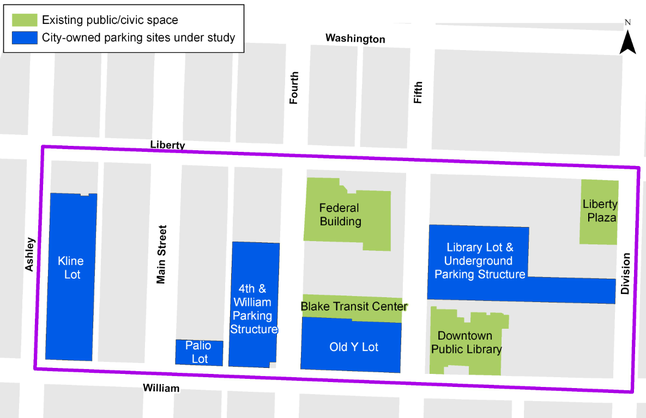 Map courtesy of DDA
The city of
Ann Arbor
could net more than $52 million from the
sale of four prime pieces of real estate it owns
in the heart of downtown, according to a consultant's report.
AnnArbor.com obtained more than 200 pages of financial analyses in response to a Freedom of Information Act request submitted to the Downtown Development Authority.
The reports were prepared earlier this year by Todd Poole of 4ward Planning LLC, a land use economics consulting firm with offices in Philadelphia, New York, Pittsburgh and Atlanta.
The DDA is studying redevelopment opportunities for four city-owned parking lots downtown as part of the Connecting William Street project and it tapped 4Ward Planning to help crunch some numbers.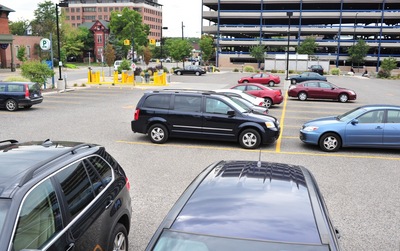 Ryan J. Stanton | AnnArbor.com
DDA Executive Director
Susan Pollay
said no formal appraisals have been done and the preliminary financial feasibility analysis prepared by 4ward Planning still remains in draft form.
But the initial findings are ambitious, putting the potential land value of the old Y Lot at the corner of Fifth and William at $24 million. That's about $17 million per acre.
The small Palio Lot at the corner of Main and William could go for $3.7 million ($37 million per acre), while the larger Library Lot on Fifth Avenue could go for $9.3 million ($11.4 per acre) and the Kline Lot at Ashley and William could go for $15.5 million ($3.9 million per acre), according to the report.
The report notes the land values are a function of several factors, including land-use class and densities permitted. For example, office lease values per square foot in downtown Ann Arbor are far greater than retail lease values. And the higher density permitted, the greater the price.
Mayor John Hieftje said he knows the four undeveloped properties the city owns downtown are valuable but he's not sure about the consultant's projections just yet.
"I'm always wary of numbers that are not the result of a formal appraisal, but it wouldn't surprise me if those parcels are worth a lot of money," he said. "There's certainly a lot of value there."
Poole noted in his report dated March 16 that 4ward Planning relied on build-out assumptions provided by SmithGroupJJR, the city's planning department and the DDA.
The analysis took into consideration what it would cost potential developers to build different projects and examined three different scenarios for each of the four properties. Two of the 12 scenarios modeled involved a hotel and conference center project.
Under the three scenarios for the 1.41-acre Y Lot, the land value ranges from $5 million to $17.5 million to $24 million.
The $17.5 million scenario envisions 8,500 square feet of retail and 144,800 square feet of office. The $24 million scenario increases retail to 9,900 square feet and office to 199,700 square feet.
The $5 million scenario, despite still having 9,000 square feet of retail, departs from the first two scenarios by eschewing office space for a 226,000-square-foot hotel and conference center, including 85 residential dwelling units. Though that brings a relatively low residual land value, the consultant's report noted "there are other important benefits associated with a conference center hotel in downtown Ann Arbor — increased tourism, retail purchases, and employment."
The city previously considered a hotel and conference center proposal for the Library Lot, but the City Council voted last year to reject it after questions were raised about its feasibility.
Under the three scenarios for the Library Lot in the 4ward Planning report, the land value ranges from $3.8 million to $4.7 million to $9.3 million.
The $9.3 million scenario proposes no residential units and a modest amount of retail (12,000 square feet) and office space (71,300 square feet). The $3.8 million scenario provides the same amount of retail, but no office space — instead a 127,000-square-foot hotel and conference center.
The $4.7 million scenario features a mix of residential (72 units), retail (39,000 square feet) and office space (96,480 square feet).
Under the three scenarios for the Kline Lot, the land value ranges from $7.8 million to $10 million to $15.5 million.
Under a scenario with modest density and residential-only development, the consultant projected the Kline Lot could sell for $7.8 million. That goes up to $15.5 million with a greater mix of land uses.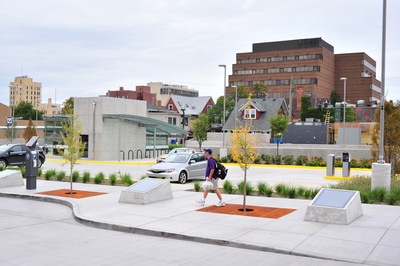 Ryan J. Stanton | AnnArbor.com
The $10 million scenario greatly increases residential density on the Kline Lot and includes 192,000 square feet of office space and a 13,000-square-foot performance venue.
There's only one scenario shown for the Palio Lot where it would result in a financial return for the city and that's the $3.7 million it could get by allowing a developer to build on both the small corner lot, as well as take over the ground floor space of the adjacent Fourth and William parking garage.
That scenario includes 7,100 square feet of retail, 25,800 square feet of office space and 5,000 square feet of small business incubator space.
While the Kline Lot is the biggest undeveloped parcel among the four, the report notes, the relatively low intensity of development envisioned for the parcel (residential and commercial) has rendered the residual land value low on a per-acre or per-square-foot basis.
Hieftje said the city is in no rush to sell any of its properties. He said the Y Lot at Fifth and William where the old YMCA once stood is the only property where the city still has debt to pay off.
"I've always felt that the city would recoup its investment on that site or come close to it, and it may even make money," he said.
The city bought the Y Lot at 350 S. Fifth Ave. in December 2003 for about $3.5 million, plus $4,304 for a title policy and recording fees.
The city also spent an estimated $1.3 million to relocate residents who lived in the affordable housing units there. City officials said there are no ongoing costs related to that effort.
The parking lot there now generates about $250,000 annually in parking revenue. The city and the DDA have been making interest-only payments on the property for the last nine years, with the city spending $625,486 to date and the DDA spending $532,351 to date.
Tom Crawford, the city's chief financial officer, said the city will have paid $727,692 and the DDA will have paid $634,557 in total interest by the time the note matures in March 2013. That's when a principal payment will be due — nearly $2.1 million from the city and $1.4 million from the DDA.
The city's funding source for the expenses related to the property is the general fund. Crawford said the $3.5 million principal payment always was planned to be paid-off from the sale of the property. For financial planning purposes, he said, the city assumes continuation of interest-only payments.
Council Member Stephen Kunselman, D-3rd Ward, has pushed the city to put the Y Lot up for sale before the balloon payment comes due, but his colleagues on council chose last month to let the DDA finish the Connecting William Street planning process before taking that step.
Kunselman believes the city could put its surface lots up for sale with deed restrictions on the area, height and mass and then let the free market take its course.
"You can't control use — so hotel versus housing," he said. "Politicians and bureaucrats and appointees have no special authority to control use, so the idea that they would restrict to a specific use would actually de-value the property because it makes it much more restrictive."
He called the estimated $24 million potential land value for the Y Lot "outrageous." He also questioned whether the city could get more than $52 million for all four properties.
"That kind of money, first of all, is speculative, so I'm not going to start planning or hypothesizing what we could do if we have $50 million," he said. "That's going way beyond reality."
Kunselman said he doesn't think the numbers add up when the St. Nicholas Greek Orthodox Church property sold for $610,200 this week. He said that's a prime near-downtown property on North Main Street, "and they're thinking the Y site is going to sell for millions?"
Council Member Sandi Smith, D-1st Ward, is bringing forward a resolution next Monday to stipulate that a percentage of the proceeds from the sale of city properties goes toward affordable housing. Hieftje said that's a noble use, but he doesn't want to tie the city's hands too much.
"It seems appropriate to me that the city would have something in place to say that a percentage of land sales should go to affordable housing, but I'm not in agreement that all of that would go to affordable housing," he said. "You're talking about big dollars here and there's other needs."
Hieftje said he thinks the money could go to a number of causes, including paying down the city's long-term obligations for retiree health care and pensions. But he said it shouldn't be used to temporarily fund recurring operating expenses, so he wouldn't recommend using it to hire staff.
"One of the reasons we've been successful financially is we never spend our reserve funds on operating expenses," Hieftje said. "So it's not as if we would sell a property and then fund operating expenses from that. That's not a smart way to go."
Hieftje reiterated there's no urgency for the city to sell any of the four properties. If history repeats itself, he said, it could be a slow process.
"As far as I know, we've sold one property in decades and that's the one where you have the apartments going up on First and Washington," he said. "So if you look at the scale of things, for the city to sell one property per decade, that would probably keep pace."
4ward Planning looked at sale and list prices for other properties in the downtown area going back to 2008 to provide a point of comparison.
The analysis shows a 0.33-acre property at 600-606 E. Washington at $4.9 million ($14.8 million per acre), a 0.15-acre property at 209-211 S. State at $2.6 million ($17.1 million per acre), a 0.2-acre property at 202-212 S.Division at $1 million ($5 million per acre), and a 0.32-acre property at 500 E. William at $4.3 million ($13.3 million per acre).
Ryan J. Stanton covers government and politics for AnnArbor.com. Reach him at ryanstanton@annarbor.com or 734-623-2529. You also can follow him on Twitter or subscribe to AnnArbor.com's email newsletters.