Posted on
Thu, Apr 26, 2012 : 5:59 a.m.
County board candidates differ on expansion of public transit in Washtenaw County
By Ryan J. Stanton
Voters in Pittsfield Township will have a choice May 8 between a candidate who's in favor of expanding public transit services and one who's not so sure it's a good move.
Those differences came out Wednesday night as Democrat Felicia Brabec engaged Republican Richard Conn in a debate inside CTN studios in Ann Arbor.
Brabec is defending her seat on the Washtenaw County Board of Commissioners against Conn, a political newcomer making his first run for public office.
Both candidates were asked to comment on the expansion of public transit services in Washtenaw County, an initiative that's been in the works for years.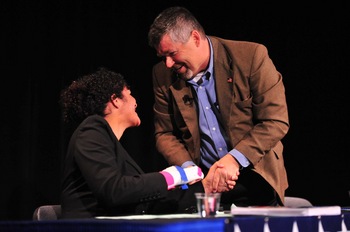 Ryan J. Stanton | AnnArbor.com
"I would have to say, I don't know a whole lot about that," Conn said. "My first reaction would be I know in the city of Ann Arbor we have the AATA and we also have the U of M bus system. I have to say that seems like a little bit of an overlap."
Conn said he wished there was "some kind of an economy of scale" for the two bus systems. As for expanding services, he said he isn't sure it makes sense.
"I'm up and down Ann Arbor-Saline Road a lot," he said. "I see the buses there. I don't see a lot of people riding out to Meijer. I don't know where else they might go. So initially I would say it would seem like an expansion of a service that we already have duplication of in the city."
Brabec had a different answer.
"Regional transportation is very important. It gives folks access, it gives folks mobility," she said, adding she's had talks with Michael Ford, CEO of the Ann Arbor Transportation Authority, and it's expected that ridership would increase with expanded services.
"The county's involvement in that is bringing folks together — bringing Ypsi, Ann Arbor and the county and the AATA all together to provide greater service for our community," Brabec said. "I think that's very vital — vital to reach folks who are further out from the hub."
Brabec said it's important to note that while the county board plays a role in the countywide expansion process, whether it's funded will be up to voters.
The League of Women Voters in Ann Arbor hosted Wednesday's debate, which will replay on CTN Channel 19 leading up to the election.
Brabec and Conn are competing for a chance to finish out the remaining eight months of the term vacated by Kristin Judge, who resigned from the county board last September.
Brabec was appointed to the seat in October, but now she must compete against Conn to stay on through the end of this year. The district predominantly covers Pittsfield Township.
Brabec has a natural advantage over Conn being the incumbent, even if she hasn't been on the ballot before. The district also leans Democratic.
Judge, a Democrat, defeated Republican challenger Sean Gray in November 2010, pulling 58 percent of the vote to Gray's 41 percent.
Two years before that, Judge beat Gray with 66 percent of the vote.
Wednesday's debate was relatively tame as far as political events go. Conn praised the Democrat-led county board for its work on balancing the county budget.
Ryan J. Stanton | AnnArbor.com
"The county has had to deal with an unstable revenue line and it has had to adjust its services that it provides with this substantial reduction in revenue," he said. "And the fact that they have done that so well is just unbelievable and I think it's the most miraculous thing they have done."
Asked about issues facing residents in the district, both candidates said they've heard a lot about a new roundabout proposed for State and Ellsworth roads.
"I think there's some anxiety about that," Conn said. "One person asked me, 'Can you stop that?' And I said, 'I don't know.' The research I've done is (roundabouts) seem to be the right thing to do. They eliminate T-bone accidents. You have less traffic deaths."
Brabec agreed people are apprehensive about the roundabout, but she didn't say much on the issue other than "education is key."
Conn said the potential expansion of the Ann Arbor Municipal Airport is another issue of concern. The airport is located in Pittsfield Township.
"I'm not for the expansion of the airport and I know that's on the minds of a lot of the residents in District 7," Conn said.
Brabec said she's been in discussions with the Committee for Preserving Community Quality, a grassroots group of residents opposed to the runway expansion.
"I hope to continue those conversations," she said, adding she doesn't believe the airport is able to expand right now.
On the topic of fracking, Brabec noted the county board held a working session on that last week. She said she's not yet convinced it would be safe for the community.
Conn didn't discuss fracking during the debate but told AnnArbor.com afterward he has concerns about the practice as well.
"With something like this in a high dense area, I think we should go slow," he said, adding he wants to better understand the issue and make sure proper safeguards are in place.
Brabec and Conn took different stances on the privatization or outsourcing of government services, with Brabec offering a more skeptical view.
"It's worrisome to me," she said, expressing concerns that private companies are in it for profit and not necessarily interested in providing the best services possible.
Conn said he's not against privatization and thinks the county should carefully consider where it might be able to outsource some government services.
Both candidates made known they value parks.
"The county just geographically is beautiful, and I think we've just got to maintain it the best we can for the next generation," Conn said.
"We have 4,400 acres of parks and rec here and we're always looking to improve those," Brabec said.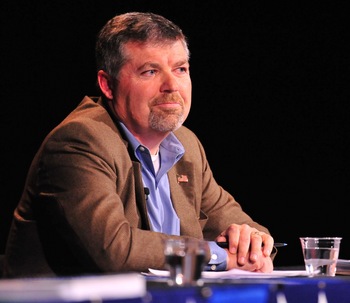 Ryan J. Stanton | AnnArbor.com
Brabec, a psychologist and a social worker, said she was instilled with the value of serving others while growing up and being a county commission is an extension of that.
"I wish to continue to advocate for the folks of Pittsfield Township and Washtenaw County and I'm ready," she said. "I don't have to catch up. I've been there. I've been doing it."
Conn, who works for a company called Ervin Industries, pointed to his 26 years in business and finance. He said he wants to bring that background to the table when the county has to confront the next budget shortfall, which he said could mean millions more in cuts.
"That's going to take a lot of creative thinking and fresh ideas and some change," he said, adding he would bring a fresh voice.
Ryan J. Stanton covers government and politics for AnnArbor.com. Reach him at ryanstanton@annarbor.com or 734-623-2529. You also can follow him on Twitter or subscribe to AnnArbor.com's email newsletters.