Posted on
Fri, Mar 15, 2013 : 1 p.m.
Hearing postponed for teen charged in football brawl
By John Counts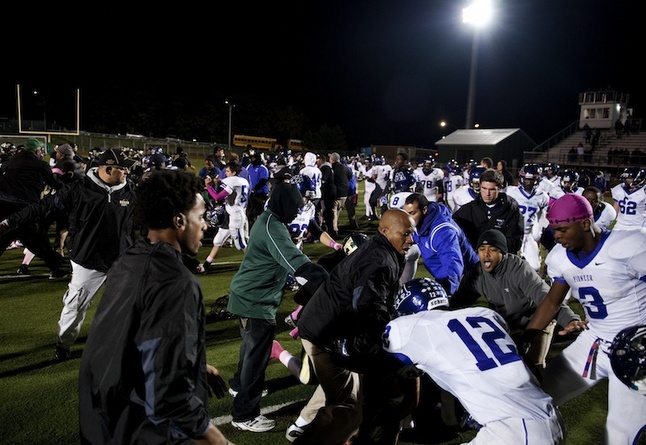 Daniel Brenner | AnnArbor.com
Previous coverage:
A 17-year-old Pioneer student charged in last fall's high school football brawl had his case adjourned in the Washtenaw County Courthouse Friday morning, his attorney said.
The boy's lawyer, Brooke Laurens Williams, did not wish to make any further comment. AnnArbor.com is not using his name because he is a juvenile.
A new court date was set for April 5.
The boy is charged with assault with intent to do great bodily harm less than murder, assault with a dangerous weapon, aggravated assault and assault and battery.
Protesters from the Ann Arbor Concerned Citizens for Justice, a group opposing the charges against the students, were on hand at the hearing. They marched from the library to the courthouse and plan to do so at the future court hearings of the the three students charged in the brawl, claiming the charges are racially motivated. All three students are black.
On Tuesday morning, a disposition will be held for the 17-year-old Pioneer student already found responsible in the case. Being found responsible in juvenile court is akin to being found guilty. What is essentially a sentencing is called the disposition.
Bashier Garain, the one student charged as an adult, is scheduled to appear in court for a final pretrial hearing later that same afternoon. The 18-year-old, who is accused of using a crutch as a weapon, is charged with two felony counts of assault with a dangerous weapon and two misdemeanor counts of assault and battery.
The Ann Arbor Board of Education passed a resolution Wednesday night asking the Washtenaw County Prosecutor's Office to drop the criminal charges in the cases.
John Counts covers cops and courts for AnnArbor.com. He can be reached at johncounts@annarbor.com or you can follow him on Twitter.