Posted on
Fri, Jan 25, 2013 : 10:08 a.m.
Man pleads guilty to sexually assaulting underage girls he met on Facebook
By John Counts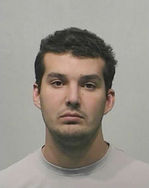 Courtesy of WCSO
A 23-year-old Ypsilanti Township man accused of sexually assaulting underage girls he met on Facebook pleaded guilty Tuesday to sexual assault charges a few weeks after initially refusing a plea deal, according to court records.
Paul Joseph Creps faced a total of four third-degree criminal sexual conduct charges in two cases -- one case for each victim. After accepting a plea agreement Tuesday, he pleaded guilty to two of the counts in exchange for the dismissal of the two others, records indicate.
A sentencing agreement was not part of the plea deal, so it will be up to Judge Archie Brown to determine the punishment on March 6. The maximum prison term for third-degree CSC is 15 years. Third-degree CSC is partly defined as engaging in sexual penetration with a person between 13 and 16 years of age.
Creps, who was out on bond, was taken into custody following the hearing where the plea deal was struck, police said. He will be held at the county jail until sentencing.
Washtenaw County Sheriff's Office deputies first arrested Creps on suspicion of having a sexual relationship with a girl who was under 16. After that arrest, investigators went through his phone and found many pictures of nude underage girls, deputies said.
A second girl, a 15-year-old from Ypsilanti, was located after Creps was charged in the initial case.
Prosecutors have said Creps used the same method of operation with the victims: he contacted them through Facebook, pressured them to have sex, picked them up in his truck and had sex with them in the vehicle.
John Counts covers cops and courts for AnnArbor.com. He can be reached at johncounts@annarbor.com or you can follow him on Twitter.