Posted on
Sat, Dec 8, 2012 : 9:35 a.m.
Man who pleaded guilty to robbing restaurants with a stick sentenced 12 to 20 years in prison
By John Counts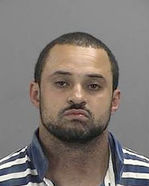 Courtesy of the WCSO
The 36-year-old Ann Arbor man who went on a crime spree following his release from jail was sentenced in the Washtenaw County Trial Court last week to serve between 12 and 20 years in prison, according to court records.
In November, Daniel Lionel Campbell pleaded guilty to robbing an Ypsilanti Burger King and an Ann Arbor Subway with only a stick in his possession. At that hearing, he told Judge Archie Brown he acted like he had a weapon. He also pleaded no contest to a charge of first-degree home invasion.
Two of the six cases Campbell was charged in were dismissed, court records indicate.
In all, he was sentenced on charges of armed robbery, unarmed robbery, possession of a firearm during the commission of a felony and second-degree home invasion. For the armed robbery charge, Brown sentenced Campbell eight to 20 years in prison. Campbell was charged with armed robbery because he used the stick to imply he had a weapon.
In another case, he was sentenced 5 years and 11 months to 15 years in prison for unarmed robbery, to run concurrent with the armed robbery charge. In a third case, Campbell was sentenced four years and nine months to 15 years for second-degree home invasion, also to run concurrent with the other two cases.
Two of the cases carry mandatory two-year felony firearm sentences, which both run consecutive to the eight years Campbell received on the armed robbery charge.
Campbell was credited with six months and 17 days served when he was sentenced on Nov. 28.
Campbell committed many of the crimes after being released from jail after being arraigned on a home invasion charge in February.
He originally was arraigned on a charge of home invasion on Feb. 3. At that time, Magistrate Thomas Truesdell gave Campbell a $10,000 personal recognizance bond, allowing him to leave jail for free as long as he promised to appear.
The Ypsilanti Burger King was robbed on March 31 and the Ann Arbor Subway on April 3.
Campbell never appeared at his court date, either. He was arrested again on May 14 after leading police on a foot chase through the Huron River. He was suspected of breaking into homes in the 700 block of Kingsley Street and 1000 block of Fuller Street.
John Counts covers cops and courts for AnnArbor.com. He can be reached at johncounts@annarbor.com or you can follow him on Twitter.