Posted on
Tue, Jul 30, 2013 : 5:57 a.m.
Police directing 'every available resource' toward investigating death of U-M medical student
By Kyle Feldscher
Update: Air Force and U-M Police to assist AAPD in investigation of medical student's death
Details continue to emerge around the death of Paul DeWolf, the 25-year-old University of Michigan medical student found dead in Ann Arbor last week in a possible homicide.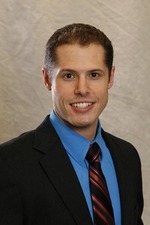 Ann Arbor police Detective Lt. Robert Pfannes said detectives are putting in long shifts investigating the case and are still doing interviews with those who knew DeWolf. Every investigator who can be spared is working on the case, he said.
"We've directed every available resource at this case," Pfannes said.
DeWolf was found dead Wednesday from a single gunshot wound in his room at the Phi Rho Sigma medical fraternity in the 200 block of North Ingalls Street. Police are investigating the case as a homicide.
DeWolf was a 2010 graduate of Grand Valley State University and was entering his fourth and final year of medical school. He was set to graduate in May and then enter the United States Air Force. He was a second lieutenant in the Air Force and was currently a reservist.
Pfannes said DeWolf lived by himself in a room in the building's basement. According to friends, DeWolf had lived in the co-educational fraternity house since he started at U-M.
According to the Phi Rho Sigma website, the building houses 26 men and women attending the medical school. It's unknown how many people were home at the time of DeWolf's death, but there were residents in the home.
U-M homicide investigation continues
Pfannes repeated investigators' findings that DeWolf's room did not appear disheveled when detectives entered on Wednesday.
"It was orderly and nothing appeared to be taken," he said.
Police and medical examiner officials could not immediately tell what kind of injury DeWolf suffered when he was found on Wednesday. It took until an autopsy performed Thursday for officials to determine DeWolf was killed by a single gunshot wound.
Pfannes said he couldn't say if investigators determined what type of bullet was used in the shooting or if a shell casing was found at the scene. However, he said the autopsy report is ongoing — medical examiners are still doing a toxicology report on DeWolf's body, as a part of standard procedure, Pfannes said.
"The medical examiner has its own protocols in a suspicious death," he said.
Police actually responded to the 200 block of North Ingalls Street the night before DeWolf was found dead after a home invasion was reported on the street.
Investigators responded at 8:30 p.m. July 23 to the block for a report of a home invasion. The incident took place at a different home in the block, Pfannes said.
Police are continuing to investigate that incident. Pfannes said detectives are aware of it and are keeping an open mind to any links between that incident and DeWolf's death.
To this point, the Ann Arbor Police Department is the only agency investigating DeWolf's death. Pfannes said he's had contact with officials from the United States Air Force, but they are not assisting in the investigation at this time.
Family and friends attended DeWolf's funeral in Portage Monday morning. He will be buried at Fort Custer National Cemetery, according to a post regarding funeral information on his Facebook page.
It appeared DeWolf was acting normally in the days before his death. Friends said they spoke with him by phone on July 23 and he sent his sister, Rebekah, birthday wishes on Facebook on July 21.
On Wednesday, DeWolf was scheduled for an assignment at the VA Ann Arbor Healthcare System. According to the hospital's website, more than 800 students and residents from the U-M Medical School train at the hospital every year.
DeWolf was working on a general surgery rotation at the VA hospital as a part of his studies at the medical school. The one-month rotations allow just one day off per week. DeWolf planned on being a surgeon when he graduated from the medical school.
When he didn't show up on Wednesday morning, a colleague was sent to Phi Rho Sigma and found him. It's a medical school policy to send someone to check on a student who hasn't shown up for a shift, hasn't given a reason for tardiness and can't be reached by phone.
Hospital public affairs officer Derek Atkinson declined to go into too much detail about DeWolf's work at the hospital Monday.
"Our condolences, thoughts and prayers are with the DeWolf family as they mourn the loss of their loved one, Paul," Atkinson said in an email. "There is an ongoing investigation being conducted by the Ann Arbor Police Department so we have to politely decline comment at this time."
Kyle Feldscher covers cops and courts for AnnArbor.com. He can be reached at kylefeldscher@annarbor.com or you can follow him on Twitter.