Posted on
Wed, Mar 6, 2013 : 3:54 p.m.
Second man sentenced to life without parole in 2006 murder
By John Counts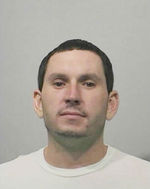 Courtesy of the Washtenaw County Sheriff's Office
The family members of William "Sam" Kenney said they are happy to have some kind of resolution six years after his murder.
The second man convicted in the 2006 homicide, Jonathon Aiden, was sentenced Tuesday in the Washtenaw County Trial Court to life without parole for felony and premeditated murder.
"We're relieved it's over," said Kenney's brother, Peter, who was in the courtroom with several other family members -- including Kenny's mother -- to watch the sentencing."It was a long wait. We're satisfied with the results."
When given a chance to speak, Aiden, who has grown a beard since his last court appearance, maintained his innocence in the beating death of 55-year-old Kenney.
"I believe there's been a great injustice done here," he said before addressing Judge Archie Brown personally. "It lies on your conscience, as well."
"Well, Mr. Aiden, I'll sleep well tonight," Brown replied before sentencing Aiden to life without parole on the murder charge.
Aiden received concurrent sentences between 62 and 600 months for charges of breaking and entering with intent to commit a felony, safe breaking, conspiracy to commit breaking and entering and conspiracy to commit safe-breaking.
Aiden was convicted by a jury last month.
His uncle, Shane Roscoe, was convicted last year of the murder and was sentenced to life in prison.
Prosecutors said Aiden and Roscoe beat Kenney to death during a break-in Aug. 18, 2006 at the Jim Bradley Pontiac GMC in Scio Township. Aiden and Roscoe were stealing auto-related equipment and materials and came into contact with Kenney, who worked at the dealership. Both Roscoe and Aiden were former employees of the dealership.
Prosecutors said Roscoe and Aiden hit Kenney on the head with a sledgehammer and then ran him over with a vehicle. Kenney was taken to U-M Hospital, where police questioned him on at least two occasions before he died from the injuries on Sept. 14, 2006.
"The sentence can't bring (Kenney) back, but it can protect other people," said Assistant Washtenaw County Prosecutor Dianna Collins.
It still remains to be seen whether Aiden will have to go back to a Florida prison to serve out the remaining nine months of a sentence from a home invasion charge. Aiden said he would rather stay in Michigan and start serving his life sentence in order to start the appeals process.
John Counts covers cops and courts for AnnArbor.com. He can be reached at johncounts@annarbor.com or you can follow him on Twitter.