Posted on
Thu, Feb 14, 2013 : 7:05 p.m.
Police video: Watch traffic stop, gunshots and chase before fatal shooting of Ypsilanti man
By Kyle Feldscher
Warning: Video contains strong language and gunshots in minutes leading to teen's death.
Unable to see the video in the player above? Watch it on YouTube.
Northville Township police Thursday released a video showing the incidents before this week's fatal police shooting in Washtenaw County, including an exchange of gunfire during a traffic stop and a high-speed chase.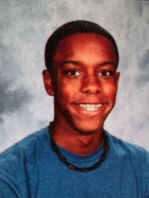 Huron High School 2011 yearbook
Gabriel Stevenson was shot and killed by a Michigan State Police trooper early Tuesday morning after he lunged at police with a knife, according to investigators. The video - recorded on a Northville Township patrol car camera - ends before that final confrontation is shown.
The video contains strong language and includes an exchange between 18-year-old Stevenson, who had an apartment in Ypsilanti, and Northville Township police who pulled him over in a 1993 Ford Ranger.
John Werth, Northville Township public safety director, said Thursday that Stevenson was stopped by police after attempting to start a fire at the home of an 18-year-old man who he previously targeted twice.
In the first 23 seconds of the video, officers are responding to the fire. Stevenson's pickup is pulled over on Six Mile near a landfill. A conversation ensues for the next few minutes.
Stevenson is instructed to leave the vehicle at 4:55. Less than 30 seconds later, he fires at officers, who return shots back at the truck. Gunshots continue to ring out as Stevenson pulls away in the truck.
More coverage
Read more on the shooting of an Ypsilanti man following a police chase
Officers reach 80 miles per hour as they head west on Six Mile Road through Salem Township, eventually continuing onto a dirt road. At 8:15, Stevenson loses control of the Ford Ranger at a turn in the road and crashes into a home. Police arrive 15 seconds later.
The residents can be seen outside the home at 9:12 and officers can be heard telling Stevenson to get on the ground. A male officer warns Stevenson multiple times he'll shoot if Stevenson does not comply. The video ends a short time later.
The video ends before Stevenson's death. He was shot once by a Michigan State Trooper. Police said Stevenson lunged at officers with a knife, but that moment is not shown on the video.
Police found a .22-caliber revolver in the truck after Stevenson was shot and killed.
According to state police, the trooper who killed Stevenson is on administrative leave while an investigation takes place. Deadly forced was authorized by state police prior to Stevenson's death.
Stevenson was a former Huron High School student and played basketball at the school during his freshman and sophomore years. He's been described as a normal kid, but more recently quiet and withdrawn.
Kyle Feldscher covers cops and courts for AnnArbor.com. He can be reached at kylefeldscher@annarbor.com or you can follow him on Twitter.