Posted on
Fri, Feb 1, 2013 : 5:35 p.m.
Jenny's Market owner Burton Hoey pleads no contest to animal cruelty
By Cindy Heflin
The owner of a popular farm market west of Dexter has pleaded no contest to two misdemeanor charges of animal cruelty, the Humane Society of Huron Valley said Friday.
Burton Hoey, who operates Jenny's Market at Island Lake and Dexter-Pinckney roads, is scheduled for sentencing on March 28, the humane society said in a news release.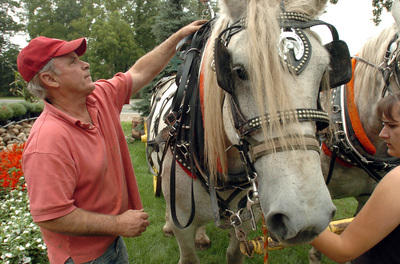 AnnArbor.com file photo
The market is a popular spot in the fall for families seeking cider, doughnuts, pumpkins and pony rides.
Humane Society investigators seized two horses, four donkeys and two goats from Jenny's Market Sept. 6, alleging they were in varying stages of neglect. A horse, which was suffering from the respiratory disease heaves, later died, lead cruelty investigator Matt Schaecher said.
Hoey was initially charged with three counts of cruelty to two to three animals. Prosecutors dropped one charge, Schaecher said.
A no-contest plea is not admission of guilt but is treated as such for sentencing.
"We've been to Jenny's Farm Market numerous times over the past 10 years because of complaints of abused and neglected animals," said Schaecher. "We see this conviction as a victory for the many animals that have suffered. We know there are many community members and families that will feel the same."
Hoey said Friday that he had agreed to the no-contest plea in exchange for a reduction from $11,000 to $4,000 in the amount of money he would have to pay for boarding the seized animals and also to save money on legal fees.
"I might have lost anyway," he said. "I didn't stand a chance from the day they came here."
He said the seizure of the animals was unjust.
"Someone set me up to get the Humane Society to come out here and take some of the animals that were being treated," he said.
In September, Hoey said the organization overreacted in seizing the animals.
He said he was treating the horse with heaves as best he could, but a veterinarian had told him nothing could be done for her, he said.
The other seized horse had an abscess on its hoof that Hoey said had already healed.
Hoey said the Humane Society said the donkeys' hooves needed trimming, but he said he acquired them last fall from someone who had not trimmed their feet, and he was in the process of gradually trimming them back.
As for the goats, he said investigators thought they were underweight, but Hoey said they were underfed when he bought them months ago and he has been nourishing them back to health.
The charges carry a maximum sentence of one year in jail and and/or a $2,000 fine and/or 300 hours of community service, but Schaecher said it's typical in such cases for the court to impose a fine and probation and order the defendant to make restitution.
The humane society will ask the court to bar Hoey from contact with animals during his probation, Schaecher said. Hoey said he still has five Percheron horses on the property.
The humane society is adopting out the seized animals. The goats seized from the market have already been adopted but two miniature donkeys and two full-size donkeys as well as one horse are available for adoption. For information about adopting them, email adoptions@hshv.org or call (734) 661-3511.
The animal cruelty case is one in a series of problems for Hoey's business that began in September 2011 when a hayride accident paralyzed an employee. The employee has sued over the incident. Lawyers are working out a settlement in the case.
The day after the accident, Webster Township delivered a stop-work order to the market alleging violations of zoning ordinances.
In late October that year, Hoey reported that two men attacked him at the market and stole several months worth of proceeds at the business. Washtenaw County sheriff's deputies have dropped their investigation of the attack, saying Hoey wasn't cooperating and had failed a polygraph test.
Hoey sued Webster Township in April 2012 over its refusal to grant him a permit to install a bathroom. In denying the permit, township officials said Hoey had failed to submit a required site plan. Hoey and the township still are working toward a settlement.
Last fall, the township brought a complaint against Jenny's Market, alleging that what Hoey calls a "haunted straw maze" is a public nuisance and unsafe. Judge Timothy Connors denied a request for a preliminary injunction seeking to have the maze shut down. Hoey and the township also are working toward a settlement in that case.