Posted on
Fri, Dec 21, 2012 : 5:55 a.m.
'Hey, don't tow the car': Ann Arbor willing to cut residents some slack on 48-hour rule in some cases
By Ryan J. Stanton
Planning to go on vacation soon and don't want to worry about your car being towed for violating the city of Ann Arbor's 48-hour rule for parking cars on the street?
Apparently if you tip off the Ann Arbor Police Department's Community Standards Unit, the city is willing to be a little lenient in some cases.
Normally the rule is the city can deem a vehicle abandoned and have it towed if it hasn't been moved for 48 hours after being tagged by a community standards officer.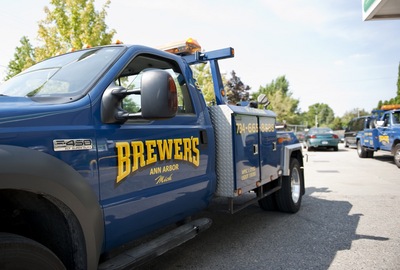 Daniel Brenner I AnnArbor.com
Council Member
Chuck Warpehoski
, D-5th Ward, said at this week's City Council meeting that Police Chief
John Seto
has advised him the city is willing to give residents some leeway.
"Members of the public, if that's their situation, can get in touch with the standards enforcement office prior to leaving, and they'll keep that in mind if your car is targeted," Warpehoski said.
"They either won't take it or will delay the cycle for re-inspection to make sure you don't face that problem," he said. "So just like you put your 'vacation hold' on your mail, and if you still get a newspaper you put your vacation hold on your newspaper, if you park in the street you can also contact the police standards enforcement office to say, 'Hey, don't tow the car.' "
Mayor John Hieftje cautioned it's not a guarantee, though. He said there are emergency situations — such as heavy snowstorms — when the city needs to take action and have cars towed.
"Seven or eight years ago, we came up with just a really extreme snowstorm over the Christmas break," he said. "Many people had left town and left their cars in the streets, and the city administrator declared a snow emergency in order to be able to clear the streets.
"There were hundreds of cars towed," he added. "That's hopefully something we won't have to do again, but there can be emergencies where anything can be overridden and action has to be taken."
Seto told AnnArbor.com on Thursday the Community Standards Unit has a practice of evaluating extenuating circumstances for each individual request.
"Determination of whether or not an exemption is granted depends on the totality of the circumstances," he said. "A resident on vacation is just one factor that is considered and may not be sufficient in itself. Other factors may include the overall length of time the vehicle is left on the public street, the ability for the resident to make other arrangements and any potential safety concerns, such as snow emergencies of street maintenance."
Nearly 12,000 vehicles were towed and impounded in Ann Arbor over the past three years, according to data obtained by AnnArbor.com. That includes more than 6,700 public tows that were ordered by the city and more than 5,000 tows that occurred on private property.
According to data provided by the city, 109 vehicles were towed by the city between 2010 and 2011 because they hadn't been moved for 48 hours and were deemed abandoned.
The 48-hour rule applies even to vehicles that most people probably wouldn't consider abandoned, as one Lexus owner learned the hard way earlier this year.
Mahendra Ramsinghani said both of his family's cars, which he described as "newer looking" and "very clean," were left parked on the street near his house while he and his wife went on vacation. But they were deemed abandoned and towed shortly after he left town.
It cost him $825 to get his cars back.
Since Ramsinghani stepped forward to publicly share his story in August, dozens of other residents have shared similar stories about their towing ordeals in recent months.
Ordinance revisions approved by the City Council this month don't do anything to prevent incidents such as the one that happened to Ramsinghani, from happening in the future, but now it seems a quick call to the city before going on vacation might. The number for community standards is 734-794-6942.
Ryan J. Stanton covers government and politics for AnnArbor.com. Reach him at ryanstanton@annarbor.com or 734-623-2529. You also can follow him on Twitter or subscribe to AnnArbor.com's email newsletters.