Posted on
Tue, Dec 20, 2011 : 12:01 p.m.
ICMA: Consultant's report on Ann Arbor Fire Department now available
By Ryan J. Stanton
The city of Ann Arbor hired the International City/County Management Association earlier this year to conduct a thorough analysis of the fire department.
ICMA's long-awaited report is now available, and it includes 24 recommendations for Ann Arbor officials to consider in the coming months.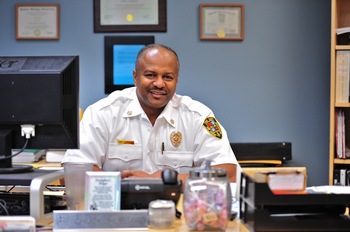 Ryan J. Stanton | AnnArbor.com
"Although I have not had the opportunity to fully explore all 24 recommendations outlined in the final study, I am pleased that the final report is completed," Ann Arbor Fire Chief
Chuck Hubbard
said in a statement today.
"I look forward to working with City Council, city administration and my staff to determine appropriate steps to implement recommendations and continue to move our department forward to best serve the needs of our community."
The report recommends the city conduct a critical tasks analysis — reviewing specific fire response data and considering likely community changes — to determine the most effective and efficient crew size. It also suggests the city consider deploying a "peak load staffing unit" with a quick response vehicle with two firefighters.
It also has suggestions for off-peak hours.
"The problem with staffing on a 24-hour basis is that it does not take into account system demand levels," the report states. "What is the purpose of maintaining a constant staffing level over a 24-hour period when statistics show that off-peak hours require fewer staffed units?"
ICMA observed that "hourly busy minutes" for fire and emergency medical calls in Ann Arbor were lowest between 2 a.m. and 8 a.m., averaging fewer than 11.1 minutes per hour.
"Does an opportunity exist for using the information formulated from this demand analysis to develop alternative resource deployment strategies in the future? Absolutely!" the report states.
The report recommends the city adopt a strategic goal of achieving fire department accreditation, as well as develop a department business plan and fire protection master plan.
From a financial perspective, the report suggests the city consider reopening the collective bargaining agreement with the firefighters union to renegotiate articles concerning food allowances, tuition reimbursement and health insurance coverage.
Meanwhile, city officials are encouraged to investigate the causes of false alarms and find a way to reduce total responses.
The following is a list of all 24 recommendations as they appear in the report:
Reassign dispatch liaison responsibilities from the Assistant Fire Chief for Administration to each on-duty battalion chief. Remove functional area titles to functional table of organization.
Develop separate functional and position/billet organization charts.
Conduct a community risk analysis using the VisionTM risk assessment software or other similar product to classify individual properties within the community.
Adopt a strategic goal of achieving fire department accreditation within a specific time period.
Revise the strategic plan to develop measurable and time bound goals and objectives based on use of current environmental scan and SWOT analysis.
Develop department business and action plan for monitoring performance.
Develop a fire protection master plan for the City of Ann Arbor which is approved by city elected officials.
Consider reopening the collective bargaining agreement with Local 693 to renegotiate articles concerning food allowances, tuition reimbursement, and health insurance coverage.
Consider including CAFS in all new fire suppression vehicle specifications and retrofitting specific frontline fire vehicles based on community risk assessment historical call review.
Consider purchase of fire interruption tools for placement on all fire suppression, rescue and command vehicles.
Consider acquisition of medium-size pumper for operations deployment within fire districts based on historical fire call requirements and projected community growth trends.
Consider re-opening of labor agreement to negotiate deployment of QRV with reduced staffing of one less firefighter at station 3.
Investigate cause of false alarms and employ appropriate method(s) to reduce total responses.
Conduct critical tasks analysis using an historical review of specific fire response data and consideration of likely community changes to determine effective/efficient crew size.
Consider deploying peak load staffing unit with quick response vehicle with two firefighters.
Consider tracking access time and setup time as part of total fire department reflex time.
Consider upgrading station notification systems and monitor crew turnout performance.
Develop response time standards for the community based on selected methodology(s) approved by city elected officials.
Consider hiring civilian employees for fire inspector and public education specialist positions.
Develop a comprehensive smoke detector program with an emphasis on residential structures.
Consider acquisition and placement of automatic external defibrillators (AEDs) on all police vehicles. Develop a comprehensive city-wide public access defibrillation (PAD) program, partnering with city parks and other departments to improve cardiac arrest outcomes.
Develop packaged lesson plans or "canned training modules" with a comprehensive training schedule for department personnel using line officers as points of delivery.
Develop performance measures for Huron Valley Ambulance (HVA) contract language.
Consider establishment of an advisory committee comprised of representatives of area fire departments to serve in an ad hoc capacity to monitor HVA system performance and offer recommendations for improvement.
Mayor John Hieftje and City Administrator Steve Powers told AnnArbor.com Monday night they still hadn't read the report.
How exactly the city responds to the report's findings will be up to council, Powers said, and council members are just now getting copies today.
AnnArbor.com obtained copies of both the 57-page rough draft of the ICMA report, as well as the 63-page final report, and is currently reviewing both.
Matt Schroeder, president of the firefighters union, could not be reached for comment.
Ryan J. Stanton covers government and politics for AnnArbor.com. Reach him at ryanstanton@annarbor.com or 734-623-2529. You also can follow him on Twitter or subscribe to AnnArbor.com's email newsletters.