Posted on
Mon, Mar 25, 2013 : 5:58 a.m.
Local agencies, institutions grappling to plan for cuts in federal funding due to sequestration
By Amy Biolchini
As the federal government continues to deliberate the extent and timing of forced budget cuts known as sequestration, local agencies and organizations are grappling with the possibility of extensive cuts to their funding.
The exact meaning of the cuts is relatively unknown, and local agencies and institutions that utilize federal funding are trying to adjust their plans to deal with shrinking budgets.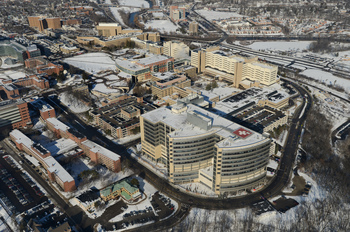 Melanie Maxwell | AnnArbor.com file photo
A number of
Washtenaw County
services that help poor individuals are readying for cuts that total about $437,000 -- or about a 5 percent cut to federal funding award amounts across the board, according to information compiled by
Mary Jo Callan
, director of the
Office of Community and Economic Development.
"We're trying to literally keep meals on the tables," Callan said. "We're doing triage."
Callan said the cuts will mean fewer people can be helped in programs funded through departments including U.S. departments of Housing and Urban Development, Labor, Health and Human Services, Energy and Agriculture.
About 11,000 fewer meals would be served through the Senior Nutrition Program and about 630 fewer people could be helped through the Employment Service Program, Callan said.
At the state level, those departments will be receiving cuts to their budgets exceeding $52 million.
Sequestration includes a number of forced budget cuts throughout the next 10 years.
The Federal Aviation Administration announced Friday the closure of a number of airport control towers it contracts out would be closing.
Control tower staff at the Ann Arbor Municipal Airport and the Willow Run Airport -- who are full FAA employees -- have yet to be notified that their hours would be cut or reduced, respectively.
Medicare is expected to reduce payments by physicians, hospitals and private insurers by 2 percent as of April 1.
For the University of Michigan Health System , reductions in Medicare reimbursements means a $6 million reduction in reimbursements for the remainder of the 2013 fiscal year, which ends June 30.
In the 2014 fiscal year, the health system will receive about $14 million less in Medicare reimbursements, according to information provided by UMHS.
To date, no layoffs at UMHS have occurred as a direct result of sequestration, said Pete Barkey, spokesman for the organization.
Barkey said UMHS anticipates that there could be ramifications with federal funding cuts.
"We're well aware of what the potential impacts of this are and keenly watching to see how this unfolds," Barkey said.
The potential cuts in federal funding were taken into account during the development of the budget for the current fiscal year, Barkey said.
However, researchers at UMHS and across the state will likely face less grant funding for their work and increased competition for the number of grants that are offered.
In 2012, researchers in Michigan received $655 million in funding from the National Institutes of Health and a total of $1.02 billion in federal research dollars.
Research institutions that make use of National Institutes of Health grants will likely see a 5 percent decrease in their funding.
About $33.4 million in NIH funding to Michigan researchers could be at risk for being cut this year, according to an estimate from the Federation of American Societies for Experimental Biology. The University of Michigan is anticipating a cut as high as $40 million in its research funding.
Researchers at UMHS will likely receive lower levels of funding in grants that are non-competitive and renewed each year, and they may have to renegotiate the amount and scope of certain grant awards they have received from NIH.
There will also likely be several hundred less grants awarded from the National Science Foundation in the 2013 fiscal year.
Amy Biolchini covers Washtenaw County, health and environmental issues for AnnArbor.com. Reach her at (734) 623-2552, amybiolchini@annarbor.com or on Twitter.