Posted on
Fri, Jun 21, 2013 : 2:59 p.m.
New southeast Michigan plans show major transportation projects on the horizon in Washtenaw County
By Ryan J. Stanton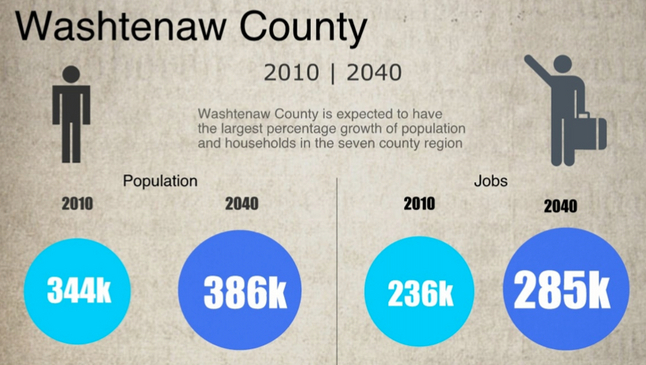 WATS
Billions of dollars worth of transportation projects in
Washtenaw County
made the list as the
Southeast Michigan Council of Governments
adopted new regional plans.
SEMCOG's general assembly voted Thursday to adopt both the 2040 Regional Transportation Plan and the 2014-17 Transportation Improvement Plan for Southeast Michigan.
Ann Arbor and Washtenaw County officials weren't happy to see widening of Interstate 94 in Detroit and Interstate 75 in Oakland County included, but they're embracing other projects.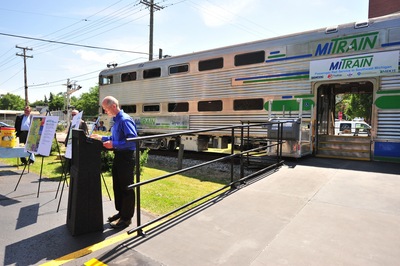 Ryan J. Stanton | AnnArbor.com
The 2014-17 TIP shows $800,000 planned for design of
WALLY commuter rail stations
between Howell and Ann Arbor in 2014. Of that amount, $640,000 is listed as federal and $160,000 is local.
Another $100,000 is shown planned in 2014 for development of a new bike sharing program in Ann Arbor, with federal Congestion Mitigation and Air Quality — or CMAQ — funding paying for the infrastructure, including kiosks, bikes, software and related items.
Ryan Buck, director of the Washtenaw Area Transportation Study, the agency responsible for overseeing transportation funding in Washtenaw County, said all of the projects included in the regional plans are actually Washtenaw County's own plans adopted by reference.
"So we've identified our own 25 years worth of projects, as well as our own four-year transportation improvement plan," he said. "We focused a lot on identifying regional priorities."
While the long-range plan identifies a broader vision for the coming decades, the four-year plan shows what's actually expected in the shorter term.
Buck said the plan is fiscally constrained, meaning it's based on expected local, state and federal revenues — so it's not just wishful thinking. For example, the $100,000 in CMAQ funding to launch a bike sharing program next year already has been awarded.
"The bike share is a pretty interesting project," he said. "There are significant capital costs in getting it started and operating it, but there are a lot of people interested in seeing it happen."
The plans show millions of dollars in state and federal funding coming to the Ann Arbor Transportation Authority for efforts ranging from preventative maintenance to purchasing new vehicles.
In 2016, $10 million is shown planned ($8 million federal, $2 million local) for the environmental analysis and preliminary engineering phases of the Ann Arbor Connector study for a high-capacity transit system linking the University of Michigan and other major activity centers in the city.
The four-year plan also shows a number of local road projects expected to be funded in 2014, including $3.3 million for reconstruction of Stone School Road from I-94 to Ellsworth (with another $200,000 shown coming in 2016) and $1.76 million for reconstruction of Carpenter Road from Packard to Washtenaw (with another $410,000 shown coming in 2015).
In 2015, $5.18 million is expected to go toward reconstructing Geddes Avenue from Arlington to Huron Parkway, while $3 million goes toward resurfacing Newport Road from Sunset to the city limits with nonmotorized upgrades. Another $700,000 is identified for Border-to-Border Trail improvements.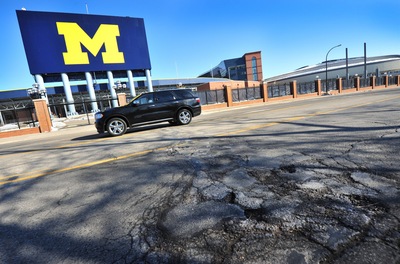 Ryan J. Stanton | AnnArbor.com
Also in 2015, $850,000 is planned for widening State Street from two to four lanes from Morgan to Ellsworth. That's a Washtenaw County Road Commission project.
In 2016, $5.8 million is planned for a long-awaited reconstruction of Stadium Boulevard just west of the new Stadium bridges in Ann Arbor — from Hutchins Avenue to Kipke Drive. Another $1 million in federal funds for the same project is shown coming in 2017.
About $526,000 is shown in 2016 for implementation of traffic congestion mitigation strategies on Seventh Street from Scio Church to Miller in Ann Arbor.
Buck said the long-range plan for Washtenaw County contains more than $3 billion worth of improvements for motorists, pedestrians, transit riders, cyclists and freight traffic.
While the plan includes funding for improvements like bike sharing, new transit initiatives and roundabouts, Buck noted the vast majority of capital funding is allocated toward improving and maintaining pavement around the county.
"Additionally, WATS identified $3 billion worth of projects without funding," he added. "The question we must now answer as a region is whether or not we are willing to fund a modern transportation system. Whether or not new revenue is made available, I look forward to working with local communities to implement as many regional transportation priorities as possible."
The WATS long-range plan shows a $13.7 million line item for Washtenaw County's expected costs in 2015 for commuter rail operations between Ann Arbor and Howell, and between Ann Arbor and Detroit, along with connecting bus services. That remains unfunded for now.
Continuation of commuter rail operations from 2016 through 2035 is projected to cost Washtenaw County another $376 million and that also remains unfunded.
The construction of WALLY commuter rail stations in downtown Ann Arbor and near Michigan Stadium are projected to cost $7.3 million in 2020.
Meanwhile, a new east-west rail station, possibly on Fuller Road, is listed as an unfunded project with an estimated $4 million design cost in 2015 and $50 million construction cost in 2016.
Ryan J. Stanton covers government and politics for AnnArbor.com. Reach him at ryanstanton@annarbor.com or 734-623-2529. You also can follow him on Twitter or subscribe to AnnArbor.com's email newsletters.