Posted on
Thu, Oct 7, 2010 : 2:57 p.m.
Newcombe Clark and John Floyd differ on Argo Dam, public art in Ann Arbor City Council debate
By Ryan J. Stanton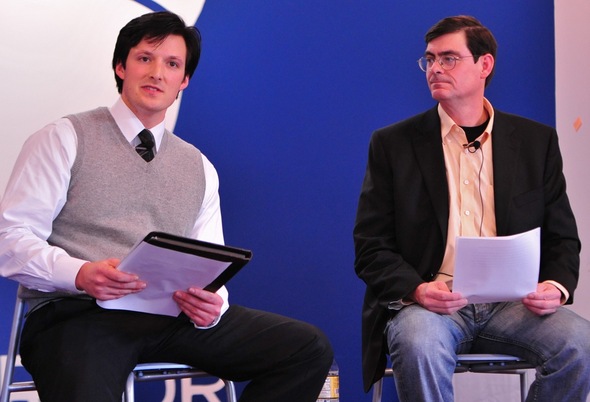 Ryan J. Stanton | AnnArbor.com
Newcombe Clark and John Floyd acknowledged on Wednesday they agree on a lot of issues, but they're finding out they don't see eye-to-eye on funding for public art.
During a debate hosted by AnnArbor.com, both 5th Ward candidates for the Ann Arbor City Council took different stances on whether cuts to public art should be on the table. The city's Percent for Art Program has been threatened in recent times as city leaders have looked for ways to trim the budget.
Clark said some of the proposed uses of the city's public art funds have been questionable — such as a million-dollar fountain in front of city hall — but he's not ready to give up on art.
"Abandoning it because of difficult times is what Michigan does best," he said. "And right now Michigan is 51st in the nation in arts funding. We're behind Guam. Ohio, with a similar economy, is third. We have a serious priority problem in Michigan when we start abandoning the arts."
Floyd called public art "a great thing," but offered a different opinion.
"When we are reducing the city workforce, when we are cutting people's salaries, when we claim there's no money for the police department, when we can't fix the Stadium bridge, and when we have a fire station closed," he said, "I'm not sure that spending public money on art is the correct use of our monies at this moment in time."
Clark and Floyd are competing to oust incumbent Council Member Carsten Hohnke, D-5th Ward, in the Nov. 2 general election. Clark, a commercial real estate professional, is a Democrat running without party affiliation in his first bid for public office. Floyd, an accountant who challenged Hohnke two years ago, is a Republican.
Hohnke declined to participate in Wednesday's debate.
During the hour-long discussion moderated by AnnArbor.com, the two challengers articulated their stances on issues ranging from a city income tax to Argo Dam.
Floyd said he's dam-in, Clark said he's dam-out.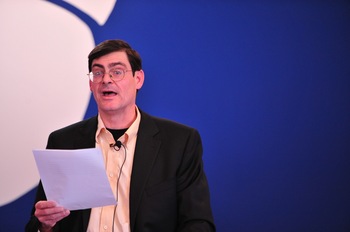 Clark took an environmentalist approach to the issue, discussing the importance of stewardship of the Huron River and the surrounding watershed.
"Damming rivers is an extraordinary measure," he said, suggesting it should provide a worthwhile benefit and Argo Dam no longer produces hydroelectricity. "I believe in protecting the river. I do believe that in the extraordinary instances where we find it necessary to dam the river, we better have a good reason to do it."
Floyd said he had mixed feelings about Argo Dam as a former rower and a current fisherman and canoeist. He said he also understood the environmental impacts of having a dam.
"Among the environmental impacts of that dam and all 97 dams that are on the river is they're all built on the best spawning gravel in the river system," he said. "So having the dam there hurts fish populations and the health of the river, and it's annoying to have to portage around it. And it isn't necessarily a beautiful thing."
On the other hand, Floyd said, he sees the benefits to the rowing community.
"I think having that opportunity so near downtown is an advantage for us and I'm not sure that, in spite of the fishing benefits we would accrue by removing it, that I'm ready to spend the money to remove the dam," he said. "When it's at the end of its natural life, I think we'd want to revisit that, but in the meantime, simply to maintain it, I think, is probably what we ought to do."
Both candidates shared their thoughts on safety in the downtown and the recent formation of a city task force investigating issues of panhandling and homelessness.
"I'm not holding out a lot of hope that a new task force will come up with something new," Floyd said, adding that having more police to enforce existing laws is probably the best solution.
"Someone I've spoken with who works closely with the homeless has described them as 'hunter-gatherers,' and as long as there are things to hunt and gather, they will be here," Floyd said. "My church tried to create a structure to make it easier for homeless people to sleep on the grounds and it only created a giant mess, so I don't know that there is an easy solution to this. I think we do need to find places for people to live that aren't necessarily in the street and perhaps the encampments that have circled Ann Arbor are a partial answer to that."
Clark said he thinks there's a problem that needs to be addressed.
"I think what we saw happen in a very quick amount of time with the elimination of the downtown (police) beats has reflected itself in aggressive panhandling that we haven't seen the likes of in at least 10 years," he said. "I think the presence of two armed robberies on the same block — a block that was regularly policed by our beat cops — within three months of each other is telling you that there's something going on."
Clark said the city needs to turn to its experts.
"The police themselves say the problem is there isn't enough resources to patrol, there isn't enough resources to be proactive," he said. "We've got a great cop force, but they're half their numbers of a decade ago. And they do a good job at catching people when they commit crimes, but they're the first to admit that they could be a lot better in stopping some of the issues we're seeing downtown."
On the topic of near-downtown development, Floyd and Clark offered somewhat different philosophies. Floyd drew a hard boundary around the downtown and took a protectionist stance against encroaching on near-downtown neighborhoods. Clark, who is one of the development partners behind the defeated Heritage Row and Moravian apartment projects in the Germantown neighborhood, shared a more pro-growth message.
"I believe you're downtown if you feel you're downtown," Clark said. "Yes, recently some zoning efforts have attempted to tie it to the DDA boundary. The DDA boundary, for its part, is a tax boundary. It doesn't speak to radial proximity, it doesn't speak to character, it doesn't speak to that feeling you get when you know you're a downtown resident."
Clark said it would be his preference as a City Council member to bring more housing downtown, and he'd like to do it on some of the city-owned surface parking lots.
"There are assets right now that aren't making us any money. I mean, they're making the DDA some money, but by any set of best standard practices, that's not the best use for that land," he said. "You can bring some of those lots then into better use."
Clark took a shot at Hohnke, who opposed Heritage Row, a project that would restore seven century-old homes along South Fifth Avenue. The alternative to Heritage Row is a project called City Place, which involves knocking down the homes. Hohnke and the council unanimously approved City Place last year, citing concerns it would be illegal not to do so.
"You have an incumbent that seems it's in the city's best interest to tear down those houses rather than save them," Clark said. "He voted for the City Place development, but so far refuses to work with the development team to save the houses. And I think that's really an interesting stance when you claim to protect neighborhoods and believe in neighborhoods and then you stick your head in the sand when you don't get what you want."
Floyd said the houses in the neighborhoods that surround downtown are what gives Ann Arbor a geographically unique environment.
"And I think that enhancing those, not tearing them down, is likely our best economic asset," he said. "Our look and feel, I think, is one of the unique things we have, so I would rather use, I think, historic districts to support those neighborhoods, but I think the density restrictions do keep high-density things inside of the downtown area."
Clark publicly disclosed his interests in both the City Place/Heritage Row and Moravian development projects during Wednesday's debate.
"I was the broker," he said. "I brought together the development teams, the financing and the property owners. As such, in both developments, my role for the most part has been completed, my fee is now fixed, and while I'm guessing it wouldn't be too appropriate for me to vote for those projects as a council member, the outcome of those projects — be them the by-right developments or a negotiated PUD — do not affect my direct compensation. They do, however, affect my interest in getting more people living in the downtown area."
Clark and Floyd both said they would prefer to see Heritage Row built instead of City Place. Floyd agreed and said he would be in favor of an expansive historic district for Germantown to make sure that the seven houses are not torn down for City Place.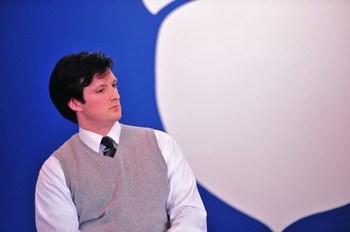 Ryan J. Stanton | AnnArbor.com
"I think it would be an enormous mistake — shooting ourselves in the foot — to tear those down," he said. "In the case of Heritage Row, I've toured the homes with both Mr. de Parry, the principal developer, and with a member of the historic district. And I think what Mr. de Parry proposes to do with those seven homes is a gift to the city."
The two candidates also shared their thoughts on the deteriorating condition of the Stadium bridges, which the city plans to repair next spring.
"They weren't maintained, and we didn't start applying for repair funds until it was a little late in the game to do that," Floyd said, criticizing the city for waiting so long to do the repairs.
Clark chalked it up as poor planning on the part of the city. He said the city unfortunately has a poor track record of being responsible about maintaining its infrastructure.
"I would automatically propose a full audit of all of our infrastructure right now, much like we do at the DDA," said Clark, who serves on the DDA's governing board.
Both candidates spoke in opposition to a city income tax, saying it would cause sprawl and drive residents and businesses outside of the city.
Instead of a city income tax, Floyd said, the University of Michigan should start making special payments in lieu of taxes when it buys property in the city.
Clark said he wasn't sure taxing the university is the solution, but he said the city does need to find some way to generate more revenue.
"But we can't cut our way out," he said. "And we can't take the coward's way out by putting an income tax in there and hoping that people won't ask us to do something more complex."
Both candidates expressed concerns about extending the hours of enforcement on downtown parking meters past 6 p.m., a proposal that's being discussed right now. Clark said he would be in favor of it only if the city made accommodations to offset the revenue generation.
"What I worry about is after this election, when they start worrying about the budget next year, they're going to push those meters up to 9 o'clock because they want to fill up the DDA's coffers so they can push the money into the general fund," he said.
Floyd took a harder stance against the proposal.
"As a city resident, I find something onerous about the idea that you're never off the city's dime, and that there's never a time when it doesn't cost you something simply to be downtown," he said. "I think that allowing people to park downtown after conventional business hours is a small courtesy and a way of making the city a little more friendly."
Toward the end of the debate, Floyd stressed one of the differences between him and Clark: The fact that Clark is vowing to serve only one term.
"I think that promoting long-term competition in general elections is really the key to turning the city around, and I think that that is something I can offer that Mr. Clark can't," he said.
Clark said being a council member is an opportunity to serve the community.
"To this end, I will only serve a single term, and I will donate my salary to charity," he said. "I will not give you four months of service and 18 months of campaigning for my reelection. You have me for the full two years — that's about 50 meetings. Fifty meetings is a lot and, in that time, I think we can accomplish a lot together."
Ryan J. Stanton covers government and politics for AnnArbor.com. Reach him at ryanstanton@annarbor.com or 734-623-2529.