Posted on
Wed, Feb 27, 2013 : 6:15 a.m.
Number of employees earning $100,000 in annual pay declines at Ann Arbor schools
By Danielle Arndt
A total of 46 Ann Arbor Public Schools employees earned more than $100,000 in 2012, according to a new compensation report.
The total has steadily declined since 2009, when 88 employees, or 4 percent of the district's staff, earned six figures.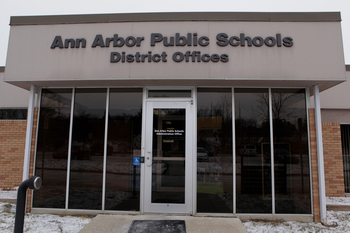 AnnArbor.com file photo
Looking at employees who make $100,000 is even more noteworthy this year in light of Michigan Superintendent
Mike Flanagan
proposing last month
that bumping up teachers' salaries to $100,000 could help attract more qualified math and science students to consider careers in education. He said such a move would remedy the state's shortage of teachers in these subjects.
School districts are required to publish annual wage, benefit and compensation reports on their websites as part of the state's mandated transparency reporting. Information on employees making more than $100,000 in annual pay is taken from employees' W2 tax forms.
The report currently on the district's website is outdated and based on 2010 W2 tax information. AnnArbor.com requested and obtained the most recent two reports from AAPS.
District spokeswoman Liz Margolis said retirements replaced by new hires at a lower rate have contributed to fewer people being on $100,000-plus employees list. In 2010, the district had 59 employees make the list. In 2011, that number was 51.
The data on the list is by position and does not include the employees' names. Margolis said the salary and total compensation data on the transparency report can vary slightly from year to year, even for the same position, based on how many pay periods there are in the annual calendar.
The number of payroll dates each year can increase or decrease by one or two, Margolis said. Another reason is that employee contracts typically are set for the district's fiscal year or academic year and W2 tax information is collected for the calendar year, she added.
The 2012 salary and compensation report shows Superintendent Patricia Green received $235,949 in wages last year from the Ann Arbor Public Schools. Her contractual base pay is $245,000.
The report also states Green received a total compensation package of $308,433. Her package included $10,247 paid in Federal Insurance Contribution Act taxes, $58,244 contributed toward her pension, $2,912 in life insurance and $1,080 in long-term disability benefits.
Green waived medical insurance when hired, but the amount of compensation employees received in health, dental and vision benefits also is listed on the report.
Employees on the list:
Two teachers, who make $102,717 and $108,771. In 2010, there were four teachers on the list.

Five assistant high school principals and one of whom also is an athletic director, earning $100,132 to $120,188.

Two assistant middle school principals, compared with three last year. These rates are $101,438 and $104,424.

Five middle school principals. Those salaries range from $100,524 to $115,137.

Five high school principals, earning $107,453, $108,121, $123,103 and $124,000.

15 elementary principals. Those salaries range from $101,034 to $107,559. This total compares with 19 elementary principals in 2010.

A preschool principal making $100,284.

A director of finance, $102,369, and director of human resources, $101,165.

The director of Community Education and Recreation whose rate is listed at $104,180. The district hired a new director in July so the total for the position represents two people paid last year. Jenna Bacolor replaced Sara Aeschbach who retired after 31 years with AAPS. In 2011, the position was listed as $106,645. Bacolor's contractual salary is $96,975, according to previous reports.

The assistant director of the Student Intervention and Support Services department. That rate is $120,000. This position was listed at $114,785 on the 2011 report.

Executive director of physical properties at $117,710 last year, compared with $119,117 in 2011.
Three assistant superintendents, earning $127,221, $118,108 and $108,515.
Three deputy superintendents. Those rates are $143,600, $136,497 and $136,005.
There was a recreation and education coordinator listed at $110,692 on the 2011 report that did not appear on the 2012 list.
The district's operating budget for the 2012-13 school year is $188.5 million, up from $183.5 million in 2011-12. The Board of Education will need to cut an estimated $17 million to $20 million from the 2013-14 budget. One of the possible reductions on the table is a 1-percent across-the-board salary decrease for the district's employees.
Margolis said AAPS employs about 3,000 full-time and part-time employees.
The 46 employees in 2012 that made more than $100,000 have total wages of about $5.91 million; this is down about $1 million in wages from the 59 employees in 2010, whose salaries totaled about $6.9 million.
The proposed 1 percent salary reduction for 2013-14 is expected to save AAPS another $1.3 million and likely would cause the number of employees on the $100,000-plus list to decline again.
Danielle Arndt covers K-12 education for AnnArbor.com. Follow her on Twitter @DanielleArndt or email her at daniellearndt@annarbor.com.