Posted on
Wed, Feb 9, 2011 : 5:58 a.m.
EMU officials tweak Washtenaw-Oakwood construction plan, but some residents still unhappy
By Tom Perkins
An Eastern Michigan University-developed project to alleviate traffic congestion at the intersection of Washtenaw Avenue and Oakwood Street will look slightly different than the plan approved by the Ypsilanti City Council in December.
EMU and Michigan Department of Transportation representatives updated the council and the public on those changes and the project's new timeline at a work session Monday afternoon.
Still, some residents who live near the intersection continued to express their opposition to the plan. Joe Golder lives at the intersection's northwest corner and has been particularly vocal in his opposition to the proposal because of the volume and the proximity of traffic. He vowed Monday to "walk away" from his home if the project is completed.
The council approved the original proposal at its Dec. 7 meeting. At that time, it was thought that plans had to be submitted and approved before late December for EMU to be eligible for a $450,000 MDOT Congestion Mitigation and Air Quality grant to fund most of the project.
When EMU officials met with MDOT officials, they found that there wasn't a December deadline, and MDOT asked for several changes upon reviewing the proposal. The original plans called for moving Oakwood north of Washtenaw 12 feet to the east to provide an extra buffer for Golder and other residents.
City Planner Teresa Gillotti said MDOT engineers were concerned about the significant traffic shift that people driving north on Oakwood would encounter, so they requested that the road be moved only 7.5 feet.
The original plans also called for two southbound lanes on Oakwood to be dedicated left-turn lanes, and a third for drivers turning right or going straight. MDOT officials determined that three dedicated lanes — a left-turn lane, a right-turn lane and a lane for drivers traveling straight — improved flow.
Gillotti said there must be a dedicated left-turn light if there are two left-turn lanes. With the new lane configuration, drivers can turn right when the green arrow appears over the left-turn lane.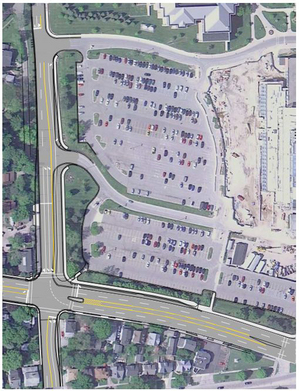 Courtesy of the City of Ypsilanti
Gillotti said a proposed pedestrian island midway through the crosswalk on Washtenaw just to the east of Oakwood was also cut from the plans. Residents on the south side of Washtenaw opposed the island because it would have required cutting into their property to provide space for buses and trucks turning left from Oakwood. It also would have complicated the residents' ability to enter and exit their driveways.
Among other changes at the intersection are the addition of a right-turn lane on westbound Washtenaw before Oakwood, numerous pedestrian safety improvements, and striping and signage to help prevent cars backed up on southbound Oakwood from blocking driveways.
Officials still aren't certain where to place crosswalk signals, Gillotti said. The placement of the signs near Golder's porch was one of his many concerns with the project. He also said the sidewalks are 5 feet wide, which means there would be 5 feet less of a buffer than what officials say.
Construction is expected to start in June and conclude by mid-August.
The project failed to receive the planning commission's support in November, and its opponents have questioned why EMU wasn't first addressing the Huron River Drive and Oakwood intersection. That intersection sees more accidents and some officials say tackling problems there could alleviate congestion at the Oakwood corridor's south end.
Some residents and planning commissioners also argued that the university should have planned to improve the entire Oakwood corridor while it was investing more than $200 million in capital improvement projects in recent years. Those projects have heavily increased traffic along Oakwood Street, which borders the campus's west side.
Several City Council members have said the project wasn't the perfect solution to the traffic problems created by the university, but the council voted unanimously to approve the plans at the Dec. 7 meeting.
Council Member Mike Bodary said he agreed with a resident's description of the project as a Band-Aid to the traffic problem around campus, but said he believes the plan will provide some relief.
"It may not be as much of an improvement as all residents wanted, but for the overall situation and whole neighborhood and this side of town it's a help," he said. "It's going to get us a step closer to much better traffic management."
Leigh Greden, executive director of government and community relations for EMU, underscored that the university is covering any design costs the city incurs and has worked closely with the council and city staff on the project.
"We're pleased that the project continues to move forward because this will be a dramatic improvement for that intersection," he said. "In fact, MDOT is confident these new changes will reduce traffic congestion more than the original proposal."
Greden said the university has also tried to address some of the neighbors' concerns.
"We're giving up some of our land in order to reconfigure the lanes and give Mr. Golder another 7 feet of right of way," he said.
Golder said the changes still cause him and other neighbors problems. The corner used to be peaceful, he said, but now he has to deal with heavy traffic outside his house. He said no one in the city is helping him.
"City Council is now siding with EMU," Golder said. "I've paid $50,000 or more in city taxes and I'm the one that pays for the right to access my driveway. EMU should have bought these two houses at the corner knowing what they were going to build before someone like myself came and bought one."
Tom Perkins is a freelance reporter for AnnArbor.com. Reach the news desk at 734-623-2530 or e-mail news@annarbor.com. For more Ypsilanti stories, visit our Ypsilanti page.