Posted on
Sun, Feb 26, 2012 : 5:58 a.m.
Giving a dollar or two to a panhandler isn't the right thing to do
By Tony Dearing
There is a compassionate response to a panhandler who asks you for money, and it's not to hand over a couple of bucks. Michigan State Police Trooper Duane Zook knows that all too well.
Zook has made it his personal mission to work with people who panhandle on freeway exit ramps around the Ann Arbor area. And in our view, he's an ideal example of how to address panhandling with a clear-headed compassion that seeks to solve the problem rather than perpetuate it.
We introduced readers to Zook last week in an article that described his efforts to get panhandlers off freeway ramps and into treatment programs. Zook was moved to get involved in the issue after a man he'd seen panhandling a number of times in the summer and fall of 2007 froze to death in December of that year.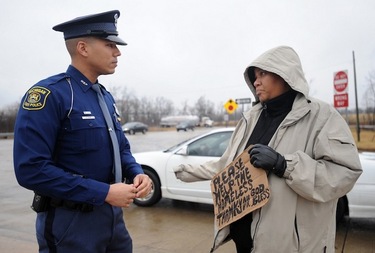 Angela Cesere | AnnArbor.com
Zook began talking to those who were panhandling on freeway ramps to learn their stories. Almost always, he found, they were heroin addicts or alcoholics looking for money to support their addiction.
It's illegal to panhandle on freeway exits, and Zook will give violators a warning or citation. But more importantly, his emphasis is on steering them to treatment through programs like Project Outreach.
Panhandling is an ongoing concern in Ann Arbor, particularly in the downtown area. In 2010, the city reconvened a task force to address aggressive panhandling. The problem tends to wane during the winter months, then resurge in warmer weather.
Over the years, Ann Arbor has developed a reputation for attracting panhandlers because our compassionate population has been known to be generous in giving to people who beg on the street. But giving money to a panhandler is the wrong answer. In most cases, it just feeds addiction. That money could be better spent supporting programs that help get people off the street and treat their underlying issues.
That's what Trooper Duane Zook has dedicated himself to, and we admire his efforts.
Accessing a spike in crime
It might seem incongruous for the city of Ann Arbor to report that crime is at the lowest level in years, and at the same time warn residents to be on the alert because of a spate of break-ins. But a lower crime rate can create opportunities for criminals if it lulls people into a false sense of security.
It's concerning that Ann Arbor has already seen 67 burglaries occur in neighborhoods across the city since the beginning of the year. Police became concerned enough that they sent an alert to neighborhood watch groups two weeks ago. That action came just two days after Police Chief Barnett Jones issues a report showing that Ann Arbor experienced fewer crimes in 2011 than in any year over the past decade.
According to police department statistics, Ann Arbor had 2,758 major crimes reported last year, which is almost 500 fewer than the previous year and nearly 1,000 fewer than in 2002. Welcome as that news may be, no one should look at that number of crimes and conclude this is such a safe city that it's unnecessary to take precautions against becoming a victim - as the recent wave of break-ins demonstrates.
A closer look at the statistics shows that while other crimes like arson, robbery and assault dropped in 2011, the number of break-ins didn't. And Jones points to a tough economy and the expiration of unemployment benefits for many people as possible factors in the wave of break-ins now occurring.
We recall the concern that spread across the west side of Ann Arbor in 2009 when a similar rash of break-ins occurred. It turned out, as it is often the case, that the break-ins were the work of a small number of people, and that the crime wave subsided when they were caught.
In fact, if you look at crime statistics over the course of 2009, the total number of break-ins ended up being lower than the previous year, and that type of crime fell again the following year. So such spates are not evidence that crime is out of control.
They are cause, however, for citizens to understand that crimes occur in Ann Arbor on a regular basis, and whether crime is up or down in a given year, anyone can be a victim. Keep yourself safe by taking such basic precautions as locking your doors and windows, and watching for suspicious activity in your neighborhood. That's good advice during this wave of break-ins, or at any time for that matter.
(These editorials were published in today's newspaper and reflect the opinion of the Editorial Board at AnnArbor.com. The editorial on break-ins has been revised to correct an error of fact regarding crime statistics.)