Posted on
Wed, Apr 3, 2013 : 6:25 p.m.
Herb David Guitar Studio remembered by loyal and thankful customer
By Guest Column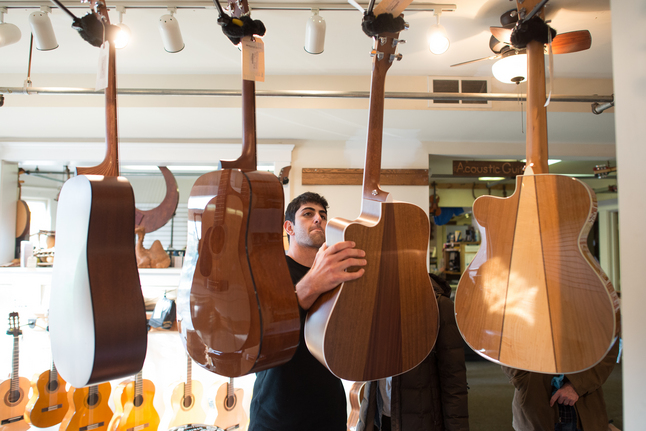 Courtney Sacco I AnnArbor.com
On March 30, Ann Arbor residents got the news that one of its
greatest institutions would be closing
.
Herb David Guitar Studio
seemed like something that couldn't exist in this day and age: a locally-run musical instrument sales, repair and lesson business that seemed to exist out of time. As downtown Ann Arbor has seemingly grown more and more commercial in recent years, Herb David was a reminder that sometimes things don't need to change.
My own connection to Herb David was pretty recent. Just less 10 years ago, I began taking guitar lessons there. I was a tremendously shy 12-year-old who had little self-confidence and not much to be proud of. I wasn't athletic in the slightest, I didn't have many friends, I wasn't the most strikingly handsome kid in school, but playing guitar was something I could hang onto, something that set me apart. Sure, there were other kids who played — and better than I did — but it still was pretty limited in those days.
It wasn't for another year or so that it seemed like everyone and their brother knew how to play guitar. I wouldn't even say I got particularly good for quite a while, but it was something to strive for, something I kept with and didn't give up even if it took a while to catch on.
During my time taking lessons, the studio was the only place to go for pretty much anything music-related. I got an electric guitar there for Christmas. A mandolin for a later Christmas. My instruments went there for repairs, and I was always satisfied with the results. I didn't have much interaction with Herb himself, but when I did, he was gracious, funny, and approachable.
I was in awe of a man who had repaired the guitars of Eric Clapton, let John Lennon take a seat in the shop (in an old wooden chair that was there presumably to the last day), and probably had interacted with countless other legendary musicians. Basically, if a guitar player came to Ann Arbor and needed repairs, they went to Herb. In reality, I was in awe of all the employees; all of them were friendly and incredibly knowledgeable.
My guitar teacher, Sean Rogers, was terrific. I regret that after moving away to college, I lost touch with him and with the store as a whole, but it was never far from my heart. I think I owe a lot to Sean, and to that little shop on the corner.
It may be cliché to say that learning an instrument gave me self-confidence, a sense of purpose, discipline, patience, etc., but I believe all those things are true, both for me and for millions of kids out there. I hope that each and every employee of Herb David Guitar Studio, even if they are out of work for a while, walk away knowing they inspired countless people to pick up an instrument and start playing. And while I'm tremendously sad to see it go, I congratulate them for 51 years in business. That's no small feat, no matter where you are.
I don't play in bars. I don't have a band. I've tried writing songs and have been less than successful. But music is still an essential part of my life, and every time I pick up my guitar, I'll know that every note I play comes from that place, and I'll never forget it.
Conor McShane is an Ann Arbor resident.