Posted on
Sun, Mar 6, 2011 : 10:30 a.m.
Here's what people were saying in the news this past week
By Steve Pepple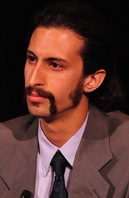 "It seems like there's a tendency to think, 'let's not kick the can down the road.' But I feel like what's being done here is we're picking up the can and we're throwing it at the homeless, and we're throwing it at the poor, and we're throwing it at the elderly, and we're throwing it at our local communities." -
Washtenaw County Commissioner Yousef Rabhi
, D-Ann Arbor, talking about the potential
impact of state budget cuts
outlined in Gov. Rick Snyder's executive proposal.
---
"This is not permission to speed, but we recognize that good people do stupid things sometimes." - Washtenaw County Sheriff's Deputy Doug McMullen, commenting on a program that allows first-time speeders to pay an extra $25 on a speeding ticket fine to avoid accumulating driving record points.
---
"It would be a nightmare from the standpoint of my feelings for the children and young people in Washtenaw County. I haven't even contemplated what that would mean, but it would be massive (cuts) rather than trimming." - Ann Arbor school board Trustee Glenn Nelson, on the situation if a countywide special education millage renewal in May fails and Gov. Rick Snyder's budget cuts go through as proposed.
---
"You don't need to look any further than the fact that we wouldn't want to trade budgets with any city in the state. You know, we have our challenges, but we've reorganized, and we haven't had to raise taxes. Those are good things." - Ann Arbor Mayor John Hieftje, commenting on the impact departing City Administrator Roger Fraser has had on the city.