Posted on
Mon, Mar 25, 2013 : 5 p.m.
Lawmakers need to establish clear, uniform school safety requirements
By Guest Column
Editor's note: This is an MLive Media Group editorial that appeared in the AnnArbor.com print edition on Sunday.
It is time to quit paying lip service to school safety in Michigan. Anything else is a betrayal of our children.
A new MLive Media Group investigation found serious shortcomings across the state in how well schools are preparing students for fires, severe weather or armed threats.
Mandatory drills are skipped, or there is no proof they were done as the law requires. Administrators are either ignorant of the lapses or look the other way.
Some make excuses for not doing them. Their litany is long: They are inconvenient. Staff is extremely busy. True threats are exceedingly rare.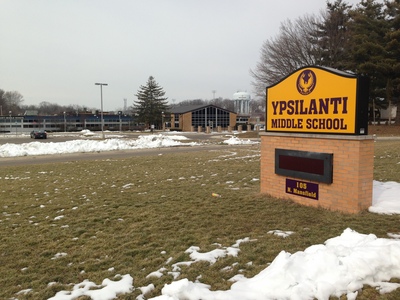 Kyle Feldscher | AnnArbor.com
All true, but the alternative - unprepared students and staff members facing the unthinkable - is too horrific to consider. And no one can excuse turning the drills into a mockery, as some administrators have by cramming half or more into the end of the school year, or doing as many as eight in a day.
Robert Kauffmann, president of the Michigan Elementary and Middle School Principals Association, acknowledged as much. "I think we all know this is something we can't take lightly anymore," he said.
What then, can be done?
A task force, created by Gov. Rick Snyder in the wake of the Sandy Hook shootings, will meet for the first time this week in an effort to find answers. MLive's findings will be at the forefront of discussions, said Col. Kriste Kibbey Etue, director of the Michigan State Police, which is leading the effort.
Here then are six points the group should address, and lawmakers as well:
Create transparency: Require schools to post drill documents on their websites, just as they must financial information. Let parents see whether drills are done. Many shortcomings might disappear under the light of scrutiny. Require school boards to receive an annual report as well.
Provide clarity: Make clearer what information must be recorded. The law requiring documentation is vague and recording practices are all over the place. Some districts use detailed state forms; others rely on jotted calendar notes with minimal details.
Colleges and universities, too: Confusion reigns over what's required for drills, and the law's language is muddy. Requirements for higher education must be clearly enunciated and made uniform from campus to campus.
Disappearing documents: State rules allow districts to destroy drill records at the end of every school year. Require records be kept for one additional year, so parents always have a full year to assess.
Reassess the mix of drills: Six fire, two tornado and two lockdown exercises are annually required. Keep the number of drills. Repetition builds muscle memory, and teaches students an alarm is cause for action, not panic. But we live in a new age. Fires are not the threat they once were. Increase lockdowns, and perhaps severe weather drills, even if it means a small reduction in fire drills.
Put teeth into the law. Task force members and lawmakers should consider reasonable penalties, and a way to enforce them, possibly through a system of spot checks of online records. Local emergency coordinators could be of help here.
True, this would impact the many diligent public, private and charter schools that do not ignore the law. That includes those schools that set a drill schedule early and alert parents, so that they may talk to their children about the importance of taking the exercises seriously.
But the honor system has not worked. Lawmakers did not require oversight, and too many administrators are abusing that. Now they too should embrace reform, and help make Michigan a model for the nation.
Anything else is just lip service - including from those who sent letters home after Sandy Hook, reassuring parents they had solid plans, when in practice they were breaking the law.
This endorsement is the opinion of the editorial board of MLive Media Group, the parent company of MLive.com. The board is made up of the company's executive leadership, content directors and editors who oversee the 10 local markets that make up MLive Media Group.