Posted on
Sat, Jan 19, 2013 : 3:02 p.m.
University missed an opportunity for collaboration with community on solar panel project
By Guest Column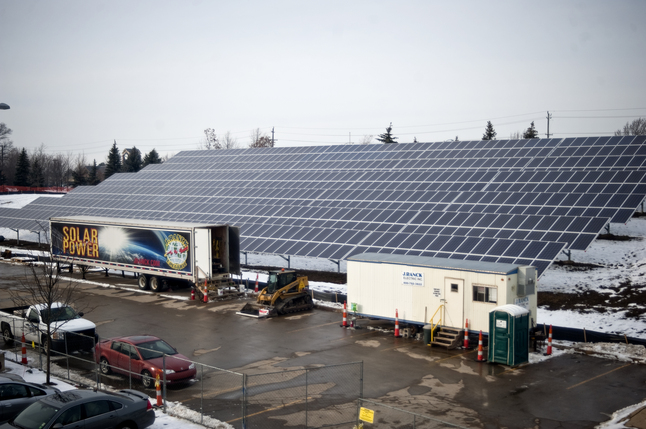 Joseph Tobianski | AnnArbor.com
The University of Michigan's installation of
hundreds of solar panels
at the former Pfizer facility along Plymouth Road represents a missed opportunity for proactive collaboration between the University and its Ward 2 neighbors.
Instead, the installation, which took place without direct communication with Plymouth Road neighborhood leaders or Ward 2 City Council Members, has lead to resentment and anger toward the largest benefactor of economic stability in this city.
And these feelings are not new. When I began my campaign for a seat on Ann Arbor City Council last spring, I met with numerous city leaders and was troubled by the lack of positive regard toward the University. But why? The University of Michigan is this city's largest and most stable employer and as such has helped Ann Arbor bear the brunt of the latest economic downturn.
The resentment toward the university stems from the fact that it is not required to pay city property tax or heed city ordinances. There is a perception that the University does whatever it wants, whenever it wants, without regard to the surrounding community. This smacks of arrogance and does not sit well among city stakeholders.
But what if a fresh approach could wipe clean the slate of years of built-up tension? Building a more collaborative relationship with the university became a cornerstone of my campaign. I was encouraged when in September, Jim Kosteva, the university's director of community relations asked to meet with me about some issues for which the University would need city input. I had met with Mr. Kosteva in the early days of my campaign and he was well aware of my desire to jump-start a new relationship with the university.
This meeting would have been an ideal opportunity to give the city a heads up about the pending project on Plymouth Road. In retrospect, I feel my efforts have been one step forward and now two steps back. So what does successful proactive collaboration look like?
In the case of the solar panels installation, the university could have enlisted the the Ward 2 City Council members; Jane Lumm and myself, to organize a neighborhood meeting during which the University of Michigan could present their plans and hear feedback from the neighboring community. The aesthetic aspects of the installation could easily have been resolved proactively in a manner that doesn't delay the University's plans. Residents know we have no legal recourse to prevent the University from going ahead with its plans, but giving us the courtesy of advance notice and the chance to voice any concerns goes a long way in demonstrating what it means to be a good neighbor.
How do we ensure these "missed opportunities" do not recur? It will take the commitment of city leaders as well as university regents to adopt a culture of proactive collaboration. While the city and the university do have a history of cooperation at the functional level; between the AAPS and DPS, and between our respective transportation and construction division, I sense that the tone of these communications typically is reactive and defensive, with both parties protecting their turf, so to speak.
In my mind, collaboration is distinctly different and on a higher strategic level than mere cooperation. In February, the city will host the annual city-university reception. With two new Regents, and three new City Council members, now is the time to elevate the dialogue from functional cooperation to a culture of strategic collaboration.
Sally Hart Petersen
City Council member, Ward 2.