Posted on
Sun, Aug 4, 2013 : 5:54 a.m.
Time to consider nonpartisan elections for city councils
By AnnArbor.com Staff
Ah, August. The time of year when much of our community goes on vacation, the universities are at their quietest, and the pace of life around here noticeably slows down.
Oh—and we decide who's going to be on the Ann Arbor and Ypsilanti city councils. That is, a few of us decide—those who are still in town, who are watching local politics more than flowers and fireflies, and who can manage to remember there's an election taking place.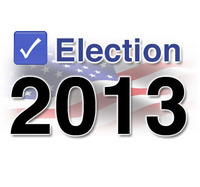 That tends to be not very many. In Ann Arbor, even-year primaries typically draw
less than 20 percent turnout
, even with a relatively
full ballot
. Last year in Ypsilanti, the two wards with contested primary races saw turnout of
20 percent and 12 percent
. Off-year elections—like this year's, which takes place Tuesday—fare even worse: In 2011, Ann Arbor had three contested races in August, and they all saw turnout of
under 10 percent
.
This would be less of a concern if there were truly contested races in the November general election. But in Ann Arbor and Ypsilanti, that rarely happens. While we do occasionally see someone run as an independent, it's awfully hard, if not impossible, to win a council election as a Republican on either city's partisan ballot.
So that means that most races are decided in August by default, when participation and engagement are at their lowest. (And most college students, an important constituency in both cities, aren't here at all.)
The primary election itself will remain necessary. But there is one fairly simple way to improve the system: Remove the partisan aspect from the city council elections.
Not only would this tend to give more voters a say in the final election (primaries could still be used to winnow the field when needed), it simply makes sense. The work of overseeing our cities focuses on infrastructure, building projects, zoning, providing services. These aren't really issues for the national parties. Even in cases where an argument can be made that a party's platform does apply—Democrats tend to be more environmentally concerned, for example—partisanship seems inappropriate on the local level. Protecting the Huron River doesn't need to be a partisan concern.
The most common argument in favor of partisan elections is that a D or R label gives voters an easy clue on what the candidates believe and value. But does it really? On the local level, candidates for city office can simply affiliate with the dominant party whether they really embrace it or not. Conversely, a true-blue party member still might separate from the fold on individual issues. So what's the point?
Last year, Ypsilanti voters narrowly defeated a new city charter that would have made its city elections nonpartisan. But other charter changes were proposed as well, so it's a little hard to read that as a clear referendum on the concept—and even if we do, the closeness of the vote (14 votes out of nearly 6,000 cast) shows substantial support for the idea.
Remarkably, only three cities in Michigan have partisan council elections (Ionia is the third). Nationally, most major cities—including Austin, Seattle and Portland—vote nonpartisan.
It's hard to imagine voters in Lansing or Grand Rapids arguing that their elections would be improved by partisanship. This year's primary in Ann Arbor takes place Tuesday, Aug. 6. Isn't this a good time to wonder whether our elections might not be improved by a change?