Posted on
Sat, Dec 29, 2012 : 12:23 p.m.
Police identify woman killed while crossing Carpenter Road
By Paula Gardner
Pittsfield Township police are still seeking witnesses to the fatal collision between a car and a pedestrian on Friday night as they continue their investigation into the incident that took place on Carpenter Road near Ann Arbor.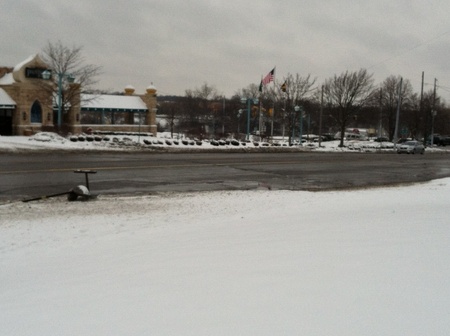 Paula Gardner | AnnArbor.com
However, officials said on Saturday that one thing is clear: They don't expect charges against the driver of the car that struck the 23-year-old woman crossing Carpenter south of Washtenaw near the Palm Palace restaurant.
"We wouldn't say the driver is at fault," said Deputy Chief Gordy Schick.
Schick said Autumn Renae Tucker, 23, of Tecumseh died shortly after she was struck in the western southbound lane of Carpenter Road.
A 65-year-old man from Ypsilanti had just turned into that southbound lane from eastbound Washtenaw when he spotted Tucker and swerved to avoid her.
However, Schick said, the man's Ford Escape struck Tucker.
"The driver called 911," Schick said, and he remained on the scene as rescue crews arrived shortly after 9:30 p.m.
"Speed was not a factor," he continued. "... He had just completed a turn."
Police are still piecing together how Tucker happened to be in the area, Schick said Saturday morning.
She had been at one of the gas stations on the corner of Washtenaw and Carpenter, and was headed toward the Days Inn when she was struck.
It's unclear whether her destination was the motel, Schick said, but the location of that building - about 50-100 feet from the intersection and its crosswalk - indicates that the driver had no reason to expect a pedestrian in that stretch of the road.
Tucker also was wearing a dark hoodie and blue jeans, making it difficult to see her, Schick said.
Two pedestrians were killed by vehicles in the Ann Arbor area in November, including one in Pittsfield Township on Golfside Drive. Neither was crossing at a crosswalk, but the second incident - on Ann Arbor-Saline Road - prompted concerns about pedestrian safety in that area of the city.
Pedestrian safety also has been an issue in the Carpenter Road area following two additional pedestrian accidents, including one that was fatal, since 2010.
The Washtenaw County Road Commission, at the request of the township, in November installed a pedestrian crossing on Carpenter near Center Drive, about a mile south of Friday's crash scene.
Efforts to increase pedestrian activity and safety continue with recent work at the busy Washtenaw/Carpenter intersection, where paths were just built near the ramps to US-23.
Anyone who witnessed this accident is asked to contact the Pittsfield Township Department of Public Safety at 734-822-4911.