Posted on
Fri, Jul 26, 2013 : 2 p.m.
Police increase patrols near University of Michigan campus after medical student's death
By Kellie Woodhouse
University of Michigan and Ann Arbor police have increased patrols in the North Ingalls and Central Campus area after a 25-year-old medical student was found shot to death in his fraternity house Wednesday.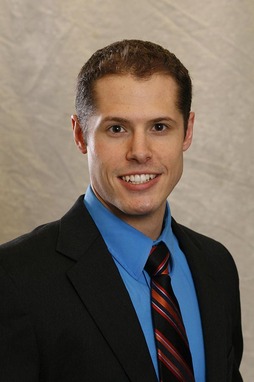 Courtesy photo
Police are still
investigating Paul DeWolf's death
. He suffered a single gunshot wound, autopsy results showed.
DeWolf, a second lieutenant in the United States Air Force, was set to graduate from U-M medical school in May. His body was discovered at 11:30 a.m. Wednesday in his room in the 200 block of North Ingallls Street, across the street from U-M's medical school and two blocks from Central Campus. DeWolf was a 2010 graduate of Grand Valley State University and a Schoolcraft, Mich., native.
U-M police spokeswoman Diane Brown said police want to increase visibility in the area so residents feel at ease.
"Regardless of where they are assigned, all of our officers over the course of their shifts, throughout 24 hours, will make patrols in this area," she said.
Added Ann Arbor Police Department Lt. Ed Dreslinski: "We don't have a lot of homicides in this city, so we're tying to show a presence in the area to help put everybody at ease and maybe we run into something that helps us in our investigation."
Homicides rare at U-M
This is the first homicide of a student on or near campus in at least a decade.
Michael R. Logghe, a former lieutenant and historian with the Ann Arbor Police Department who retired in 2009, said student murders in Ann Arbor are "virtually nonexistent."
"It's an extremely safe campus, an extremely safe city. It's an aberration when it happens," he said. "It's very, very, very rare.... That's why it's so shocking."
U-M homicide investigation continues
Police continue to investigate the death of a U-M medical student
In 1999 a U-M senior killed her boyfriend, a U-M graduate, in his apartment at 727 Kingsley St. and then turned the gun on herself. Also in 1999, a man in his early 20s was killed during a party thrown by U-M students at a home in the 900 block of East University. He was shot when he tried to break up a fight, according to Logghe. He was not a student.
In 1997, Tamara Williams was killed by her boyfriend in the family housing area of North Campus.
Private gathering planned
The Medical School is holding a private gathering in remembrance of DeWolf, U-M spokeswoman Kelly Cunningham said. U-M has not planned a public service yet, she said. A funeral for DeWolf is being planned, an Air Force official said.
The school sent a crime alert email to all students, faculty and staff on Wednesday at 11 p.m., informing them that DeWolf was found dead in his home. On Thursday, U-M police updated their website to reflect that the death is being investigated as a homicide.
"We extend our deepest condolences to Paul's family, friends and colleagues," U-M President Mary Sue Coleman said in a statement released around 2 p.m. Friday. "He was working and training among a close, nurturing community of healers and I know they will help each other through this difficult time. They will need the support of the broader campus community in the weeks and months ahead, and we will provide it."
U-M Health System CEO Ora Pescovitz updated her blog with a condolence message on Friday.
"The tragic and sudden death of Paul DeWolf has left a senseless and painful void in our Health System community," she wrote. "Paul was a talented medical student, a treasured friend and family member, and an individual who was dedicating his life to helping others. He will be greatly missed by many."
U-M students and staff can receive grief counseling through medical school counselors, the university's Counseling and Psychological Services program for students and the Employee Assistance Program.
Cunningham said school officials have been at DeWolf's apartment providing "instrumental physical and emotional support to Paul's family and friends."
Counseling resources
Office of Medical Student Education's Class Counselors at (734) 764-0219
CAPS program for students (734) 764-8312
Employee Assistance Program at (734) 763-5409.
Anyone with information on the case is asked to call the Ann Arbor Police tip line 734-794-6939, or e-mail TIPS@a2gov.org or Crimestoppers at 1-800-SPEAK UP.
Correction: This article has been corrected to reflect that in 1999 a woman killed her boyfriend and then killed herself.
Kellie Woodhouse covers higher education for AnnArbor.com. Reach her at kelliewoodhouse@annarbor.com or 734-623-4602 and follow her on twitter.