Posted on
Sun, Apr 3, 2011 : 5:56 a.m.
Rick Snyder's budget proposal spurs debate: Is it fair?
By Nathan Bomey
The crescendo of complaints about Gov. Rick Snyder's proposed budget — which infuriated a mass ensemble of groups throughout Michigan — sounds a common theme.
By most accounts, people seem to agree that "shared sacrifice," as the governor has put it, is fair and necessary to help Michigan establish a sustainable state government.
But few can agree on the definition of fair. And there has been little agreement on a better alternative.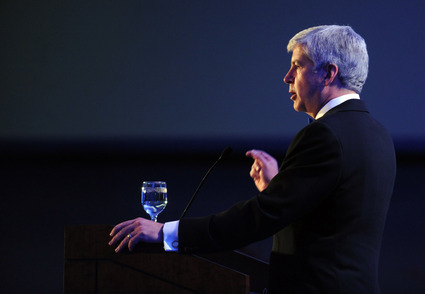 Melanie Maxwell | AnnArbor.com
"People who are arguing against the cuts have got to come up with some other realistic way of balancing the budget," said
Craig Ruff
, an analyst with Lansing-based
Public Sector Consultants
and adjunct lecturer at the
University of Michigan's Ford School for Public Policy
.
"And without federal stimulus dollars, those are very painful decisions that have to be made in other areas of the budget."
Snyder's proposed budget would slash business taxes by $1.8 billion, raise $900 million through increased taxes on pension, axe most of the business tax credits and individual tax credits, and levy major funding cuts for higher education, public schools and municipalities. The Republican calls his proposal fair and says it would eliminate the Michigan's chronic budget deficits and place the state on a fiscally sustainable path.
Opponents of Snyder's plan offer a wide range of alternatives. A consensus has been elusive, but the most heated criticism revolves around Snyder's plan to cut business taxes, reduce K-12 spending and eliminate exemptions on everyone who holds a pension, except members of the military.
"It's like building a house. Somebody's got to come up with an architectural plan and Snyder did that," Ruff said. "Now, it's up to the construction workers to fiddle with that plan to make sure it works."
Politically, Snyder's ability to get something similar to his budget approved by the state Legislature probably rests on his ability to convince the public that what he's proposed is fair and equitable.
Pittsfield Township resident John Leipzig, a retired professor at the University of Alaska Fairbanks, said he doesn't buy Snyder's argument that the pension tax proposal is fair.
For one, some retirees who live in Michigan earned public pensions that limit their ability to draw social security income. Snyder's proposal would exempt Social Security income from taxes - but, Leipzig asks, what if your pension was meant to take the place of Social Security?
"They're not being treated the same," he said. "Fair equals same. If fair equals same, they're not being treated like other classes."
Meanwhile, members of the military are the sole class of society whose pensions would not be taxed under Snyder's plan.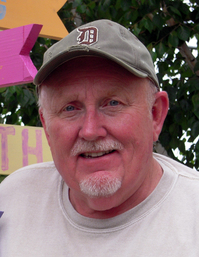 "I can't see the argument why you would exclude one type of pension, meaning military, when you wouldn't exclude other pensions from people like police and fire," said Leipzig, a former director of Alma College's Center for Responsible Leadership. "The problem is right now, being in two, three wars, the last thing you're going to do is be anti-military. My heavens, this isn't something that's either politically or personally palatable."
Still, supporters of Snyder's proposal say that it's reasonable because, under the current system, a working senior who earns $45,000 a year is taxed on all of their income, while a retired senior who receives $45,000 in pension payments pays nothing.
Fair?
"There's all sorts of really unjustifiable unfairness in taxing working seniors and not taxing retired seniors," said Lou Glazer, president of the Ann Arbor-based nonpartisan think tank Michigan Future. "The budget is never sustainable with that large of a percentage of taxpayers who don't pay.
"Everybody's got to contribute to make the numbers work."
That doesn't mean Glazer supports Snyder's entire proposal. In fact, Glazer argues that Snyder's proposed business tax cut — which would replace the controversial Michigan Business Tax with a 6 percent corporate income tax exempting about 95,000 small businesses — won't create many jobs.
The proposal favors small businesses, like the startup companies Snyder funded as an Ann Arbor venture capitalist, over big businesses, like the global computer-making giant Gateway, which Snyder led in the 1990s.
Snyder, who has repeatedly said it's time for the government to stop picking winners and losers in the economy, is picking business, in a sense. Whether that's fair to the rest of the state is up for debate.
Glazer said he supports Snyder's goal of simplifying the state's incredibly complex business tax code. But he doesn't support a massive business tax cut to fund the cuts on education spending, for example.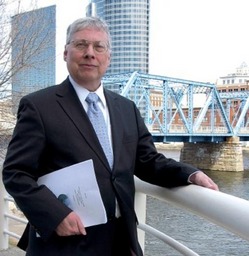 File photo
"We think a business tax cut is a less effective way of growing the economy than these public investments in education, quality of place kind of things," Glazer said. "We just don't think it's an effective way to grow the economy. If you actually look at the evidence, state's business taxes don't correlate at all with whether states are doing fine. Some of them have good economies, some of them have lousy economies."
Glazer added: "Why is it we should believe that this is the magic bullet? Give us some evidence."
Ann Arbor-based book manufacturer Edwards Brothers, which has endured 118 years of economic changes and governmental reform, is still assessing the impact of Snyder's proposal on its financial picture, said President John J. Edwards.
Edwards Brothers, which has more than 400 workers at its Ann Arbor headquarters, operates in an industry characterized by intense price competition. Anytime the company can shave some costs off of the cost of book production, it improves its ability to compete.
"Anything he's trying to do for business is a good thing, but I don't know if that's the case here, as a manufacturer," he said. "I just hope it doesn't cost us more and I just don't know."
Even as the state debates funding shifts, Michigan residents want a plan that creates jobs. In a survey released Thursday by Lansing-based Marketing Resource Group, 79 percent of voters said that Michigan's economic situation is the biggest issue facing the state.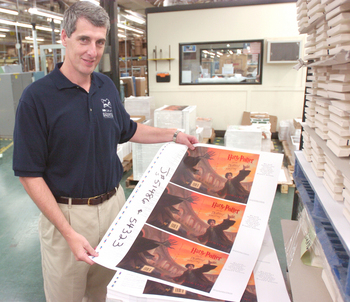 File photo | AnnArbor.com
Yet what's fair, according to voters? Forty-nine percent of voters said they don't approve of Snyder's plan to raise pension taxes and lower business taxes, while 43 percent approve, according to another recent survey by Lansing-based EPIC-MRA.
For companies like Edwards Brothers, handing over less money to the state could help the company be more competitive.
"Any tax takes money out of profits and could prevent us from buying that thing or hiring that person," Edwards said. "I know there's always a risk that businesses will just take the money and stick it in their product, but what we would do is invest in the business."
Perhaps so, but is it worth it? Is it fair to give businesses a boost at the expense of cash-strapped public schools and municipalities?
Ann Arbor City Council member Christopher Taylor, D-3rd Ward, said the business tax cut is not fair to the state.
"I believe that a state with a healthy budget and good roads and good bridges and a thriving environment and cities that have adequate safety services and schools that are fully funded and providing world-class education to kids — those are, or would be, real competitive advantages far in excess of a marginal tax break to attract or retain businesses," Taylor said.
Businesses argue that the overall tax cut is fair because they would simultaneously give up most of the tax credits distributed by the Michigan Economic Development Corp., which would be limited to $75 million in incentives under Snyder's original proposal.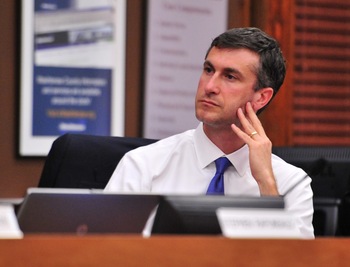 Ryan J. Stanton | AnnArbor.com
But even the proposal to eliminate most of the business tax credits irks certain segments of the economy. Proponents of Michigan's currently unlimited film industry tax incentives, for example, are furious that the governor has proposed limiting the film incentives to $25 million a year. In 2010, Michigan paid out $117.2 million in film tax credits, according to a recent study by accounting firm Ernst & Young.
John Truscott, who was hired to lobby lawmakers in favor of the film industry tax credits, said a reduced tax credit is fair, given the state's distressed economy. But he argues that the state must ensure that it does not repel the industry by going too far.
"You have to look at what other states do and still remain competitive," said Truscott, a former member of Republican Gov. John Engler's administration.
To balance the budget, many of Snyder's opponents seem to have settled on the concept of a statewide graduated income tax, which would tax wealthier residents at higher rates. They believe that a graduated income tax is fairer because it ties taxes to individuals' ability to pay.
State Rep. Jeff Irwin, D-Ann Arbor, last week introduced legislation that would allow Michigan voters the chance to vote on a proposal to amend the Michigan Constitution to allow for a graduated income tax.
"We need to restructure our tax system in Michigan," Irwin said in a statement. "Instead of shifting the tax burden to low-income workers and fixed-income residents, we should implement a fairer tax. We need progressive tax reform in Michigan, not more reverse Robin Hood politics."
But that proposal is almost impossible politically — at least while Republicans control the state Legislature and governorship. Republicans say that higher taxes on wealthy citizens would hurt the economy.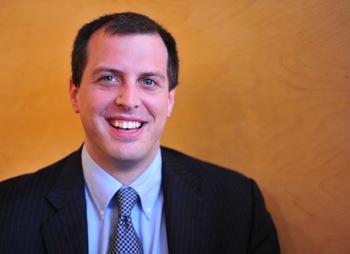 Ryan J. Stanton | AnnArbor.com
So, for now, the debate is focusing mostly on whether the business tax cut is too high - and how the pension tax can be scaled back.
The state Senate Republicans are reportedly pushing Snyder to consider increasing the corporate income tax to 6.75 percent and extending it to most small businesses that would be exempt under Snyder's original plan. They also are weighing a plan to tax pensions only of future retirees.
But Snyder believes that voters will soon realize that his original plan is appropriate. And, as voters say they want, fair.
Kym Muckler, mayor of the city of Milan, said Snyder's plan is irritating because it lowers the amount of revenue sharing available to her small town. Nonetheless, she supports the proposal.
"There are things about it that annoy me, but on the other hand, he's asking everybody to make a sacrifice," Muckler said. "I'm totally willing to make the sacrifice because he's asking everybody to do it."
Contact AnnArbor.com's Nathan Bomey at (734) 623-2587 or nathanbomey@annarbor.com. You can also follow him on Twitter or subscribe to AnnArbor.com's newsletters.