Posted on
Sun, Apr 14, 2013 : 5:58 a.m.
Replacing Patricia Green: Ann Arbor could get free superintendent search under guarantee from last one
By Danielle Arndt
The Ann Arbor Board of Education may be able to conduct its next superintendent search free-of-charge through the same firm that helped the district hire Patricia Green.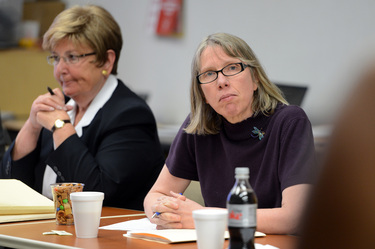 Melanie Maxwell | AnnArbor.com file photo
Green submitted a
letter of resignation
early Thursday expressing her intent to retire 90 days from Wednesday, or July 9.
The superintendent was hired in March 2011 after a yearlong search aided by Iowa-based consulting firm Ray & Associates. The Board of Education entered into an agreement for superintendent search services with Ray & Associates in October 2010.
The board paid the company a base fee of $21,000 to conduct a national search for the next superintendent of the Ann Arbor Public Schools, after then-Superintendent Todd Roberts left to take a job in North Carolina.
The total cost of Ray & Associates' services was not immediately available Friday. The initial estimate given to the board was $21,000 to $24,500.
A satisfaction guarantee built into the contract could mean the Ann Arbor Public Schools is eligible for a do-over. The guarantee reads:
If the School District is dissatisfied with the Superintendent within two years from the date of employment of the superintendent, or if either party dissolves that relationship by resignation, retirement, or termination within a two year period of the initial employment the firm of Ray & Associates will conduct a new superintendent search at no cost to the School District, except for reasonable expenses.
President Deb Mexicotte said the school board has asked David Comsa, the district's legal counsel and deputy superintendent, to look into the matter and to review the contract.
"We believe we are within the guarantee time frame," Mexicotte said. She added, however, there might be some disagreement in how the two-year time frame is measured.
The Ann Arbor board voted in favor of hiring Green at a special meeting on March 5, 2011. Green's contract was entered into and signed on March 30, 2011, which based on this date the school board would be beyond the two-year guarantee. However, Green's first day of employment with the district was July 1, 2011.
"So we're not entirely sure yet on this," Mexicotte said. "… If we're right, this could be an option (conducting another search through the same firm). We'll know by the time we (meet to) discuss it next week."
The board will convene a meeting next week sometime to being strategizing about how to proceed with finding a new superintendent. The board might chose to use a scheduled study session at 5:30 p.m. April 17 at Huron High School to discuss Green's resignation, Mexicotte said. But an exact date had not been set as of Friday.
Danielle Arndt covers K-12 education for AnnArbor.com. Follow her on Twitter @DanielleArndt or email her at daniellearndt@annarbor.com.