Posted on
Thu, Apr 25, 2013 : 5:58 a.m.
Ann Arbor residents happy that University of Michigan solar array off Fuller Road is 'tucked away'
By Kellie Woodhouse

View New University of Michigan solar installation s in a larger map
University of Michigan and DTE Energy officials outlined their plans for a 1.56-acre solar array off of Fuller Road during a Wednesday meeting.
The array includes roughly 1,000 panels, which are 5 feet tall, and seven sun tracking panels that stand 17 feet tall when fully vertical. The panels sit roughly 120 feet off Fuller Road, between Bonisteel Boulevard and Beal Avenue, and will produce 220 kilowatts of energy.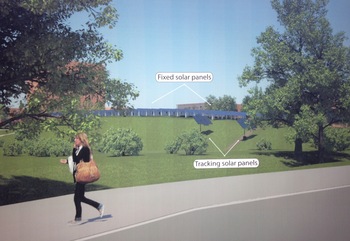 "It's nicely tucked away and that's appreciated, that it is not sitting on the roadway. As you know, that was the biggest issue with the Plymouth [installation]," Ward 2 city councilwoman Jane Lumm told U-M officials. Six residents, including Lumm, attended the evening meeting at Pierpont Commons on U-M's campus.
Several Northeast Ann Arbor residents say the 2.4-acre solar array off Plymouth Road, at the edge of the North Campus Research Complex near Nixon Road and Huron Parkway, is too close to the road and were upset that the university did not consult residents before installing the panels in the fall.
"This is totally different," she said after the meeting. "This is obviously a much nicer approach on the front end."
There is less of a residential presence near the Fuller Road array, Lumm added. The Plymouth Road array, which produces 430 kilowatts of energy, is near residential neighborhoods.
U-M agreed to lease the land off Fuller Road to DTE for 20 years at a rate of $6,000 a year. That's in addition to the $12,000 annual payment U-M receives for the Plymouth Road array. U-M officials say the payments go toward landscaping the sites.
The site cost $1.5 million for DTE to install, said DTE representative Ray Zoia. He added that DTE is working to reach two other solar array agreements for the Ann Arbor area, in addition to the U-M installations and a possible Ypsilanti installation. One agreement is with the city and the other agreement is with an undisclosed agent, Zoia said.
The array is part of the energy giant's Solar Currents program.
U-M can exit its contract with DTE early if planners decide to repurpose the site, but the school must pay DTE to do so.
"It's definitely a future building site, but as we have been working with the College of Engineering and other users ... we believe there are sufficient alternative developable areas," U-M's lead planner Sue Gott said.
The two North Campus locations were chosen for their proximity to existing DTE circuits and because they encompas enough empty space and are not earmarked for construction in the near future.
There's existing vegetation between Fuller Road and the space planned for the array and Gott said the university plans to plant additional foliage to act as a barrier between the road and the array.
Gott said she expects the installations to grow on U-M students and Ann Arbor residents.
"After they are up, we'll kind of experience them over time and see how they become kind of indigenous," she said. "They begin to take on their own personality and become part of the vocabulary of the landscape."
Andy Berki, manager of U-M's sustainability office, said the visibility of the arrays serves an educational purpose.
"Students can access them," he said. "There are learning objectives associated with that."
Officials said the university and DTE considered building the array on parking lots and structures, or even buildings, but scrapped the idea because of the expense. Zoia said an array on a parking lot or structure would be 25 to 30 percent more expensive to install.
"It's good that they're tucked away," said Doug Kelbaugh, an Ann Arbor resident who also teaches urban planning at U-M. "But long term I think we'll look back on this historically as a pretty early, crude solar array."
He added: "We've got to grow up and start doing this in a more integrated way."
Construction on the array will begin around May 6 and finish in August before students return to campus for the fall semester. The array is expected to be fully operational by September.
U-M President Mary Sue Coleman first announced U-M's plans to install solar panels during a sustainability address in September 2011. The panels are part of a $14 million initiative to enhance sustainability on the Ann Arbor campus.
Gott said there are no plans in the works for another array.
Kellie Woodhouse covers higher education for AnnArbor.com. Reach her at kelliewoodhouse@annarbor.com or 734-623-4602 and follow her on twitter.