Posted on
Wed, Nov 7, 2012 : 3 p.m.
Take a breath - the 2012 election season is over
By Kyle Mattson
Civic Duty
Total voter turnout in Washtenaw County was 64.53 percent, a minor dip from the 68.77 percent tallied in the 2008 Presidential Election. Be it the steady voter participation or technology glitches, there were a number of polling locations with long lines. Although we shared in your frustration in having to stand in line, we're encouraged to hear so many were active in this year's election.
Above are some photos shared by area voters, you also can view some shots from our staff photographers in our Election Day gallery here. Do you have an election day photo to share? Submit it using our upload form or using the hashtag #a2votes on Twitter and Instagram and we'll add it to the gallery.
The Rants
If one thing is for sure, no one will miss the television commercials, lawn signs, and online ads we've all been bombarded with during the past year. Is there a specific form of political propaganda you find annoying? Join in on this thread here on our Facebook page.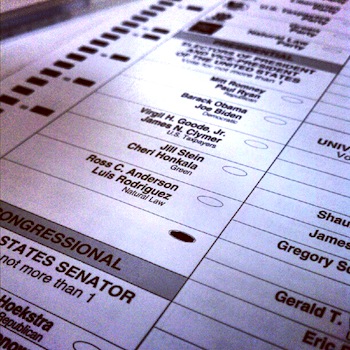 If you've logged into Facebook or Twitter you've probably read your share of political rants and the rants about political rants, in fact there's a good chance you've posted one yourself. We all have our viewpoints we consider when heading into the voting booth, but at what point does sharing those opinions with others online cross the line of constructive conversation and become an alienating annoyance?
At one time, politics were a taboo subject in some circles, but now you can create a family feud by simply liking the page of a politician you support. This is one of the most significant changes we've seen in how politics play in our lives over the past decade. The digital world has made it possible for us to share our political position with just a few taps of our iPhone screens, igniting heated threads of debate without the need for face-to-face communication.
Tough Decisions
Yesterday we saw a number of notable decisions made by voters which will result in some tough choices and continued discussion going forward.
Here in Ann Arbor, residents turned down the downtown Library proposal, a major project which would have had a significant impact in the future of how the central downtown area is developed going forward. This will include conversations not only tied to the Library, but the adjoining Library Lane Lot, if/how/when Liberty Plaza will be redeveloped, and the future of other city-owned lots in the immediate area.
All six statewide proposals were defeated, with only Proposal 1 being decided by a narrow margin. How the state and local officials address the serious financial issues facing a number of Michigan cities, including Ypsilanti will be no small undertaking.
Despite winning a second term, Obama will enter 2013 with the country in a similar position as he did in 2008 — the unemployment rate is hovering around 8 percent and showing signs of improvement. But there continues to be serious economic concerns across the country. Combined with the seemingly endless list of issues to address including international tensions, social policies, immigration reform, and healthcare, the next four years should be an interesting journey regardless of what side of the aisle you sit on.
Until Next Year...
Well, only 364 days until the next election, so political junkies can start counting down the days, and everyone else — let's head to our neighborhood bar to share a debate-free pint with friends.