Posted on
Sat, May 25, 2013 : 5:59 a.m.
Top 10 donations to the University of Michigan total $580 million
By Kellie Woodhouse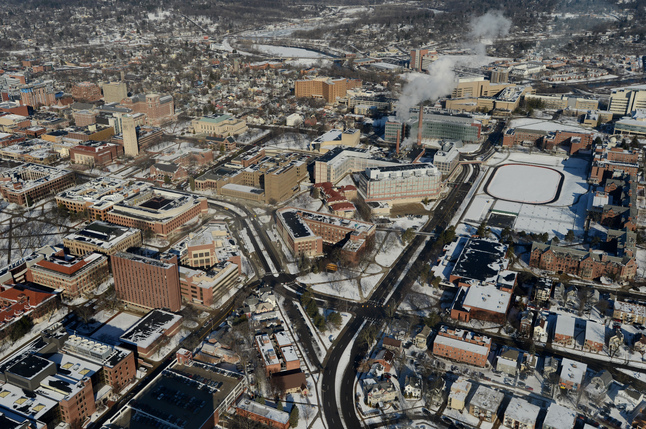 University of Michigan recently received a $110 million donation from a California billionaire, which is the largest donation in college history and was received just before the official launch of the school's next capital campaign.
The exact goals of the school's campaign haven't yet been made public, but officials say they'll be seeking donations centered more toward scholarships and less toward buildings, which is a shift from the school's last Michigan Difference campaign. That effort raised $3.2 billion for the college, well above its $2.5 billion goal.
Within the last year U-M has closed on four of the largest donations in the school's 196-year history. The top 10 single donations at U-M add up to a staggering $580 million.
All gifts to the university since July 2011 will count toward the school's fundraising goal when it launches its formal campaign in the fall.
Here's a look at the school's 10 largest gifts:
$110 million in April 2013
Charles Munger's $110 million gift, announced in April 2013, will go toward building an interdisciplinary graduate student dormitory and fellowship program. The gift is the largest single donation in U-M history.
The gift will fund the majority of a 600-bed, 370,000-square-foot $185 million apartment-style dormitory that will be limited to graduate students; $10 million of the award will go toward creating fellowships for the graduate students.
Munger was an undergraduate mathematics student at Michigan in the 1940s, but did not graduate. He did eventually graduate from Harvard Law School. The California billionaire is the vice-chairman of Berkshire Hathaway and a close confidant of Warren Buffet.
Previously he's given $20 million toward a graduate housing renovation for the Law School and $3 million for improvements to the school's law quad.
$100 million in September 2004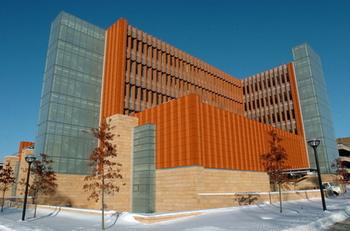 File photo | AnnArbor.com
New York City real estate developer Stephen M. Ross gave $100 million to U-M's business school during the Michigan Difference capital campaign, prompting regents to rename the business school after the U-M alumnus.
Ross, a Detroit native, earned a bachelor's degree from U-M's business school in 1962. His gift was the first nine-figure donation to the university and one of three in the school's history.
His gift supported the construction of a new, modern building for U-M's growing business program. About $50 million of the donation was distributed over the course of 10 years, with the remainder of the money as a bequest of Ross' estate.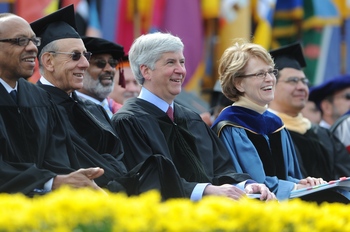 Melanie Maxwell | AnnArbor.com
"This should be a very iconic building," Ross said when his donation was announced in September 2004. "When you see a picture of it, you know this is the University of Michigan Business School."
$100 million in April 2011
A. Alfred Taubman, a shopping mall mogul who hails from Detroit, enrolled in U-M's architecture college on the G.I. Bill after returning from World War II in 1946. Taubman left U-M in 1948 without graduating, but returned half a century later to become one of the school's most philanthropic alumni.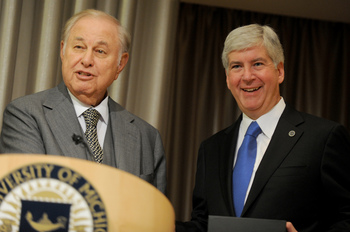 Angela J. Cesere | AnnArbor.com
Taubman, who is worth an estimated $2.9 billion, has given more than $142 million to U-M over his lifetime. Taubman is credited with creating the shopping mall concept and founding Taubman Centers, Inc., a high-end retail business.
Taubman's $100 million donation was given in phases, the last of which was a $56 million sum in 2011. That sum is being used to explore the potential of embryonic stem cell research. An earlier $22 million gift created the A. Alfred Taubman Medical Research Institute, where scientists are exploring cures and treatments for Lou Gehrig's disease, breast cancer, prostate cancer, childhood cancers and other diseases.
In addition to the institute, U-M named its Biomedical Science Research Building in Taubman's honor.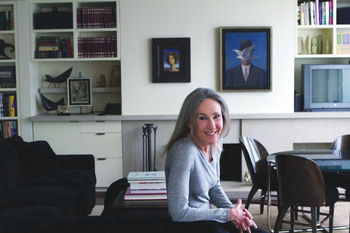 Photo courtesy Zell Family Foundation
$50 million in March 2013
This winter Chicago philanthropist Helen Zell, wife of billionaire real estate tycoon Sam Zell, donated $50 million to the College of Literature, Science, and the Arts toward a creative writing program.
The gift permanently funds the school's Master of Fine Arts in Creative Writing Program, which is being renamed the Helen Zell Writers' Program. Zell offered an initial $10 million donation to the program in 2004. She's given a total of $60 million to the university.
The program provides 22 students with more than $1 million of financial support each year through tuition waivers, stipends and health insurance. It provides year-long fellowships, dubbed Zellowships, to qualifying graduates of the program. Zell received her English degree from U-M in 1964.
Her donation is believed to be the largest gift given to a college writing program.
$50 million in March 2013
U-M's health system renamed its cardiovascular center after Samuel and Jean Frankel, a couple who gifted $50 million to the center during the past six years.
The center received its first $25 million gift from the Frankel family's foundation in 2007, although at the time it was given anonymously. Another $25 million gift from the family was awarded to the center in March and will go toward financing clinical research and patient support.
File photo | AnnArbor.com
The couple, now deceased, also have financially supported the school's Center for Judaic Studies. They graduated from U-M in 1936.
"The Frankel family has decided to gift another $25 million and this will help us build on the successes of the last six years, to create a culture of total partnership," said health system CEO Ora Pescovitz. The second $25 million gift was contingent on the cardiovascular center reaching certain benchmarks with the first allotment.
$44 million in November 2004
Delores and William Brehm gave $44 million to the health system to work toward a cure for type 1 diabetes. Two floors in the 222,000-square-foot addition to the Kellogg Eye Center are dedicated to the Brehm Center for Type 1 Diabetes Research and Analysis. The tower, built in 2006 at a cost of $121 million, is also named after the Brehm family.
Melanie Maxwell | AnnArbor.com
Their donation was part of the four-year Michigan Difference campaign, which raised $3.2 billion for the school.
William Brehm, a businessman in the defense industry, received a bachelor's degree from U-M in 1950 and a master's in 1952. He is originally from Dearborn, although he lived in Virginia when he made his donation. Delores Brehm graduated from Eastern Michigan University in 1950. She was diagnosed with Type 1 diabetes by U-M physicians. William Brehm received an honorary degree from U-M this spring.
Brehm also has donated to EMU. In June 2011, he and his wife gave $3.2 million to the school's College of Education to develop a special education research center.
$33.2 million in March 2000
This donation, which surpassed all university records at the time, sort of fell in U-M's lap. Lincoln Knorr owned Scott Equipment Co. of Detroit, a private firm that made machines used by commercial binderies. After his death, officials discovered that Knorr left $33.2 million of his fortune to the Ann Arbor university, where he attended law and business school.
Susan Feagin, Michigan's vice president of development at the time, said the donation "came out of the blue."
The donation is kept in a private trust and each year the university is paid 5 percent of the trust's market value. When those payments plus the bulk of the trust totals $1 billion, the entire amount will be transferred to the university. Such a transfer probably won't happen until 2030 or 2040.
$32.5 million in September 2012
U-M's art school was renamed the Penny W. Stamps School of Art and Design in September in honor of Penny and E. Roe Stamps, who donated $32.5 million to the school.
Penny Stamps, a 1966 U-M art and design school grad, and her husband live in Miami. Penny Stamps is a retired interior designer and her husband is a venture capitalist. Their gift was among the largest donations to any art school in the nation. It was matched by a $7.5 million sum from the university, giving the school $40 million in new funds.
Former U-M art school dean Bryan Rogers, who retired in May after 12 years as dean, said at the time that the gift was a "very unlikely thing to do in today's world."
"Money for the arts, in particularly the visual arts, is very hard to come by," he said.
The Stamps had previously funded a lecture series, a scholarship program and an off-campus art gallery.
$30 million in April 1992
A $30 million donation from William Davidson, former owner of the Detroit Pistons and Guardian Industries and a U-M alumnus, was used to create a business institute at U-M's business school. The institute focuses on firms in transitioning economies.
Research projects have spanned Africa, South America, Asia and Europe and coursework includes intensive MBA classes that analyze developing countries that are moving toward a market-based system.
At the time, this gift was the largest U-M had ever received and one of the largest private donations in public university history.
In 2012, the athletic department named its new $23.2 million Player Development Center after Davidson because of a $7.5 million gift. Davidson, now deceased, ran track at U-M when he was a business student in 1947.
$30 million in May 1999
More than 50 years after Taubman matriculated into U-M, he gave $30 million to his alma mater, matching the record for the largest donation to the school at the time.
In honor of the donation, regents voted unanimously to name the architecture school after Taubman- it's now called the A. Alfred Taubman College of Architecture & Urban Planning. It was the second time regents had done this. In 1935, the Horace H. Rackham School of Graduate Studies was named in honor of Rackham's $6.5-million gift.
"It was his experiences here at U-M and its meaning to him that was the source of the gift, " Lee Bollinger, who was president of U-M at the time, said during 1999 the Board of Regents meeting. "Through a visual understanding of the world, he was able to find himself."
The money was gifted to U-M's endowment in six installments over five years beginning in September. Since the donation, the school has grown by more than 100 students and developed an urban design program.
His gifts totaled $7 million prior his 1999 award, and later he would donate $100 million toward medical research.
Kellie Woodhouse covers higher education for AnnArbor.com. Reach her at kelliewoodhouse@annarbor.com or 734-623-4602 and follow her on twitter.