Posted on
Fri, Apr 19, 2013 : 5:59 a.m.
Top 5: Mary Sue Coleman's accomplishments at the University of Michigan
By Kellie Woodhouse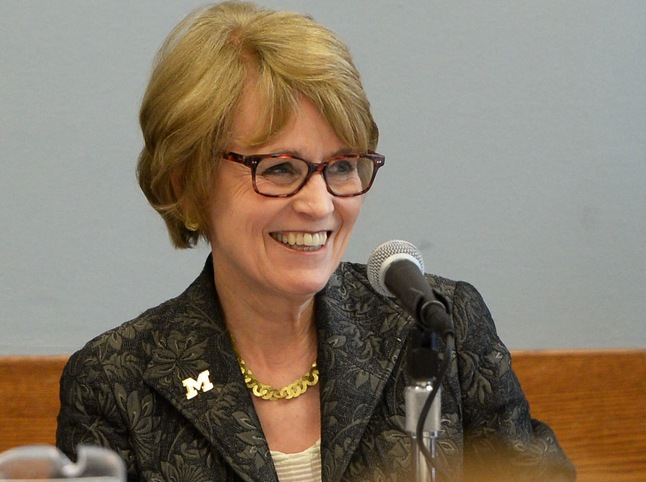 Melanie Maxwell | AnnArbor.com
Mary Sue Coleman announced she will step down as leader of the University of Michigan in July 2014, and as the search for a successor begins officials agree Coleman is leaving a legacy that will be hard to match.
"She leaves very big shoes to fill," said regent Mark Bernstein. "This is a different institution than when she started as president."
Over the course of 11 years, Coleman has raised billions for the school, overseen dozens of major construction projects and championed entrepreneurship— all the while watching as the Ann Arbor school steadily gained credibility and international recognition.
Here are five of her top accomplishments during her tenure:
1. Fundraising
Coleman is credited with being a great fundraiser.
She was central to exceeding fundraising goals during the last capital campaign, when ended in 2008. About $3.2 billion was raised during the four-year Michigan Difference campaign, which surpassed the original $2.5 billion goal. Roughly 365,000 people contributed to that campaign.
"She may be the best fundraiser in higher education," said U-M regent Mark Bernstein. "She has a combination of intelligence and tenacity and an ability to identify opportunities for philanthropy that is extraordinary."
Added Andrea Fischer Newman, vice chair of the Board of Regents: "How good has she been? Phenomenal." U-M Provost Philip Hanlon called Coleman "terrifically persuasive."
Coleman has laid the groundwork for a campaign set to begin in the fall that will likely last between five and seven years. Its focus will be distinct from the Michigan Difference, with an eye toward people and scholarships and less on buildings. There were 22 building projects in the last campaign. U-M has placed a heightened emphasis on student aid. Since 2007, the school has increased its centrally-awarded aid from $99 million to $145 million.
U-M has received a handful of eight-figure donations recently, including a $50 million donation for the Health System, a $32.5 million donation for the art school and most recently a $110 million gift —the largest in university history— from Charles Munger. Munger attended the university, but did not graduate. He has also gifted more than $20 million to the law school.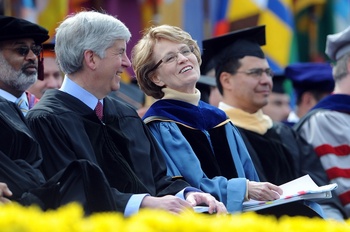 Melanie Maxwell | AnnArbor.com
"That is a gift that took years to close and a relationship that she developed almost single handedly," Bernstein said of Munger and Coleman.
2. Entrepreneurship and start-up empowerment
The past decade has seen a marked increase in entrepreneurial activities and initiatives at the university, including the creation of the Center for Entrepreneurship, Office of Technology Transfer and the Zell Lurie Institute for Entrepreneurial Studies.
The school in 2012 produced 368 new inventions, a U-M record. Coleman has partnered with Wayne State University and Michigan State University to establish a research cluster that rivals those in Massachusetts and California and contributes a $15.5 billion economic impact to Michigan each year.
Spinning inventions off into companies has been a point of emphasis for the university for the past decade, with 98 new start-up companies using technologies that were first developed in an academic setting.
Under Coleman's guidance, the school has agreed to invest $25 million of its endowment into its own spinoffs. U-M's Venture Accelerator, launched two years ago, has helped roughly 20 U-M spinoffs get their start.
"She has had the vision to understand the importance of really escalating creativity and innovation on campus and supporting mechanisms which elevate that," Hanlon said. "She understands that a great university is all about pushing frontiers."
Coleman said the university has streamlined its internal process to make entrepreneurship easier for faculty and students. She said entrepreneurship has "ramped up" over the past decade. The emphasis was partly driven by the state's economy and the region's need for economic activity.
"We accelerated our efforts because the state was undergoing such an economic collapse," she said. Coleman serves as co-chair of President Barack Obama's National Advisory Council on Innovation and Entrepreneurship.
In a 2010 Forbes column, she emphasized the importance of promoting entrepreneurial activities among students and said U-M was setting an example for the higher education community. Universities, she said, need to support students and "what some might call their 'crazy ideas.'"
3. Purchase of the ex-Pfizer site and creation of the North Campus Research Complex
In 2009 Coleman made the final decision to purchase the 2.2-million-square-foot, 28-building Pfizer complex for a staggeringly low price of $108 million.
The complex, which sits on 174 acres in Northeast Ann Arbor, was turned into the North Campus Research Complex and is operated chiefly by the medical school, engineering school and researchers in the science disciplines. More than 2,000 employees now work at the complex.
The complex has helped alleviate a space crunch for the university and administrators say it has increased collaboration among U-M researchers.
"The development of the North Campus Research Complex is a once-in-a-lifetime opportunity," Coleman said in 2012. "Universities never have the chance to purchase 2.2 million square feet of space and all this land at pennies on the dollar. And so for us it was just a tremendous, tremendous opportunity."
4. On-Campus housing changes
Coleman launched the Residential Life Initiative in the mid-2000s and has spearheaded the renovation of the campus' oldest residence halls, most of which were built in the early- to mid-1900s. The renovations have transformed aging dormitories into state-of-the art living spaces that are designed to incorporate collaboration and education.
"We wanted people inside the residence halls to be in an intellectual environment and not just a living space," Coleman said during a Thursday interview.
Prior to launching the initiative, the university had not build a new dormitory or substantially renovated an existing one for more than 30 years.
The school announced Thursday plans to build a $185 million graduate student dormitory near South Division Street. Newman said Coleman championed the project, knowing full well that graduate dorms are rare in higher education.
White House
"[She understood] the need for it," Newman said. "It's not something universities are able to put aside money for and it's due to Mary Sue's leadership that we're now going to have this phenomenal legacy."
Student housing projects during Coleman's tenure.
Graduate Housing Dormitory: $185 million approved by regents Thurday
West Quadrangle: A $114.5 million renovation approved by regents
South Quadrange: A $60 million renovation is scheduled to begin this summer
Lawyer's club: Undergoing a $39 million renovation
East Quadrangle: Undergoing a $116 million renovation
Vera B. Baits Houses II : Underwent a $12 million renovation in 2012
Alice C. Lloyd Hall: Opened in 2012 after a $56 million renovation
Couzens Hall: Reopened in 2011 after $49 million renovation
North Quad: Opened in 2010 after $75 million construction project
Stockwell Hall: Reopened in 2009 after a $39.6 million renovation
Hill Dining Center: Reopened in 2008 after $21 million renovation
Mosher Jordan Hall: Reopened in 2008 after $44.1 million renovation
5. A stronger national profile
U-M is regularly ranked among the top public universities in the nation.
In the fall, U.S. News ranked U-M 29th nationally for undergraduate education and fourth among public institutions. The school also maintains a top spot in the 2012-13 QS World University rankings, which rate U-M 17th globally, and the Times Higher Education rankings, which place U-M 20th internationally.
"If you look at the last decade, all of our measures of academic quality have gone up. Our reputational ranking [is high]," Hanlon said. "The number of undergraduates each year and their quality has skyrocketed. We have risen to No. 2 in [federal] research funding."
Since 2002, enrollment has increased from 38,600 to 43,400 and freshmen applications have reached more than 43,000. The school accepts just over 40 percent of undergraduate applicants.
U-M is also considered one of the best colleges to work for, according to a Chronicle of Higher Education survey.
U-M's $7.7 billion endowment is the seventh-largest of any university in the country. The school conducts the second-most federally funded research of U.S universities. The federal government awarded U-M $825 million in research funds in fiscal 2012, amounting to nearly 67 percent of the school's overall $1.24 billion research budget that year.
"I left the university a better place than when I came," Coleman said "I was particularly concerned, with the support of the board, to make the experience better for students and for faculty."
Kellie Woodhouse covers higher education for AnnArbor.com. Reach her at kelliewoodhouse@annarbor.com or 734-623-4602 and follow her on twitter.