Posted on
Thu, Dec 10, 2009 : 9 p.m.
University of Michigan President Mary Sue Coleman questions state's education funding priorities
By Juliana Keeping
A tax levied on bottled water companies could help save the slashed Michigan Promise scholarship program, Michigan Lt. Gov. John Cherry said Thursday at a University of Michigan-hosted panel on higher education and economic growth.
But it was an idea University of Michigan President Mary Sue Coleman all but rejected, questioning the state's educational funding priorities.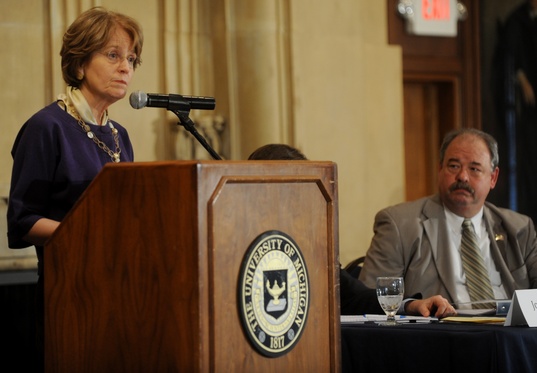 Melanie Maxwell | AnnArbor.com
"By conservative estimates, a water bill of 10 cents per bottle paid by bottling companies that operate in Michigan would raise $118 million per year and likely more," Cherry said.  "Proceeds from the water bill could fund education for young people."
That funding would include reviving the Michigan Promise scholarship program - an idea Coleman said has seen its day.
"Financial aid in the state of Michigan should be need-based," Coleman said. "The Promise scholarships are not need-based."
Need-based aid is the key to encouraging social and economic mobility, she said.
"I think the state missed an opportunity to make that argument," she said.
The Michigan Promise scholarship program provided up to $4,000 to 96,000 in-state students in merit-based aid before it was cut out of the state budget Oct. 30 to save $140 million. The program, in place since 2007, replaced former Michigan Gov. John Engler's Michigan Merit Award Program, which provided up to $3,000 for college in merit-based aid.
Cherry didn't provide details on the status of any bottled water tax legislation when he spoke Thursday at the panel discussion in the Michigan Union. He left before panelists and audience members could discuss what he said or ask questions.
Other panel members included Coleman, Michigan Community College Association President Michael Hansen and Mark Murray, the president of Grand Rapids-based Meijer, Inc. and a former state treasurer.
A bottled water tax is not the first idea floated to save the scholarships. Gov. Jennifer Granholm recently proposed scaling back the Michigan Earned Income Tax Credit, a refund meant to help the poor.
Among the hundreds of audience members in attendance were education leaders and policy experts from around the state, as well as students and the general public.
The panelists came together to discuss progress 5 years after the Lt. Governor-led Cherry Commission made 19 recommendations on the future of higher education and economic growth in Michigan. The 40 Cherry Commission members included representatives from business, labor, education and higher education as well as civic leaders. Coleman was part of that commission.
Cherry said programs like the Michigan Economic Development Corp.'s 21st Century Jobs Fund, a program that aims to spark new investment and create high tech companies, are evidence of success.
Coleman agreed progress has been made toward the commission's recommendations "despite dwindling funding from the state."
She noted several of U-M's successful efforts to foster an entrepreneurial culture among students. Initiatives like the TechArb - an incubator for student-led businesses - are right in line with the goals set by the commission in 2004.
And then there is the University Research Corridor. The partnership between U-M, Michigan State University and Wayne State is intended to produce patents, business and graduates with high-tech degrees. It represents a good example of the commercialization of research and of collaboration among state universities for economic growth, she said.
"The goal of the partners is to align our resources to transform, strengthen and diversify the state's economy," Coleman said. "We are seeing results."
Panelists tried to remain positive, but noted throughout the discussion that the future of funding from the state looked grim, and some of the Cherry Commission recommendations were impossible without huge tuition increases.
"Michigan faces an uphill battle," Coleman said.
"I don't think anyone could have predicted in 2004 what resource limitations really meant." Michael Hansen said. "We are in a long economic downturn, and I don't think we're at the bottom of the trough yet."
Others were more blunt.
At a related conference earlier in the day, Macomb Community College President Jim Jacobs called state financial backing of the recommendations in the 5 years since the commission made them "very wimpy."
One of the commission's 2004 recommendations was to double the number of college graduates in 10 years.
Five years later, Coleman and Murray agreed the state has given no indication of how to pay for this initiative in light of drastic drops in funding.
"Frankly, to ask the universities to double the number of graduates, with not only no increase in funding, but decreases in funding - that's a big challenge," she said.
If such a goal were to be implemented, she said, students would likely end up paying for it through their tuition bills.
Juliana Keeping covers higher education for AnnArbor.com. Reach her at julianakeeping@annarbor.com or 734-623-2528. Follow Juliana Keeping on Twitter