Posted on
Thu, Feb 14, 2013 : 5:59 a.m.
Wall Street residents cling to neighborhood amid University of Michigan development
By Kellie Woodhouse
Near the river, along one of the lowest parts of the city, is a heightened example of recent University of Michigan expansion in Ann Arbor.
U-M has acquired 15 properties along Wall Street since 1988, and five along the nearby Maiden Lane and Broadway streets, according to a review of school records. Houses purchased have been razed and parking lots have been surfaced. The school also built an addition to the Kellogg Eye Center.
Now the school is months away from breaking ground on a 725-space, six-story parking structure along Wall Street.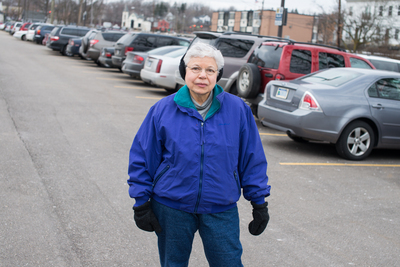 Courtney Sacco | AnnArbor.com
For residents of
Riverside Park Place
condominiums on Wall Street, the parking garage solidified a transformation they'd rather ignore: their neighborhood
seemed to be disappearing
while university development sprang up around them.
"There are still people living here. It's not campus, it's where campus abuts a residential neighborhood," said Riverside resident Kittie Morelock.
With a pause, she added: "It was a residential neighborhood. I know, this is life, things change."
In April 2012, U-M revisited plans to build a parking garage on Wall Street. The school originally proposed a structure on Wall Street in 2008, but abandoned those plans after the protests of nearby residents and decided to work with the city on building the Fuller Road station. The station would have included a large parking structure, bicycle facilities, bus depot and possible train station.
When the university and city scrapped plans for the Fuller Road station in early 2012, U-M resurrected plans for a structure on Wall Street in order to alleviate a pressing parking shortage on campus.
In December, the U-M Board of Regents authorized staff to issue bids for the $34 million project. For residents who urged U-M not to build the structure, its imminent construction feels intrusive.
"The university's intentions to bring research and clinical activities and expansion into the Wall Street area have been identified since 1988. We have slowly over time acquired property when it became available to assist in that end," said U-M's community relations director Jim Kosteva.
"We have also in our master planning demonstrated an indication that parking.... was also to be located here," he continued. "We continue to pursue alternative transportation options as well, but our employment growth has been such that needs for more immediate parking close to the medical center is preeminent at this time."
Though construction on the parking structure is anticipated soon, Ann Arbor City Council member Sabra Briere, D-1st Ward, said residents remain concerned about traffic and pollution brought in by cars parking in the garage. U-M has held two public meetings with Wall Street residents concerning the garage. The last meeting was in July.
The structure will have two full-access driveways, including one entry lane, a left-turn exit lane and a right-turn exit lane driveway on Wall Street and on Maiden Lane. A traffic analysis found the garage would likely increase area traffic by 1,500 trips per day, amounting to an overall traffic increase of less than five percent. Traffic in the area, according the report, is already less than ideal and the garage would likely add a three-second lag to current conditions at nearby intersections during peak hours.
The university is also considering extending Nielsen Lane, which now ends at the nearby Maiden Lane, to Wall Street in order to ease traffic.
"Neighbors are concerned that [the structure] is going to increase the number of cars idling, that the cars will literally be lined up on Wall Street trying to get into the parking structure and out of the parking structure," said Briere. "All of it is going to make living in this area more difficult."
U-M Department of Transportation director Steve Dolen said the school may use signage to control traffic flow into the garage to minimize roadway congestion.
"Based on the time of the day (the Maiden Lane entrance) might be only entrance in, but later in the day it could be in and out," he explained last year.
Morelock said several of her neighbors have grown tired of protesting the parking structure, which is now seen as inevitable. "There's nothing we can do about it," Morelock said.
Riverside resident Eliana Moya Raggio explained: "We the residents of Wall Street have never liked the idea of having a parking structure in front of us. ... This is a neighborhood that has been practically destroyed by the idea of having parking structures here."
Morelock said she is not opposed to active university development like the Kellogg Eye Center. It's the influx of cars, traffic and pollution that bothers her, she said. Concerned residents also worry the parking structure could lower their property values.
"They have tried to transform this neighborhood into campus and it's not campus, it's a neighborhood," Raggio said, later highlighting a sign at the edge of the parking lot near her condo building. The sign warns visitors not to smoke on campus.
"Or, it used to be a neighborhood," she said.
For its part, U-M is trying to brand the garage as a neighborhood gateway.
"Our parking structure is a gateway to this neighborhood," U-M architect Doug Koepsell told Ann Arbor residents who live near Wall Street during a July meeting. "We want it to look like a building, not like other parking structures. .... We are trying to be a good neighbor."
Kosteva said the university has tried to work with residents to make the design palatable.
"Our meetings with the neighborhood have resulted in a proposal for a structure that reflects many of the desires that they had addressed," Kosteva said, noting that the structure site will have "extensive landscaping" and a brick facade. "We've tried to incorporate many of the recommendations they made."
Kellie Woodhouse covers higher education for AnnArbor.com. Reach her at kelliewoodhouse@annarbor.com or 734-623-4602 and follow her on twitter.